A Sublime Evening With Rush
The Canadian prog-rock legends' latest tour packs an emotional punch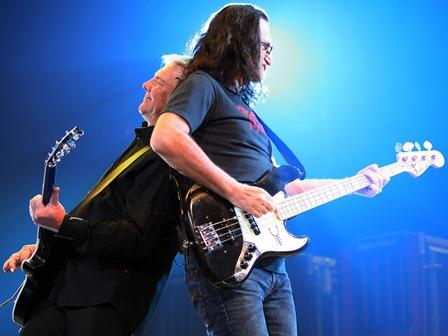 By Adrien Begrand
Special to MSN Music
Rush concerts are fun. It's a given, and the Canadian trio's new North American tour, which stopped in Edmonton, Alberta, on Sept. 30, had no shortage of fun. There were the usual comedy-laced introductory films where bassist Geddy Lee, guitarist Alex Lifeson and drummer Neil Peart shamelessly lampoon themselves. The stage was set up in a whimsical steampunk style, funny-looking faux-machinery behind Lifeson instead of normal amps, while Lee's side of the stage featured a popcorn machine. The visuals on the big video screen were often eye-popping, Lee provided wry banter while Lifeson mugged happily, and fan favorites like "Tom Sawyer" and "The Spirit of Radio" were dutifully carted out.
For all the undeniable joy, however, a theme of aching, melancholic beauty ran throughout the three-hour, 26-song concert, with a series of songs serving as an emotional anchor to the proceedings, adding some gravitas to all the whimsy, and the overall effect was breathtaking.
With Rush touring in support of their new album, "Clockwork Angels," their best work in a quarter century, the fact that the tour's set list has revolved heavily around the record has been no surprise. But what has been surprising is the amount of focus placed on their 1982 to 1989 period. Much maligned by older fans and critics when the albums first came out, Rush's streamlined, synth-based music had a tremendous impact on a much younger audience, and now that many of those kids are music journalists – yours truly included – initially underrated albums like 1984's "Grace Under Pressure" and 1985's "Power Windows" are viewed in a much more positive critical light.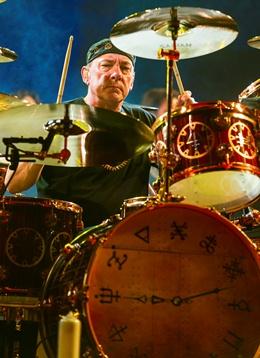 Consequently, a great deal of 35-to 45-year-olds in attendance were thrilled by the first half of the show, as '80s deep cuts like "Grand Designs," "Force Ten" and "Middletown Dreams" were performed instead of usual standards as "Limelight" and "Freewill." Lee expertly shifted from bass to synths and bass pedals, Peart's fills were stunning, and Lifeson's sharp, expressive, minimal guitar accents and solos showed why his work in the 1980s was the best of his career. Those '80s albums, for all their brightness, represented some of the darkest music in the Rush discography, and coupled with the elegiac strains of two "Clockwork Angels" tracks, this performance packed a bigger emotional punch than many in the exuberant crowd of approximately 12,000 had expected.
Case in point: The opening song was surprisingly low-key, the devastating "Subdivisions," the one song Gen-X Rush fans gravitated to as ostracized teens and still cling to most. Later on came the subtly tender "The Pass," a song Peart himself admits proves deeply emotional during every time he plays it. From the new record, "The Wreckers" offered another poignant moment, while "The Garden," featuring arguably the most reflective lyrics of Peart's career ("The measure of a life is a measure of love and respect") built to a beautiful climax, aided by a string ensemble. Following a stunning, sublime new drum solo by Peart that bore a huge resemblance to electronic act Boards of Canada, "Red Sector A," a song inspired by Lee's mother's experience in a concentration camp, brought all that emotion to a head.
Only then were the token fan-pleasers played, and when "YYZ," "2112 Overture/Temples of Syrinx/Grand Finale," and the glorious "The Spirit of Radio" were brought out to close the show, the throng erupted, those bright moments somehow seeming even brighter than usual. As the song goes, all this machinery making modern music can still be openhearted – even from a lofty prog-rock band – and there was plenty of heart on display on this near perfect night.
Setlist
Set 1:
Subdivisions
The Big Money
Force Ten
Grand Designs
Middletown Dreams
Territories
Analog Kid
The Pass
Where's My Thing?
Far Cry
Set 2:
Caravan
Clockwork Angels
The Anarchist
Seven Cities of Gold
The Wreckers
Headlong Flight
Halo Effect
Wish Them Well
The Garden
Dreamline
The Percussor (drum solo)
Red Sector A
YYZ
The Spirit of Radio
Encore:
Tom Sawyer
2112 Overture/Temples of Syrinx/Grand Finale
Adrien Begrand's extensive writing about metal music has been published in such magazines as Decibel, Metal Edge, Terrorizer, Sick Sounds, Dominion and Metallian, and online at PopMatters.com and Hellbound.ca. A metal enthusiast for nearly 30 years, he resides in Saskatoon, Saskatchewan, Canada.
live local music on
Enter your ZIP code to see concerts happening in your area.
Data provided by Zvents
follow msn music