Gotye: Someone That You're Going to Know
Onstage, the Aussie hitmaker risks a stretch toward bigger audiences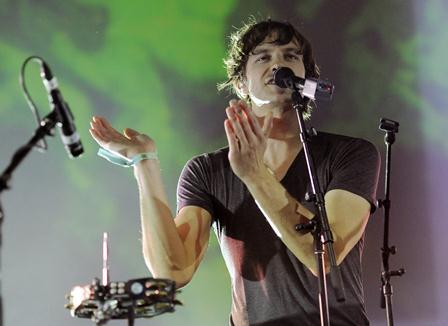 By Mark Brown
Special to MSN Music
Gotye finds himself in the same enviable yet awkward position that Alanis Morissette did when she did her first tour after her album "Jagged Little Pill" became a sensation.
Sure, there were plenty of other fine songs on that album, but those early audiences were there to hear The Song, and anything played before that was simply endured. Then she'd launch into "You Oughta Know" and the crowd would lose its collective mind and sing every lyric.
So when Gotye opened his latest U.S. tour at Red Rocks on Aug. 22, fans were receptive, enthused, supportive – but were again clearly waiting for The Song, the ubiquitous "Somebody That I Used to Know."
"Eyes Wide Open" and "Easy Way Out" got a great reception. The U.S. debut of "Dig Your Own Hole" (an iTunes bonus track) was a highlight. But when he did get to The Song two-thirds of the way through his set, the place went wild, with the women in the audience happily and lustily singing the female vocals of the song originally done by Kimbra.
MSN Music: Kimbra's Canny Breakthrough
Ah, if the whole night had only been that easy. The show at Red Rocks seemed a bit of an overreach, as the last time Gotye was in Denver he played a 1,000-seat club. But more than half of the 9,000-seat amphitheatre was filled, a respectable showing for a fledgling artist (even if he has been "fledgling" for the past decade).
The weather? Not so respectable. An afternoon squall likely squelched walk-up business, and the rain returned as Gotye prepared to take the stage, forcing stagehands to cover delicate electronics with trash bags and stare uneasily at swinging speakers and light rigs that were hit with winds strong enough to make the rain splash sideways onto the stage. Both crowd and crew deserved combat pay for sticking with it; there was a 30- to 45-minute delay in getting Gotye onstage after the opening acts.
The reward was a combination of prerecorded tracks, live music and projected backing visuals that were Pink Floyd-worthy. Gotye himself (given name: Wally De Backer) was an onstage natural -- gregarious, engaging and generous in thanking the road crew for battling the weather all day to make the show happen. Clearly he's a frustrated drummer; he spent most of the night onstage hitting things, be it three small percussion sets at various parts of the stage or a large xylophone-like object that produced different tones depending on the setting. At one point he took a pair of drumsticks to the strings of his bass player's guitar.
Bing: "Somebody That I Used to Know" parodies
One of the best things Gotye accomplished was getting fellow Aussie Missy Higgins in front of a large American audience. A best-selling artist in her homeland, Higgins is woefully ignored here. She charmed the crowd from the start, stopping the first song "Secret" because "my guitar is so out of tune my band can't play with me!" Technical problems can have their offhand charm if handled with grace, and it got the crowd on Higgins' side.
DJ Jonti opened the show and needn't have bothered. More technical problems made his set all but inaudible, with his vocals and instruments rarely making it through the PA system to the crowd. Sometimes opening night technical problems can simply ruin a set; that was Jonti's fate.
live local music on
Enter your ZIP code to see concerts happening in your area.
Data provided by Zvents
follow msn music