Variety is the Spice of Life at Seattle's Bumbershoot
Skrillex, Tony Bennet & Jane's Addiction showcase the festival's diversity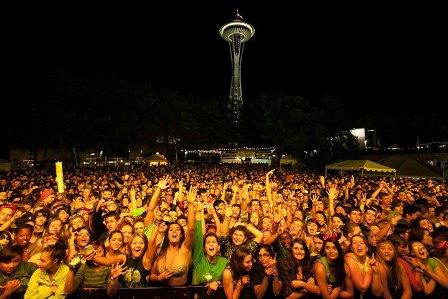 By Andrew Luthringer & Travis Hay
MSN Music Staff
Seattle's Bumbershoot festival is a Northwest institution that consistently features one of the most diverse musical lineups in the nation. The festival, which is in its 42nd year, took over Seattle Center's 74-acre campus for three days with roughly 100 acts spread across six stages -- including the main stage located indoors at KeyArena. MSN Music was there to experience all Bumbershoot had to offer. Here are some the highlights from this year's Bumbershoot:
If arena rave was a genre – and who knows, it may soon well become one – Skrillex would definitely be its king. The dubstep DJ du jour came packing a stadium-ready lighting rig that would make U2 jealous. His stage show included pyro, lasers, fireworks, fog canons and lots and lots of bass. How much bass? Let's just say Skrillex's booming bass filled the room with more vibrations than a chapter of "Fifty Shades of Grey." His set was sensory overload in the best possible way.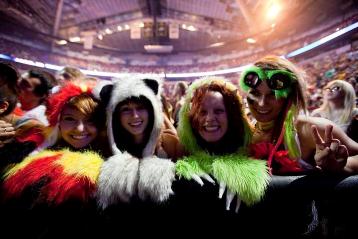 The crowd, which was mostly a sweaty throng of teens and twenty-somethings, loved every minute of Skrillex's non-stop dance party. Some were dressed in furry boots, gloves and hats that made them look like woodland creatures, while others waved glowsticks and wore neon facepaint. As for the music, it was like listening to Skrillex really, really loud except better because of the people watching. For his part, Skrillex didn't talk much. He stood at his DJ booth and uttered no more than 50 words during his set, only occasionally saying "make some noise" or "let me see your hands" just to let the crowd know that there was indeed a human pushing buttons atop the DJ tower. Really, words don't do Skrillex's impressive live show justice. It's something that must be experienced firsthand, but bring earplugs and be ready dance. - T.H.
MSN Music: Watch Nirvana's Krist Novoselic perform at Bumbershoot
The Barr Brothers are often described simply as "folk," but how many folk groups feature a classically trained improvising harpist who deftly doubles on trash can lid? Simplistic labels aside, while the Barr Brothers eponymous album of last year may feature a few gentle ballads anchored by gently plucked acoustic guitars, the band's more complex, true electric nature fully flowers on the concert stage. The anthemic uplift of "Beggar in the Morning" was preceded by a rhythmically driving North African desert vibe on "Give the Devil Back His Heart," and the band's cover of Blind Willie Johnson's "Lord, I Just Can't Keep from Cryin'" found a fertile seam between Indian raga and Delta blues. Tranced-out guitar arpeggios were leavened by metal scrape electronics, junkyard percussion and rich harmony vocals, and somehow it all flowed smoothly and naturally. The band played on a smaller side stage at the festival, but their audience grew steadily during the set, and most in the increasingly packed crowd stayed until the end, where they showered the band with appreciative applause. - A.L.
Jane's Addiction came with an arena-read rock show complete with plenty of pieces of visually engaging eye candy – aerial dancers, a backup singer literally interpreting a song, dancers dressed like dominatrices and more — but Perry Farrell, the band's biggest focal point, ruined the entire show. "Mountain Song," "Been Caught Stealing" and "Just Because" all appeared within the first five songs but you would have been hard pressed to figure that out if you didn't know the melodies to those alt-rock mainstays. Farrell was a mess of a frontman and his voice was just plain terrible. Maybe it was the bottle of wine he continuously drank from between songs (and verses) that caused his slurred banter and sloppy singing, or maybe it's his age catching up to him. After all, a strong case could be made for 53 being a tad too old to be dancing around on stage in tight leather pants that leave little to the imagination. – T.H.
On the other end of the musical spectrum were two legends, Wanda Jackson and Tony Bennett, whose respective sets were the highlights of Bumbershoot's second day. Between the two of them they are nearly as old as four Bumbershoots combined but their voices and candor showed no signs of age.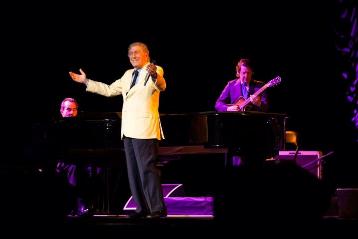 Backed by locals The Dusty 45s, Jackson sounded nearly as good as she did 50 years ago while delivering a set that dug deep into her songbook — which dates back to 1958 — and included some new material which she recorded with Jack White, whom she described as "a velvet-covered brick." While the music was great and the Dustys were impressive, the real highlights came when Jackson talked to the crowd. She shared plenty of stories, including one about touring with Adele, who told her that "Funnel of Love" inspired "Rolling in the Deep."
Bennett shared stories as well. He told the crowd Bob Hope gave him his name after he told the late showman his real name was Anthony Dominick Benedetto ("He said we need to economize that."). And he recalled fondly being on a television show where he was outperformed by Rosemary Clooney ("We were the original American idols."). His set included classics such as Hank Williams' "Cold Cold Heart," "I've Got Rhythm" and "Maybe This Time." And like Jackson, after all these years his voice has aged extremely well. Backed by a band that included Count Basie's drummer, Harold Jones, Bennett's golden pipes were on fine display. He flashed a wide, warm smile and extended his arms out to thank the crowd after every song, acting like the true class act, and lovable grandfather of pop music, that he is. – T.H.
MSN Music: Gotye risks a stretch toward bigger audiences onstage 
Gotye, aka the guy who had the song of 2012 that wasn't "Call Me Maybe," showed he has the ability to be more than a one-hit wonder. KeyArena was close to capacity (which hovers around 18,000) and Gotye and his band more than held up their end of the bargain with a great sounding set. He played just about every instrument on the stage, ranging from a set of percussion instruments to a drum kit to a sampler and keyboard, displaying some solid musicianship along with a strong set of pipes. By the time he got around to performing "Somebody That I Used To Know," it was clear he had the crowd won over but he gets a mixed review for the delivery of the hit single. Typically his tourmate Missy Higgins sings Kimbra's part of the song, however, Higgins was at an autograph session during Gotye's set so an instrumental section replaced her parts. This left the crowd to sing along and fill in the gap. It was a good way to encourage audience participation but definitely not the way most fans wanted to hear the song performed. – T.H.
Thee Satisfaction's superb and widley acclaimed Sub Pop debut "AwE NaturalE" proved Stasia Irons and Catherin Harris-White to be a riveting duo, almost telepathically in sync as they sang and rapped their way through a timbrally distinctive and rhythmically challenging set of funky afro-futurist soundscapes, which deepen with repeated listenings. But the transition from studio to stage can be tricky for many acts, and the immersive and intimate sound of the album, ideal for headphones or pumping in the car, seemed less impactful as a backing track emerging from a PA system. Irons' and Harris-White's vocalizing sounded spot-on, but without even the presence of a DJ, it seemed hard to project the energy level out beyond the part of the crowd closest to the stage. The excitement ramped up a bit when kindred-spirit Sub Pop labelmates Shabazz Palaces joined Thee Satisfaction on stage, with Tendai 'Baba' Maraire's congas providing some welcome rhythmic grit, but it may be simply that Thee Satisfaction's live sound is best enjoyed as a nocturnal club experience, rather than under the bright sun and blue sky of an outdoor festival. - A.L.
MSN Music: Yelawolf: Hip-hop from the heart of Dixie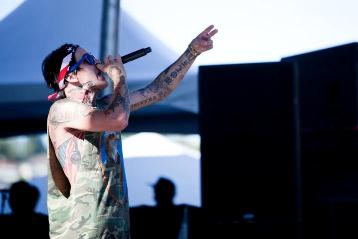 Yelawolf
The last time Yelawolf performed in Seattle prior to Bumbershoot he was nearly booed off the stage. He made it a point to let his fans know this and called his return to Seattle "poetic justice" because he drew one of the largest crowds of the afternoon. He impressed with his command over a massive crowd but I could have done without the tribute to his white musical heritage, which consisted of spinning Beastie Boys, Eminem and Lynyrd Skynyrd tracks (why not play some of your own original material?). The set ended with a track from his upcoming record with Travis Barker, leaving the crowd with something to look forward to since the album is expected to drop in October. Yela performed on the same day as Mac Miller and Big Sean – which was a smart programming move by the Bumbershoot brass – and while I didn't attend those sets, I assume they drew sizable crowds as well. – T.H.
Colorado-born, but a Seattle resident, Sera Cahoone established herself first as a drummer (Band of Horses, Carissa's Wierd) but luckily for her current fans, decided some years back to give free reign to her songwriting and singing skills, thereby opening up a rich trove of deeply affecting rootsy and sometimes dark music. Her Bumbershoot set, which served partially as a preview of her upcoming Sub Pop album "Deer Creek Canyon," had the relaxed, backyard feel of a performance party for friends, which in fact it was, albeit a large number of very attentive and admiring friends. Backed by a superbly sympathetic and locked-in band that added rich vocal harmonies and brought out all the nuance inherent in her music, Cahoone sounded strong and confident, and it seems that her new album is likely to be another step big forward in a so far stellar discography. - A.L.
Photos courtesy One Reel
live local music on
Enter your ZIP code to see concerts happening in your area.
Data provided by Zvents
follow msn music