Eels in Seattle: A 'Glorious' night of indie rock
E is for democracy as Mark Oliver Everett lets his crack band shine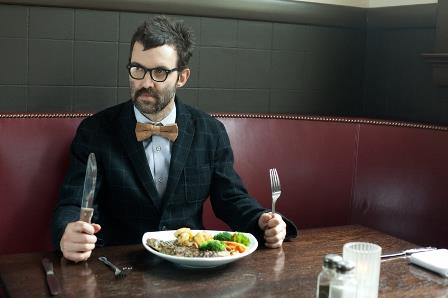 By Bob Douglas
Special to MSN Music
On the heels of the "Wonderful, Glorious" recordings, it's clear Mark Oliver Everett and his band are delivering on the latest version of Eels' promise: "Eels are not messing around."  
They are demonstrating this ably at The Showbox at the Market in Seattle on Feb. 19, a venue familiar with several incarnations of the band over a career spanning 18 years. Taking the stage after an opening set by Nicole Atkins, this time they are a robust five-piece, tastefully kitted out in matching tracksuits and shades. Chief sidekick The Chet and P-Boo on guitars join bass player Honest Al in the back line. The hugely talented Knuckles is on drums, upstage right, sharing the spotlight with Everett, the artist alternately known (and initially introduced on disc) as E. They careen into the opening two songs from the latest album with a determined fuzz tone and set the energy level on high. 
If the new album has yet to capture hearts it may be down to the leader's admission that he has opened up the writing process to his bandmates.  Although there are the staples familiar from his more auteurist projects -- about boxing, the natural world and mixed-up girls who can't return his love -- the payoff for this new democratic approach is to be heard in the live setting. Tonight there is no mistaking that Eels are a band and on occasion their new, untried songs sweep the audience up as powerfully as the road-tested classics or cannily chosen covers.  
MSN Music interview: Eels build new music from a blank slate
It is all served up with humor, showmanship and terrific chops. E's voice, no longer quirky, has mellowed into an instrument equally adept at wolf howls or mournful crooning. The Chet's licks on the old Fleetwood Mac warhorse "Oh Well" earn him a hug from the leader. Sooner or later everybody earns a hug.   
The first dips into the songbook are a pair from 2009's "Hombre Lobo" album. "Tremendous Dynamite" rocks hard and makes way for E's melancholy paean to unrequited love, "The Look You Gave That Guy." Does anyone nail the agony quite so simply and beautifully?     
The set ranges deep and wide yet makes room for the lion's share of the new album.  "On the Ropes" takes our hero back to the ring, battered and bruised but reminding us he's "a man who always copes." "Beautiful Freak"'s "Flower" is paired up with the splendid "Peach Blossom." Only during a slightly too long stretch of midtempo new material is there a lull in the action.  This is quickly reversed with a second tip of E's anglophile hat and a colossal, authentic workup of the Small Faces' 1967 psychedelic pop classic, "Itchycoo Park." The audience responds rabidly and is rewarded with "Souljacker, Part 1" and another new gem, "I'm Your Brave Little Soldier." 
MSN Music: More on Eels
Few in popular music do pathos and wit so well -- perhaps Loudon Wainwright III has the edge for inducing laughter and tears within the span of a couple of songs -- but in a live rock show setting it is a combination rarely served. That E remains stuck career-wise as one of the first and demonstrably best indie-rockers is a travesty, but his audience's great good fortune. By not quite breaking out of midsize venues and the constant album/tour cycle, he continues to polish his stagecraft, whittle away at his songwriting and blossom as an artist, and he remains as vibrant and contemporary-soundin​ gas he did when he started out.  
Tonight the lights go up after two riotous encores and the band exits with E mumbling about unfortunate curfews. The load out is under way. But wait, here they are again. "Dog Faced Boy" and "Go Eels!" finally close the set. So, Eels fans worldwide, don't hurry for the door after the show on this tour; E'll be back. 
Photo: Mark Oliver Everett (©Vagrant Records)
live local music on
Enter your ZIP code to see concerts happening in your area.
Data provided by Zvents
follow msn music