Béla Fleck and the Marcus Roberts Trio: An Imaginary Divide
A banjo maestro and a jazz piano wizard showcase fresh new music, no labels necessary
By Andrew Luthringer
MSN Music

"I'm living out a jazz fantasy up here," exclaimed Béla Fleck as he took the stage at Seattle's Jazz Alley. Fleck was kicking off a run co-billed with the Marcus Roberts Trio, touring in support of their recent CD "Across the Imaginary Divide." The Roberts trio is one of the pre-eminent active piano trios in jazz, but Fleck's magnanimous sentiment notwithstanding, the goal this band has set for itself is to embody something much more than "famous bluegrass banjo player sits in with top-shelf jazz trio."  In building the repertoire together, Fleck and Roberts set out to create their own new language, and it truly is a hybrid in the best sense of the word. The album's title also serves as the band's mission statement, putting the group into a realm where musical labels are no longer necessary.

"We wanted to do new music, so we did do a lot of rehearsing and preparing, but the naturalness of our connection was very welcome, and that's what was really important," Roberts told me before the set. The two first met at a jam session and found they had an instant rapport, even though they came from different music scenes. The connection was compelling enough to warrant more exploration. Both Fleck and Roberts have perfectionist tendencies, they like to be prepared, and they like to push themselves into new areas, so rather than working up a predictable set of standards, they got together and wrote a new album's worth of music.

"We really wanted this not to just be a set of gigs. We wanted a range of challenges every night. But we also need spontaneity, so we have to have a lot of options on arrangements," explained Roberts.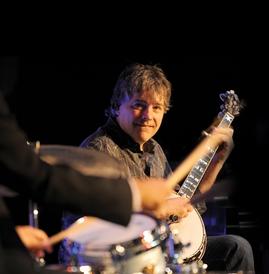 To that end, the band's set featured a great deal of intricate writing and elaborate arrangements. This was not just the frequently predictable jazz configuration of play the melody, solo, play the melody again and out. The unison lines were frequently labyrinthine and incredibly in sync; Roberts and Fleck share a fairly telepathic rhythmic and melodic lock, phrasing beautifully together, making the written ensemble parts a blast to listen to. Even before the soloing started, there was a lot of burning music being played. That both artists have spent serious time contending with and studying not just jazz but classical music was readily apparent on many of the tunes: On Fleck's "Kalimba," the ensemble tone delved into a seamless blend of impressionistic chamber-music Americana plied with driving swing.

But virtuosic instrumental considerations aside, the band's set was also rich with welcome earthy flavors: "That Ragtime Feeling" was drenched with a bluesy New Orleans vibe, full of humor and deep groove, compliments of drummer Jason Marsalis. "Petunia" blended 2-feel bluegrass bass-patterned sections into flowing ride-cymbal-driven swing, and as a piece co-written by Fleck and Roberts together, it perfectly captured the essence of what this band is about. "One Blue Truth" was another standout, showing a slower, quiet facet of the band's sound, pushed by bassist Rodney Jordan's masterfully melodic treatment.

Even for a player of Fleck's skill, integrating a banjo into in a jazz setting can be a challenge: The notes don't sustain and blur the way a horn does, and the chordal component is well and fully covered by the piano. A banjo is essentially a percussion instrument that can play notes (its roots are in Africa, and more than one observer has described it as "a drum with strings.") There were moments when Fleck seemed to be (unusually for him) slightly outside the proceedings, perhaps dazzled by his bandmates' explorations. But Roberts' trio has been together for many years, so it's not surprising that Fleck needs time to hone his role and approach to this new music. On "I'm Gonna Tell You This Story One More Time" for example, Fleck plucked and popped the notes to great
effect, giving the melody more heft than it might have from his regular finger picks.

Bing: Béla Fleck and Marcus Roberts


Though jazz can be seen as an urban music and bluegrass as a more rural form, roots in ragtime and blues are common to both. From one point of view, jazz actually has a lot of common ground with bluegrass (particularly its nonvocal forms): a well-defined set of tunes that everyone is expected to know, a premium put on (frequently) virtuosic improvisation and small group interplay and plentiful impromptu jam sessions, not to mention an identity outside the musical mainstream. It's not at all a stretch to think that fans of one form could find something in the other to latch onto.

Hence, it's easy to see why this group has been well received in open-minded bluegrass and jazz venues. Roberts and Fleck have clearly listened and learned a lot from each other, and brought the best of their separate traditions to the bandstand. Remarked Roberts: "We've done appearances at bluegrass festivals, and been very well received. The music defies stylistic limitations." An "imaginary divide" indeed.
On tour: Check out upcoming dates with Béla Fleck with the Marcus Roberts Trio



live local music on
Enter your ZIP code to see concerts happening in your area.
Data provided by Zvents
follow msn music