Tiesto in L.A.: An EDM veteran rules in headlining Staples show
The Dutch mixmaster pumps up fans while staying true to house and trance roots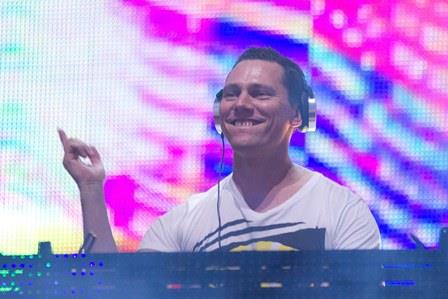 By Robert Spuhler
Special to MSN Music
Dance music's profile in America has never been higher than right now. Producers get top billing on songs, parties that used to be held in parks and forests are now held in arenas, and festivals book EDM acts on the main stage, not just the dance tent. New stars are created daily. One dance-floor smash hit can take a DJ from relative obscurity to worldwide superstardom, like Avicii found out in 2011 with "Levels." In a crowded field, though, only a few names stand out from the quasi-anonymous hordes, and thanks to mainstream success stretching back more than a decade, Tiesto might still be the biggest name in the field.
On March 2, for only the second time in the venue's history, a dance music artist took over the Staples Center in Los Angeles, as Tiesto commanded the dance floor for more than two hours. He blended current hits like Calvin Harris' "Sweet Nothing" with classics like his remix of "Silence," the Dutch DJ's first major American hit, and gave a capacity crowd the adrenaline rush it sought.
Opening up with "Chasing Summers" and "We Own the Night," both from his 2012 mix "Club Life 2: Miami," Tiesto quickly set the tone for the evening, with remixes of his hits flowing seamlessly into dance faves like "Can't Stop Me Now" by Afrojack and Icona Pop's "I Love It." Zedd's "Clarity" and "Stars Come Out" both got huge reactions from the crowd, which is a good sign for the young electro-house star.
While Tiesto stayed mostly with the house music that has made him a worldwide celebrity, his playlist also included nods to his trance roots, along with a short burst of the sound du jour, dance music's take on trap beats. Hardwell's "Spaceman (Carnage Festival Trap Remix)" put a big charge into the crowd as one of the world's most respected DJs gave EDM's version of Southern hip-hop a newfound credibility.
MSN Music: Dance dance evolution: From disco to EDM
But while EDM thrives on "new" and the best DJs have the latest beats a mouse-click away from the speakers at all times, Tiesto has the history in the genre to be able, on occasion, to be nostalgic without sounding old. "Are you ready for some Tiesto classics?" he asked the audience midway through his set and, after a roar from the crowd, settled into playing a series of songs from the early part of the last decade. Tracks like "Love Comes Again" and the aforementioned "Silence," though they might as well come from the Paleolithic era in terms of dance music's obsession with today, were greeted by even the audience's youngest members with screams and fist pumps.
Those classics, along with Tiesto favorites like the Tegan and Sara collaboration "Feel It In My Bones," were backed by a massive video wall, confetti canons, smoke machines and fireworks. The visuals were not overwhelming, though, and mostly managed to complement the music rather than steal the spotlight (save for the confetti showers, which had Tiesto occasionally blowing bits of paper off of his on-stage controllers).
The rescheduled "Club Life" show kicked off a busy spring for Southern California EDM fans. The supposed final tour of supertrio Swedish house Mafia rolls through Los Angeles on March 8 and 9; Beyond Wonderland, which features David Guetta and Afrojack, will take place on March 16 in San Bernardino; and, of course, Coachella has three full days of dance music in the Sahara tent, with big names like Moby and Paul Oakenfold taking turns moving the crowd. But for two hours at the Staples Center, Tiesto showed that those who have come after him still have work to do to match his sway over dance music.
Unfortunately for his openers, the throngs of Tiesto fans did not seem interested in starting their nights early. Alvaro kicked off his set not long after the doors opened, and the combination of a 6 p.m. start and the airport-like security procedures at the venue (with separate stops for identification checks, pat-downs, a metal detectors and, finally, tickets) meant only a few hundred dancers made it into the arena to see him onstage. Middle act Tommy Trash fared better, and by midway through his hourlong appearance the crowd had started to file in and the arena floor had filled up.
* Photo credit: DarioCantatore/Retna​ Ltd.
live local music on
Enter your ZIP code to see concerts happening in your area.
Data provided by Zvents
follow msn music