Rihanna Returns to the Stage With 'Diamonds' World Tour
Get your umbrellas ready for her 2013 tour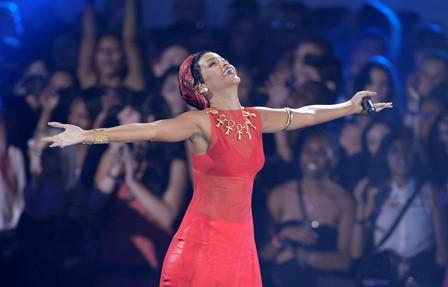 MSN Music Staff
Break out your umbrellas because Rihanna is hitting the road.
The pop star is fresh off a successful VMAs appearance where she debuted a pixie-cropped hairdo, performed "Cockiness" with A$AP Rocky and took home the Video of the Year Moonman for "We Found Love" with Calvin Harris, and today she revealed the first 27 dates of the 2013 Rihanna Diamonds tour.
The tour begins in Buffalo, NY in March and so far it is scheduled to go through May with more performances expected to be announced soon. Her initial tour dates are listed below.
Wonderwall: Rhianna kisses Chris Brown at VMAs
Mar. 8              Buffalo, NY                   First Niagara Center                 
Mar. 10            Boston, MA                   TD Garden                                     
Mar. 12            Baltimore, MD               1st Mariner Arena                         
Mar. 14            Philadelphia, PA           Wells Fargo Center                         
Mar. 15            Hartford, CT                   XL Center                                              
Mar. 17            Montreal, QC                Bell Centre                                               
Mar. 18            Toronto, ON                  Air Canada Centre                    
Mar. 21            Detroit, MI                     Joe Louis Arena                         
Mar. 22            Chicago, IL                    United Center                           
Mar. 24            St. Paul, MN                 Xcel Energy Center                        
Mar. 25            Winnipeg, MB                MTS Centre                                   
Mar. 27            Edmonton, AB               Rexall Place                               
Mar. 30            Calgary, AB                   Scotiabank Saddledome              
Apr. 1              Vancouver, BC              Rogers Arena                                          
Apr. 3              Seattle, WA                  Key Arena                                                 
Apr. 6              San Jose, CA                HP Pavilion                               
Apr. 8              Los Angeles, CA            Staples Center                           
Apr. 11             San Diego, CA               Valley View Casino Center        
Apr. 12             Las Vegas, NV             Mandalay Bay                                           
Apr. 15             Houston, TX                  Toyota Center                                          
Apr. 16             Dallas, TX                      American Airlines Center           
Apr. 19             Tampa, FL                    Tampa Bay Times Forum          
Apr. 20             Ft. Lauderdale, FL          BankAtlantic Center                   
Apr. 22             Atlanta, GA                   Philips Arena                                             
Apr. 29             Washington, D.C          Verizon Center                                          
May 2              Ottawa, ON                   Scotiabank Place                     
May 4              Brooklyn, NY                 Barclays Center                         
After seeing her perform at the Rock in Rio last year, there is no doubt she is a lazy performer on stage for a full show. She lip syncs most of her songs, she has long intro to most of her songs that she is not onstage for without changing. She also uses a lot of audience sing alongs to her songs so she doesn't have to sing them. She also doesn't move a lot on stage mainly staying in one place.
They stuff she does in videos, special appearances and awards shows is not the real Rihanna. Go waste your money and see her live when she has to perform a full set. You will see what I am talking about.
I suggest you buy the dvd of her Rock in Rio performance before you spend any money on her new tour.

Sad people of her ilk are not making enough money in the entertainment industry. Rihanna and some other brown skin sistas are sticking around. Not a single dark skin sista can make it in today's image contest, whereas the true soulful sounds is going way by and bye.
In time the likes of Adele and Lady Gaga will have nothing from nobody to learn from.
Are you sure you want to delete this comment?
live local music on
Enter your ZIP code to see concerts happening in your area.
Data provided by Zvents
follow msn music