Peter Gabriel: Anything but So-So
The British art rocker showcases his classic 'So' full-length in a triumphant new tour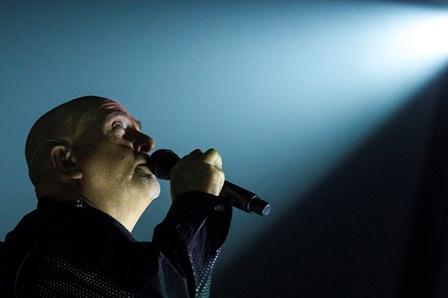 By Mark Brown
Special to MSN Music
Peter Gabriel walked up to the microphone, looked out at the crowd and said simply, "Hi there."
Most got the joke. They're the two words that kick off "Big Time," a song fans knew they'd hear later in the evening when Gabriel played his classic "So" album in its entirety.
The "albums in their entirety" craze shows no sign of waning. But "So" is a particularly delicious slice of the Gabriel catalog and his shows are always events, no matter what. So it was no surprise that some fans at the sold-out show at Red Rocks Amphitheatre near Denver had come all the way from Canada to catch it. It was literally a once-in-a-lifetime deal.
Gabriel knew it as well. On this tour he's every bit as theatrical as in the past, but more affable. The handsome, rakish man who recorded "So" has become the jovial older gent, acting as his own genial emcee and relishing serving up the hits and taking chances. He opened with a new, unfinished song accompanied by longtime collaborator Tony Levin, the most badass bass player on the planet.
Then came the acoustic set – or "the appetizer," as Gabriel put it. "Shock the Monkey" became darker and even more menacing in an acoustic setting. The full band, including multinstrumentalist David Sancious and ferocious drummer Manu Katche, was tight yet fluid. Gabriel's visual effects were predictably mind-blowing, the sound absolutely pristine.
What's most remarkable, however, is how Gabriel's voice has retained its pure, plaintive tone over the years. Whether blasting through the fierce "Digging in the Dirt" or skipping around the stage singing "Solsbury Hill" he didn't miss a note, nor did he shift to lower keys. More than once the crowd applauded midsong after a particularly strong vocal passage.
MSN Music: A look at the albums onstage trend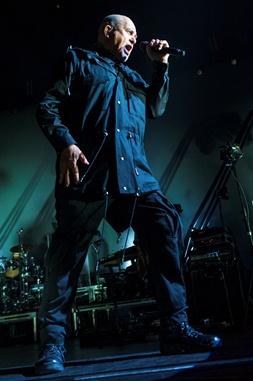 Ten songs and a bunch of hits into the show, Gabriel announced it was time for dessert and the opening strains of "Red Rain" washed over the crowd. One forgets how many "So" cuts were on the radio back in the day, from huge hits like "Sledgehammer" to the more subdued "That Voice Again." He explained in advance that "So" would be performed in the sequence he originally envisioned it – with "In Your Eyes" as the last song – but was initially unable to release it that way due to the 1986 space constraints of vinyl.
No big surprises here: "So" is such a signature album that Gabriel plays most of its songs on any given tour. But hearing it again as a whole work was simply a thrill, made even better by the sheer glee the band members showed whether they were hammering the big songs or recreating the frailties of "Don't Give Up" (another song where Levin showed himself to be a bassist of unparalleled skill).
Encores included the sing-along of "Biko," with the show clocking in at a solid two hours. The tour continues through mid-October.
Gabriel is recording every show on the tour and making them available through his website – double-disc sets for just $15. So while this tour is a one-off, fans can relive the shows: even if they weren't there.
Mark Brown is a veteran music journalist who was pop critic for the Rocky Mountain News until its demise. He is also a contributor to MSN Music blogs Reverb and Scene & Heard.

Check out the follow-up album to "So".  It's called "Us" and it's amazing as well.  Maybe not as radio friendly hits as "So", but equally creative and darker in message.  Annnd, the album after that, "Up" was another classic LP although it didn't get as much radio play as the previous two albums.
Are you sure you want to delete this comment?
live local music on
Enter your ZIP code to see concerts happening in your area.
Data provided by Zvents
follow msn music