20,000 Beliebers Can't Be Wrong
Justin Bieber's heavy doses of charisma and positive messages impress on the night his personal belongings were stolen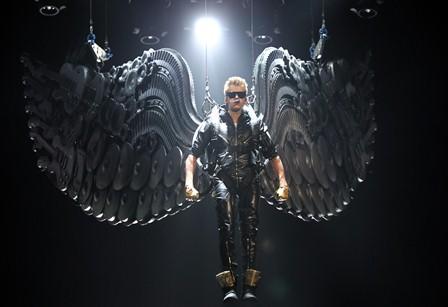 By Travis Hay
MSN Music
To paraphrase the legendary Neil Diamond, I saw him live now I'm a Belieber.
But I won't get into how teen megastar Justin Bieber won over this hardened, somewhat cynical music critic just yet. First allow me to set the stage by putting my experience at Biebs' Oct. 9 concert at the Tacoma Dome in perspective. Yes, the same show where Bieber's laptop and camera were stolen. The camera and laptop contained "personal footage" of the star. The theft doubled as a news story and a good publicity push for his new video.
MSN Music: Bieber publicist: Stolen laptop tweet not a hoax
I knew that I wasn't in for the typical concert experience the moment I noticed my 15-year-old niece, who was my date for the evening, painting a purple J and B on her cheeks. Not many fan bases outside of Insane Clown Posse's juggalos paint their faces in devotion to their musical heroes. And unlike juggalos, Beliebers aren't likely on any FBI watch list.
In case you didn't already know, purple is a sacred hue for Beliebers because it's Justin's favorite color. Unfortunately, my wardrobe is lacking in the purple department, but I wanted to be in the spirit of things, so I sported purple earplugs, which definitely came in handy, but not because of the music: because of the thousands of screaming fans. But despite my minimalist effort to fit in, when we arrived at the arena, I discovered I was very much underdressed for the occasion. The sold-out, 20,000-capacity venue was bathed in purple lighting and almost everyone in the crowd had some shade of purple on, making the stands look like a grape-colored swarm of humanity. The devotion runs that deep.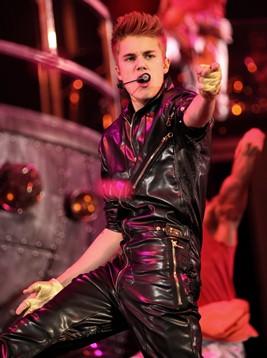 Moments before the show began, I looked to my left and my niece was trembling with adrenaline. It was her first concert and just like every Belieber in the building that night, she idolizes Justin Bieber. When I asked her what it is about JB that she likes so much, she rattled off several reasons, the first of which was his charitable efforts. One dollar for every ticket to the show went to Pencils of Promise, an organization that promotes global access to education. She also mentioned his music and of course it doesn't hurt that Biebs is a teenage heartthrob.  
MSN Music: Bieber: 'I'm still the underdog'
Our conversation was cut short at around 8:15 p.m., which was when a 10-minute countdown on a video screen struck zero. That's when the mass hysteria really kicked in. My purple earplugs were working overtime as the shrieking of teens nearly drowned out Bieber's band. The mass swooning started around 8:20, which was when a winged Bieber appeared suspended above the crowd. The guy knows how to make an entrance.
As far as the performance is concerned, Bieber puts on a good show. He worked a multitiered stage with a catwalk and eight video screens displaying dance moves that would make his mentor, Usher, jealous. He acted out "She Don't Like the Lights," a song reportedly about his girlfriend Selena Gomez not enjoying the media attention their relationship receives, by dancing around backup dancers who were acting like paparazzi attempting to take his picture.
He displayed his musical chops during a drum solo and during a three-song acoustic set that included "Be Alright," "Fall" and "Favorite Girl." During the acoustic numbers he played his guitar while hovering above the crowd in a cherry picker. For "One Less Lonely Girl" he brought a fan onstage, gave her flowers and serenaded her while she cried in what surely had to be the most surreal moment of her life. I was later told this is customary at Bieber concerts.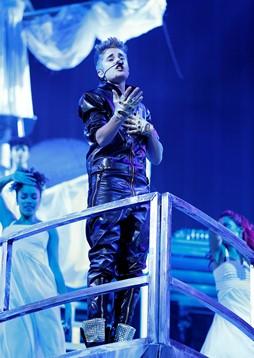 The setlist was heavy on songs from his latest album, "Believe," which was released earlier this year. "Out of Town Girl," with its Timbaland-aping beat and "Beauty and a Beat," which has hints of Skrillex and Daft Punk in its production were highlights. The latter featured a video of Nicki Minaj delivering her verse.
MSN Music: Bieber is distant cousin of Gosling, Lavigne
At one point Bieber asked the clichéd "Where are all the ladies at?" and the place erupted. He later asked for all the guys to make some noise and it was all crickets.
"I guess that means there's more for me then," he said with a sly laugh.
When he wasn't playing the role of ladies' man, Bieber seemed genuinely grateful for all of the support from his fans, and he shared several positive messages between songs. The overall themes of his messages were of self-confidence and determination.
"Believe in your dreams and never say never," he told the crowd before launching into "Baby," one of the songs that sent his star into the stratosphere.
Seeing such an impressive showing of fan support combined with hearing Bieber's simple, positive message was refreshing. That is what turned me into a fan of the 18-year-old Canadian dynamo and if you get an opportunity to see him perform, I bet he'll make a Belieber out of you too.
Setlist:
All Around the World
Take You
Catching Feelings
One Time
Eenie Meenie
Somebody to Love
Love Me Like You Do
She Don't Like the Lights
Die in Your Arms
Beautiful (with Carly Rae Jepsen)
Out of Town Girl
Favorite Girl
Be Alright
Fall
Never Say Never
Beauty and a Beat
One Less lonely Girl
As Long As You Love Me
Believe
Encore:
If I Was Your Boyfriend
Baby
live local music on
Enter your ZIP code to see concerts happening in your area.
Data provided by Zvents
follow msn music