Peter Wolf on going solo, touring and reuniting the J Geils Band,
Check out an exclusive clip of 'Love Stinks' done bluegrass style
By Mark Brown
Special to MSN Music
Note to self: Spend some time on the East Coast. Peter Wolf makes limited tours these days, both solo and with the J Geils Band. They've turned down the big reunion-tour offers, but Wolf hasn't completely ruled it out under the right circumstances. Instead, they do benefits or just a handful of New England dates.
Wolf is about to make his own run, just six shows starting Oct. 25 in Maine and ending with two nights in New York City on Nov. 3 and 4. His solo career in the past decade has produced the classics "Sleepless" and "Midnight Souvenirs," with help from pals including Keith Richards, Mick Jagger and, on "Midnight Souvenirs," country legend Merle Haggard. Wolf sat for a few minutes to talk about the method behind his madness.
MSN: What made you book this short run of dates?
Peter Wolf: I put together this solo band called the Midnight Travelers. It's like a director looking for the perfect cast. I took the crème de la crème of musicians from the New England area … not just musicians but artists. We put together an ensemble that encompasses not only songs and solo material but spoken word, almost 'an evening with' style. It's a unique thing compared with what I used to do with the J. Geils thing. It's another expressive outlet that I find very rewarding. I try to put together these runs that have some meaning to them in this new world order of music. It makes sense to us.
Bing: Peter Wolf music, videos and more
Why the switching back-and-forth between Geils and solo work?
The Geils band just finished a tour. I believe we sounded better than ever. I look at it as an actor who does a big movie, then can do a small Sundance movie that has a different kind of demand. I enjoy both of them. They're unique in very different ways. I put a lot of effort into both but the solo thing is more intimate, demanding and because of the intimacy it makes the rewards – I wouldn't' say greater, but it's a special kind of reward.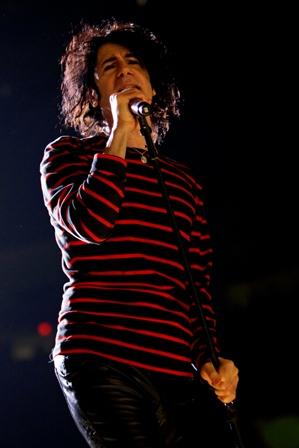 How did the Geils reunion start, and will you ever take it nationwide?
There was a horrific fire in the New England area where a lot of firemen lost their lives. We pulled together to do a benefit … then there's this foundation for inner-city kids. We did a benefit for that. We just kept it limited in and around the New England area. If something came up to make it meaningful we'd do more. The phone call comes in to me and says 'Pete, would you like to do a run of eight or nine dates?' That's usually how it starts.  We've tried to stay away from it being one of those classic rock packages. There's not anything wrong with that. … but in our long career we've had people like Tom Petty open up for us, U2 open up for us, Billy Joel open up for us. Today there are artists who work together like Bonnie Raitt and Mavis Staples . When we went out we took Toots and the Maytals with us …. Those are always things to explore. But my focus mainly is the solo work.
The bio on your website is great. Most are fluffy press releases; yours is a detailed, fascinating history of your life. Any thoughts of writing a memoir?
It's interesting – I've been getting many requests for memoirs, and to do radio shows with satellite radio. I know how demanding it is. Radio to me is so important it requires so much commitment. … I'm good friends with the people who put together Dylan's radio show and it's great. That's one approach that really worked – he had a great team helping him out. For a book, I find that I do have interest in it, but it has to be right, just like making an album. My book would be subtitled "A Fan's Note" because … I got into music because it was a great opportunity to meet musicians. I was a painter and dyslexic at that. Though I came from a musical background I couldn't really play. Working with other musicians was so exciting. …when you're in a band you learn your part and play your part right. You can tell right away if it's right or wrong. … I got to meet and witness a lot of the greats. Many of the books center on people's personal life, which is OK with someone like Keith. For me, the approach would be my encounters with Sly Stone or this or that. That's the kind of book I would find to be interesting.
How did Merle Haggard end up on your last solo album?
That was an interesting one. Merle was someone I always admired. I was always a closet country fan. Even as a kid in the Bronx … I was able to get WWVA out of Wheeling, West Virginia on my radio. I would hear people like the Stanley Brothers and different country artists. … rock 'n' roll, so much of it came from the south, Elvis, Carl Perkins, Muddy Waters, Chuck Berry are all southern musicians or southern influences.  … It was basically blue-collar, working class people. I didn't find any difference between Hank Williams and Muddy Waters. They just seemed to be primal.
Bing: J Giles Band songs, videos and more
So how did that lead to Merle?
I was always a huge Merle fan. I remember Gram Parsons when he was up here in Boston … being with the Rolling Stones on the '69 tour. Maybe it was the '70s. But Mick and Keith and Gram were just sitting on the floor, singing a bunch of Merle songs. … I had the pleasure of working with someone who worked with Merle. He was out on the road and I made a mecca to see him and ended up on the bus. We had a social situation then came the song 'Too Late For Me' on the new record. I played it for Merle and he thought it was a Lefty Frizzell song. I got a call a couple weeks later that he was gonna cut it. I said no, no, no, I meant for it to be a duet. Finally I tracked Merle down and after zigging and zagging, one of the thrills of my career was sitting shoulder-to-shoulder​ with Merle while singing 'Too Late for Me.'
* Photo: Peter Wolf performing at the Sears Centre in Hoffman Estates, Ill. in 2008. © Lance Manion/Retna Ltd.


i just saw wolf and the boys house of blues boston . great show . lost track of how many encores . i think 6 . omitted most of the pop and played straight ahead rocknroll blues . THANK-YOU !!
magic dick -- greatest harp player walking . i also saw peter at a small joint northampton mass. he is without question one of the best  frontman of all time . he controls room and can play any style


Hey.- Rapudah Lebeautah. Flip me down your hair, and let me climb up the ladder of your love.

love comes once, and when it comes and you got to grab it fast. cause you know somehow it's not gonna last. and i believe i MUS TA GOT LOST!!!!!!!!!!!!

the consummate showman. he was awesome with the J Geils a few years back. rocked the house.


Hopefully Peter is off the drugs and alcohol!I saw J.Geils in Seattle for last show before they fired Peter ,and he was a total embarassment to all!Falling into drummers drums,almost falling off stage,forgetting lyrics to songs,dark sunglasses that i think he thought his his blind intoxication,he couldn't even remember lyrics to Centerfold!wtf!Far as i'm concerned he owes me a concert!
Are you sure you want to delete this comment?
live local music on
Enter your ZIP code to see concerts happening in your area.
Data provided by Zvents
follow msn music