Wisin & Yandel's reggaeton rocks Madison Square Garden
The duo's post-Sandy makeup date features a cameo by 50 Cent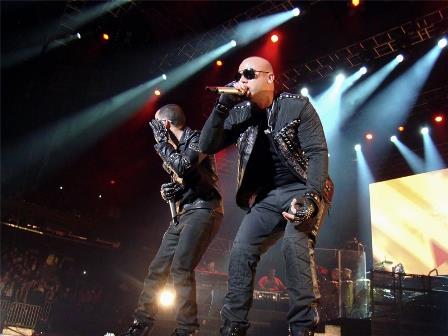 By Phil Freeman
Special to MSN Music
Puerto Rican reggaeton duo Wisin & Yandel had been booked to perform at Madison Square Garden in early November 2012. Then Hurricane Sandy hit, and the show was postponed. This was the makeup date, and it seemed like the delay had only stoked the fires of their fans' enthusiasm, as the screaming from the largely female audience was raucous and relentless.
The duo have been together since 1998, but they didn't break through commercially until their fifth album, "Pa'l Mundo," released in 2005. Reggaeton, a mixture of Spanish-language rapping and beats reminiscent of Jamaican dancehall, was having its crossover moment with Daddy Yankee's hit single "Gasolina" and the "Mas Flow" compilation series, on all three volumes of which Wisin & Yandel appeared. It was the perfect time for their club-friendly sound, and they capitalized on it superbly well. The key to their appeal is raw charisma, and the way their two voices blend.
Wisin (born Juan Luis Morera Luna) is a forceful, belligerent rapper who always sounds on the verge of exploding, whether he's rapping about girls, his own awesomeness, or some combination of the two, while Yandel (Llandel Veguilla Malavé Salazar) handles most of the singing. Early hit songs like "Rakata" and "Llame Pa' Verte (Bailando Sexy)" stuck to the relentless beat and minimal synth melodies of classic reggaeton, but on subsequent albums — 2007's "Los Extraterrestres," 2009's "La Revolución" and 2012's "Lideres" — they've expanded their sound to include hip-hop, merengue, bachata, Euro-style trance and more, while collaborating with everyone from 50 Cent and R. Kelly to Jennifer Lopez and Paris Hilton.
Bing: Wisin & Yandel music, videos and more
The show was oddly paced, but highly entertaining. Wisin and Yandel would perform four or five songs, engage the crowd in this-side/that-side screaming contests, allow their six backup dancers to writhe around them like game show spokesmodels showing off a new car … but then they'd disappear backstage, and a self-aggrandizing video clip would play while they changed costumes. They went from black leather and studs, to brilliant white denim, to camouflage and khaki, to basic street wear, and the girls changed outfits a few times, too. No one minded the interludes, though, because the songs they performed were rhythmically irresistible, and the two have genuine charisma, singly and together. Wisin's delivery is even more bulldog-like onstage than on record, and Yandel's vocals, while heavily treated (and shadowed by a backup singer), are still powerful and the melodies catchy.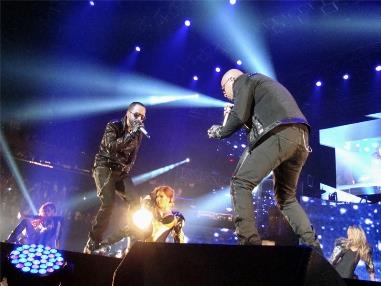 The high point of the show, from the majority of the audience's perspective, came at its midpoint, when Romeo Santos of the bachata group Aventura appeared onstage to sing "Noche de Sexo." The screams instantly went up an octave, and didn't stop for the duration of the song. Unfortunately, the night's energy level flagged somewhat afterward, when 50 Cent showed up to perform "Mujeres en el Club" with the duo. After that song, the headliners disappeared backstage for another costume change, and 50 hung around to deliver two more tracks — "Put It Down," featuring singer Jeremih, and "Major Distribution," a clichéd and boring bit of drug-rap. Only after his departure, and the headliners' return, did things perk up again.
This was a glossy, high-tech show: Multicolored lights flashed and zipped around the duo as they performed, and a dozen or more screens projected screen-saver-like animations behind them. But no matter how slick their show — or the music — might get, the raw street energy of Wisin's rapping, and the romantic yet edgy power of Yandel's singing, are what keep fans riveted, on record and onstage.
Photo credit: Phil Freeman

The Puertorrican Reggaeton are the best. The difference between them and other supposed "Mambero" or "Dembo" is that they do not know what real Lyrics are?. The Puertorrican Reggaeton Lyrics and their voices (they know how to sing) you could understand what they are talking about and not the nonesense that others from the Latin countries do not know what the meaning of mix music with fantastic lyrics mean.
Are you sure you want to delete this comment?
live local music on
Enter your ZIP code to see concerts happening in your area.
Data provided by Zvents
follow msn music