SXSW 2013 Day 1: Indie delights shine in the spotlight
Austin's all-you-can-hear festival is the perfect place for showcasing the little guys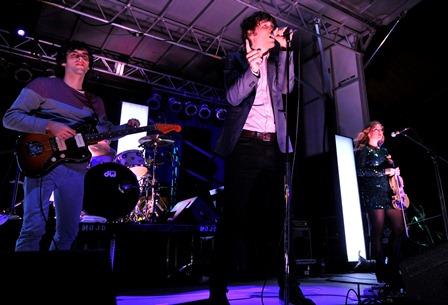 By Pete Kane
Special to MSN Music
AUSTIN, Texas -- South by Southwest's music portion kicked off Tuesday without the chilly nights that beset the Film and Interactive segments, and Sixth Street came alive with the Mardi Gras atmosphere that characterizes one of the world's densest concentration of clubs. Stand on the sidewalk just about anywhere and you'll hear dueling beats from venues across the street from one another. All week long, downtown Austin feels like an airport with multiple runways where the jets are flying in from every directions. Here are our highlights from the first day of SXSW's music offerings.
Since one of the singular pleasures of SXSW is the pure randomness in intimate settings, the Austin-based duo Zorch played a set that exploded with intensity. Not to be confused with the mid-1970s British prog rock band of the same name that is probably best left undisturbed, Zorch filled a steampunk-themed bar with the antithesis of analog technology. Looping eerie electronics and arpeggiated falsetto vocals over relentless and flawless drumming, they balance abrupt transitions of tempo and time signature with whatever works: a tambourine, a strummed harp effect repeated thirty times, synths that evoke "The Legend of Zelda." (The debut album isn't even out yet, adding to the mystery.) Like early Grandaddy or the unfairly forgotten Cansecos, distinctiveness is the overall goal here. Zorch may be a niche band for a niche audience, but they're as disciplined as they are unique.
Ambitious orchestral folk six-piece Dana Falconberry is best appreciated with minimal background noise, but not even ambient cocktail shakers and bar chatter put a dent in their ability to mesmerize. On songs like "Crooked River," "Sault Ste. Marie" and "Pine Cone," the three-part female vocal harmony relies less on proper chords and more on sequential, elaborately arranged oohs and aahs that buffet Falconberry's ethereal lyrics -- and the result is sublime. Closing out with the title track from "Leelenau," their most accomplished work to date, the Austinites' set concluded with a majestic disintegration alternating with the verses. Unquestionably, this is a band destined to show up on many a film soundtrack, and there's almost no excuse for anyone to miss them this year, since they're playing over a dozen times.
At first glance, Manchester quartet the 1975 looks as though a cynical record label exec groomed some young punks into the bottom rung of respectability -- but they sound like earnest young rockers who aren't afraid of real emotion. On the strength of three EPs alone, this band has crossed the Atlantic to pretty serious acclaim, and they'll have multiple chances to shore it up at South By. Unlike the Vaccines, who use power-pop hooks to lure you in, the 1975 take a less-is-more approach. "Sex," arguably their best-known song, brings the '90s back by highlighting their proficiency and quality songcraft. (You just know these guys grew up listening to My Bloody Valentine).  As standouts in a UK-themed showcase, they may have smuggled in their fan base, but this is an act to watch.
Ra Ra Riot's midnight set, delayed by half an hour, put their new synth-heavy selves front and center -- along with a see-through cello. Leading off with "Binary Mind" from "Beta Love," released earlier this year, the quartet from Syracuse, N. Y. continues to evolve away from the baroque pop that characterized their early records. It was at times a mixed bag, as this new progression seems to have brought them straight into circa-2007 MGMT territory (although this is a departure from the sound of the record). Undoubtedly, Wes Miles is a talented vocalist whose style pairs well with the anthemic, but the occasional forays into a lazy R&B swagger overlaid songs lacking much of an emotional center, and the occasionally gaseous effects brought to mind the filler on "Dark Side of the Moon."
The Polyphonic Spree, everyone's favorite eighteen-piece cult of sheer happiness, closed out the night at Red 7 with -- surprise, surprise -- a true crowd-pleaser, with material from albums old and new. "You Don't Know Me," the lead-off track to the forthcoming "Yes, It's True," pushes the Spree further away from the choral arrangements of their early days. At times, they sounded almost like the Bangles, if the Bangles were four times as large. True to form, they detoured through "We Sound Amazed" from their full-length "Together We're Heavy" and closed on the last song from their self-titled first album, "Light & Day/Reach for the Sun."
Texas natives who somehow haven't played SXSW in many years (although they did perform at a Nobel ceremony), the Spree includes a three-piece horn section, seven female backup vocalists, a violinist and a cello player, all under the direction of a strange, imperious manchild, the perfectly named Tim DeLaughter. You get the feeling that this particular cult, almost 15 years on, will either die with him or endure forever. Either way, they've still got it, if you define "it" as will-to-cheer. Compulsory happiness is still happiness, right?
MSN Music is embedded in Austin for the week to cover the musical mayhem that is SXSW. You can read all of our coverage of the annual music fest by clicking here.
* Photo: Ra Ra Riot performing at Social Underground hosted by Nerdist Industries and comiXology at SXSW. Jack Dempsey/Invision for Nerdist/AP
live local music on
Enter your ZIP code to see concerts happening in your area.
Data provided by Zvents
follow msn music