New Orleans Jazz Fest gets Fleetwood Mac, Black Keys, Billy Joel, DMB & more
The fest is a diverse, star-studded event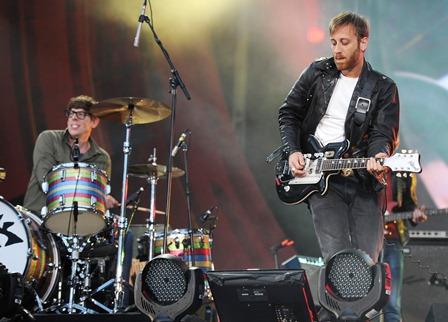 The lineup for this year's New Orleans Jazz Fest was revealed this morning and as usual the event will feature a wide array of stars spanning musical genres.
Fleetwood Mac, the Black Keys, the Dave Matthews Band, Billy Joel, Frank Ocean, Maroon 5, Patti Smith, B.B. King, John Mayer, Jill Scott, Phoenix and Willie Nelson are among the big names for the 44th annual event that will take place April 26-28 and May 2-5. Other notables include Gipsy Kings, Hall & Oates, Widespread Panic, Band of Horses, Jimmy Cliff, Little Big Town, Charles Bradley, Calexico, Andrew Bird and Los Lobos. In addition to these artists hundreds of New Orleans musicians will perform as part of the festival.
Tickets for the seven-day event, which is spread across two weekends, cost $45. The price increases to $50 on Jan. 29. Tickets at the door will be $65.
Check out the video announcing the lineup and view the daily lineups below.
April 26

John Mayer, Gary Clark Jr., George Benson, Band of Horses, Joshua Redman Quartet, Dr. John, Campbell
 Brothers, Sonny Landreth, George Porter Jr. & Runnin' Pardners, Terrance Simien with special guest Queen Ida,
 Chris Owens backed by Her Hot Rhythms Band, Jeremy Davenport, the New Orleans R&B Diva Revue feat. 
The Dixie Cups, Jean Knight and Wanda Rouzan with the Brian Quezergue Band, Donald Harrison, Wayne 
Toups & ZyDeCajun, John Mooney & Bluesiana, Tricia Boutté & International Friends, Le Vent du Nord of
 Canada, Charmaine Neville Band, New Orleans Suspects, Bruce Daigrepont Cajun Band, Paul Sanchez & the
 Rolling Road Show, New Orleans Bingo! Show, Doc McKenzie & the Hi-Lites, The Soul Rebels, John Lawrence
 & Ven Pa' Ca Flamenco Ensemble with guests Antonio Hildago and Javier Heredia of Spain, The New Orleans
 Guitar Quartet feat. Jimmy Robinson, John Rankin, Phil DuGruy and Cranston Clements, Stoney Creek and
 Yellow Bird Indian Dancers, Jamal Batiste presents JAM-ALL, Flow Tribe, The Breton Sound, Corey Ledet &
His Zydeco Band, Washboard Chaz Blues Trio, Bryan Lee & the Blues Power Band, James Rivers Movement,
 Leroy Jones & New Orleans' Finest, Fredy Omar con su Banda, True Man Posse, Mark McGrain & Plunge, St.
Joseph the Worker Music Ministry Choir, Zulu Gospel Male Choir, Brice Miller & Mahogany Brass Band,
 Semolian Warriors and Comanche Hunters Mardi Gras Indians, T'Monde, Los Po-Boy-Citos, Original Dixieland 
Jazz Band, Tommy Sancton & the New Orleans Legacy Band, The Mashup feat. Terence Higgins, Ike
Stubblefield, and Grant Green, Jr., with special guest Ron Holloway, Chris Clifton & His Allstars, Young
Pinstripe Brass Band, Morning Star Missionary Baptist Church Mass Choir, Geronimo Hunters and Creole
Osceolas Mardi Gras Indians, OperaCreole, Xavier University Jazz Band, Guitar Slim, Jr., Henry Gray & the
Cats, Donnie Bolden, Jr. & Spirit of Elijah, Friendly Travelers, Zulu, Big Nine, Keep N It Real, and We Are One
Social Aid & Pleasure Clubs, Young Audience Brass Band Throwdown, Shamarr Allen presents music clinic
students and Upset, McMain High School Talented-in-Theater Performers, Pastor Terry Gullage & the Greater
Mt. Calvary Voices of Redemption, The ISL Circus Arts Kids, Soulfruit, Black Mohawk and Black Foot Hunters
Mardi Gras Indians
April 27

Billy Joel, Jill Scott, Ben Harper and Charlie Musselwhite, Allen Toussaint, Rebirth Brass Band, Andrew Bird,
 Eddie Palmieri Salsa Orchestra, Ivan Neville's Dumpstaphunk, Charles Bradley, Irvin Mayfield & the New
 Orleans Jazz Orchestra, Jon Cleary, Daryl Coley, Anders Osborne, Dwayne Dopsie & the Zydeco Hellraisers,
 Lost Bayou Ramblers, Deacon John, Voice of the Wetlands All-Stars, A Tribe Called Red, Magary Lord of 
Bahia-Brazil, Gerald French & the Original Tuxedo Jazz Band: A Tribute to Bob French, Astral Project, Stoney 
Creek and Yellow Bird Indian Dancers, Lionel Ferbos & the Palm Court Jazz Band, Big Chief Walter Cook &
 Creole Wild West, Alex McMurray, Lil Buck Sinegal's Blues Band, Michael Ward, Tribute to Sidney Bechet 
feat. Dr. Michael White, Donald Harrison, Brian "Breeze" Cayolle, and Roderick Paulin, Herbert Hardesty
 Presents, Jason Marsalis, Mississippi Rail Company, Classie Ballou & the Family Band, Jambalaya Cajun Band, 
Cedric Watson & Bijou Creole, John Michael Rouchell, The Kid Carsons, Alexis & the Samurai, Tim Laughlin,
 Wendell Brunious, Lance Ellis, Zena Moses & Rue Fiya, Robin Barnes, Gregg Stafford & his Young Tuxedo Jazz
Band, Johnny J & the Hitmen, Sharon Martin, Panorama Jazz Band, Storyville Stompers Brass Band, Tyronne
 Foster & the Arc Singers, Loyola University Jazz Band, Ted Winn, Tonia Scott & the Anointed Voices, New
 Wave Brass Band, Voices of Peter Claver, Dumaine Gang, Divine Ladies, and Family Ties Social Aid & Pleasure 
Clubs, 101 Runners, Golden Comanche and Seminoles Mardi Gras Indians, Treater "Le Traiteur de Bayou" 
Stephen Foster's Foster Family Music Program, Real Untouchables Brass Band, The Jones Sisters, The Bester
 Singers, Dynamic Smooth Family Gospel Singers, The Voices of Distinction, Nine Times Men, Single Ladies,
 Single Men and Lady Jetsetters Social Aid & Pleasure Clubs, Ashe Cultural Arts Center Kuumba Institute, Red, 
White & Blue and Wild Mohicans Mardi Gras Indians, First Emanuel Baptist Church Mass Choir, Young Band
 Nation Blues Project, Algiers Charter Schools Association Torch Bearers
April 28

Dave Matthews Band, Earth Wind & Fire, B.B. King, Gipsy Kings, Juan Luis Guerra y 440, Kermit Ruffins &
 the Barbecue Swingers, Dianne Reeves, The Nevilles, Better Than Ezra, Little Joe y La Familia, Calexico, C.J.
Chenier & the Red Hot Louisiana Band, Honey Island Swamp Band, Little Freddie King Blues Band, Big Chief
 Monk Boudreaux & the Golden Eagles, Treme Brass Band's Tribute to Uncle Lionel Batiste, Steve Riley & the
 Mamou Playboys, Big Sam's Funky Nation, Martha Redbone, The Selvy Singers, Brother Tyrone & the
Mindbenders, Luther Kent & Trickbag, Magary Lord of Bahia-Brazil, Kristin Diable & The City, Andrew Duhon, 
Rumba Buena, Gregg Stafford & the Jazz Hounds, Tribute to Kid Ory: Hot Trombones, The Zion Harmonizers,
 Midnite Disturbers, Raw Oyster Cult, Keith Frank & the Soileau Zydeco Band, Khris Royal & Dark Matter, 
Hurray for the Riff Raff, Don Vappie & the Creole Jazz Serenaders, Clive Wilson's New Orleans Serenaders with
 Butch Thompson, Stoney Creek and Yellow Bird Indian Dancers, AsheSon, Jo "Cool" Davis with guests BJ 
Crosby and Barbara Shorts, Famous Rocks of Harmony, Vivaz!, Smitty Dee's Brass Bad, Ninth Ward Hunters
 and Ninth Ward Navajo Mardi Gras Indians, Natalie Mae & Her Unturned Tricks, The Blues Masters feat. Big Al
Carson, Jesse McBride presents the Next Generation Big Band, Leroy Thomas & the Zydeco Roadrunners, The 
Shannon Powell Quintet feat. Charlie Gabriel, Bamboula 2000, Kid Simmons' Local International Allstars, The
 Session, Tuba Skinny, Tornado Brass Band, Calvin Johnson, Franklin Avenue Baptist Church Mass Choir, Kim
Che're, Dog Hill Stompers, Culu Children's Traditional African Dance Company & Stiltwalkers, Big Steppers, 
Furious Five, and Untouchables Social Aid & Pleasure Clubs, Johnette Downing and Scott Billington, Tulane 
University Jazz Ensemble, "Sundays in Congo Square" presented by the Congo Square Preservation Society,
 Rising Dragon Lion Dance Team, Kai Knight's Silhouette Dance Ensemble, The First Division, Olympia Aid, 
New Look, and Men of Class Social Aid & Pleasure Clubs, Golden Star Hunters and Big Chief Kevin Goodman
 & the Flaming Arrows Mardi Gras Indians, Nineveh Baptist Church Mass Choir, McTeggart Irish Dancers, Rose
Anne Ste. Romain, Bishop Sean Elder & The Mt. Herman Baptist Church Mass Choir, Shawee Indians and Black
 Eagles Mardi Gras Indians
May 2

Patti Smith, Widespread Panic, Kem, Roy Ayers, The
 Dirty Dozen Brass Band, Henry Butler, Theresa Andersson, Lil' Nathan & the Zydeco Big Timers, Shamarr Allen
 & the Underdawgs, The 35th Anniversary Celebration of One Mo' Time!, Glen David Andrews, Pura Fé, Geno Delafose & French Rockin' Boogie, Hot 8 Brass Band,
 Rosie Ledet & the Zydeco Playboys, Johnny Sketch and the Dirty Notes, Banu Gibson & Hot Jazz feat. The 
Anderson Twins, Meschiya Lake & the Little Big Horns, Pokey LaFarge, Drink Small, Ingrid Lucia, Blended 
Voices feat. Germaine Bazzle, Phillip Manuel, and Leslie Smith, The Bolton Brothers, Mia Borders, Dee-1, Kirk
 Joseph's Backyard Groove, Balfa Toujours, Maggie Koerner, Jumpin' Johnny Sansone, Delfeayo Marsalis & the 
Uptown Jazz Orchestra, The Honeypots, The Mercy Brothers, Orange Kellin's New Orleans DeLuxe Orchestra, 
Gravy, Native Nations Intertribal, Salio from the Republic of Georgia, Fi Yi Yi & the Mandingo Warriors, The 
Roots of Music Marching Crusaders, Mark Brooks & Friends with guest Barbara Shorts, Original Pinettes Brass
 Band, Kid Merv & All That Jazz, Kidd Jordan and the Improvisational Arts Quintet, J. Monque'D Blues Band, 
Jeffery Broussard & the Creole Cowboys, Quinten Corvette, Big Chief Iron Horse & the Black Seminoles Mardi 
Gras Indians, Kumbuka African Dance & Drum Collective, Grupo Sensacion, Louisiana Repertory Jazz Band, 
The Last Straws, Woodshed: Hammond B3 feat. Kyle Roussel and Joe Ashlar, UNO Jazz Allstars, Lyle Henderon 
& Emmanu-EL, Grayhawk presents Native American Lore & Tales, Forgotten Souls Brass Band, Ms. Lala, The 
Revolution, Ladies of Unity, and VIP Ladies Social Aid & Pleasure Clubs, Jesuit High School Jazz Band, Josh
Kagler & Harmonistic Praise Crusade, Delgado Community College Jazz Band, The Chapman Family, Angela 
the Yarnspinner, Cheyenne and 7th Ward Creole Hunters Mardi Gras Indians, Pocket Aces Brass Band, 
McDonogh #35 High School Gospel Choir, Eleanor McMain "Singing Mustangs" Choir, O. Perry Walker Charter
 High School Gospel Choir, Young Audiences Performance Arts Showcase, Pastor Tyrone Jefferson, The Adams
Middle School Players
May 3

Willie Nelson, Jimmy Cliff, Marc Broussard, Tab Benoit, Laura Bell Bundy, Maroon 5, Marcia Ball, Ana
 Popovic, The Mavericks, Jerry Douglas, Irma Thomas' Tribute to Mahalia Jackson, Amanda 
Shaw & the Cute Guys, Papa Grows Funk, Rockin' Dopsie Jr. & the Zydeco Twisters, The Iguanas, BeauSoleil avec Michael
 Doucet with special guest Jo-El Sonnier, Malê Debalê of Bahia-Brazil, Los Hombres Calientes feat. Bill Summers 
and Irvin Mayfield, The Cookers feat. Billy Harper, Eddie Henderson, David Weiss, Craig Handy, George
 Cables, Cecil McBee, and Billy Hart, Holly Williams, Nicholas Payton XXX, Brushy One String of Jamaica, Gal 
Holiday & the Honky Tonk Revue, Coco Robicheaux Tribute feat. The Spiritland Band, Spencer Bohren, Bill 
Miller, Ms. Ruby Wilson, Leah Chase, Fleur Debris Superband feat. Zigaboo Modeliste, George Porter, Jr., 
Nicholas Payton and David Torkanowsky, Corey Henry & Treme Funket, Kirk Joseph's Tuba Tuba, Stooges 
Brass Band, Shades of Praise, The Branchettes, Patrice Fisher & Arpa with guests from Germany and Mexico, 
New Leviathan Oriental Fox-Trot Orchestra, Royal Teeth, David Egan and 20 Years of Trouble, Grayson Capps, 
Horace Trahan & the Ossun Express, Kim Carson, Aurora Nealand & The Royal Roses, Topsy Chapman & Solid 
Harmony, A Tribute to Hadley Castille feat. Sarah & the Sharecroppers, Pinstripe Brass Band, Native Nations 
Intertribal, Oneida Longhouse Singers and Dancers, Christian Winther -- Soul House, Murder the Stout, Kora
Konnection, Bari Koral, University of Miami Jazz Band, New Orleans Indian Rhythm Section, Jamil Sharif, Betty 
Winn & One A-Chord, Young Magnolias, Golden Sioux, and Young Cherokee Mardi Gras Indians, Connie & 
Dwight with The St. Raymond & St. Leo the Great Gospel Choir, Andrew Hall's Memories of New Orleans, 21st 
Century Brass Band, Scene Boosters, Lady Rollers, Original Big Seven and Original Four Social Aid & Pleasure 
Clubs, Jonté Landrum Thomas, Calliope Puppet Theater, KID smART Showcase, Young Fellaz Brass Band, 
Sensational Chosen Voices, New Orleans Hispano America Dance Group, Voices of Fannie C. Williams Charter 
School Choir / Recorder Ensemble, Red Hawk and White Cloud Hunters Mardi Gras Indians, City of Love Music
 & Worship Arts
May 4
Fleetwood Mac, Phoenix, Little Big Town, Frank Ocean, The Little Willies, Los Lobos, Galactic, Stanley
Clarke/George Duke Project, Preservation Hall Jazz Band, Mutemath, VaShawn Mitchell, Terence Blanchard, 
Cowboy Mouth, Bonerama, Davell Crawford, Robert Mirabal, Roddie Romero & the Hub City All Stars, Chubby
 Carrier & the Bayou Swamp Band, Jonathon "Boogie" Long & the Blues Revolution, Eric Lindell, Dr. Michael
 White & the Original Liberty Jazz Band feat. Thais Clark, Germaine Bazzle, The Revivalists, The Boutté Family 
Gospel, Sunpie & the Louisiana Sunspots, Red Stick Ramblers, Joe Krown Trio feat. Walter "Wolfman"
 Washington and Russell Batiste Jr., The New Orleans Hip Hop Experience feat. DJ Mike Swift, DJ Poppa, 3D
 Na'tee, Dobama and N.O.V., Sharde Thomas & the Rising Star Fife & Drum Band, Luke Winslow-King, Kevin
 Gordon, Kenny Neal, Tonia & the Left Field Band, Reggie Hall & the Twilighters feat. Lady Bee, JD & the 
Straight Shot, Yvette Landry, Bill Summers & Jazalsa, Malê Debalê of Bahia-Brazil, Paulin Brothers Brass Band,
 Lars Edegran & the New Orleans Ragtime Orchestra, Dukes of Dixieland, Native Nations Intertribal, Oneida
 Longhouse Singers and Dancers, Kinfolk Brass Band, Mariachi Jalisco, Aaron Fletcher, Goldman Thibodeaux &
 the Lawtell Playboys, Cha Wa, Tom Saunders & the Tomcats, Naydja CoJoe, Black Feathers, Mohawk Hunters 
and Cherokee Hunters Mardi Gras Indians, The Johnson Extension, Curtis Pierre-the Samba Man & the Samba
Kids, Minister Jai Reed, The Mighty Supremes, Free Agents Brass Band, Westbank Steppers, Valley of Silent 
Men, and Nine Times Ladies Social Aid & Pleasure Clubs, Reverend Jermaine Landrum & the Abundant Praise
Revival Choir, The Wimberly Family Gospel Singers, Al Berard Family Band, Young Guardians of the Flame 
Mardi Gras Indians, Jeannine Pasini Beekman, SUBR Jazzy Jags, Baby Boyz Brass Band, Archdiocese of New 
Orleans Gospel Choir, Tione Johnson, DJ Raj Smoove, New Generation, Undefeated Divas, Pigeon Town 
Steppers and Uptown Swingers Social Aid & Pleasure Clubs, NORDC Crescent City Lights Youth Theater, The 
RAMS, Versailles Lion Dance Team, Big Chief Trouble & Trouble Nation and Wild Red Flame Mardi Gras
 Indians