Benjamin Gibbard Takes His Solo Show on the Road
Death Cab frontman to release 'Former Lives' Oct. 16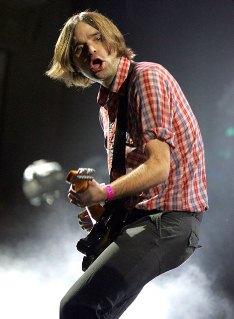 Death Cab for Cutie frontman Ben Gibbard will release his first solo record, "Former Lives," on Oct. 16 and from the looks of things the album will be a bit of a departure for Gibbard, who is going by Benjamin for his solo effort.
Here's part of what he had to say about the record during an interview with Stereogum. His tour dates are after the jump:
The songs themselves are not all of a particular mode — they're not all about one subject — and they're not from one definitive era of my life. They don't exist in the time between record five and record six ... As much as I like to hope that people think the songs are good and like the tunes, I think that people will kind of see past the fact that one song has a mariachi band, the next song is acoustic — it's all over the map — but I'm really proud of the tunes and how they came together in the studio, and I'd like to hope that that's enough to carry and justify the record.
Wed Sep 26 - Big Sur CA @ Henry Miller Library

Sun Oct 14 - Toronto ON @ The Danforth Music Hall

Thu Nov 01 - Minneapolis MN @ Assembly Hall at The Women's Club w/ Advance Base

Fri Nov 02 - Chicago IL @ Athenaeum Theatre w/ Advance Base

Sun Nov 04 - Somerville MA @ Somerville Theater w/ Advance Base

Mon Nov 05 - New York NY @ Town Hall w/ Advance Base

Wed Nov 07 - Glenside PA @ Keswick Theatre w/ Advance Base

Thu Nov 08 - Washington DC @ Sixth & I Historic Synagogue w/ Advance Base

Sat Nov 10 - Saxapahaw NC @ The Haw River Ballroom w/ Advance Base

Sun Nov 11 - Atlanta GA @ Variety Playhouse w/ Advance Base

Tue Nov 13 - San Francisco CA @ Palace of Fine Arts Theatre w/ Damien Jurado

Wed Nov 14 - Los Angeles CA @ Wilshire Ebell w/ Damien Jurado