Tim McGraw & Faith Hill to Bring 'Soul2Soul' to Vegas
The First Couple of country music will play a 40-date run in Sin City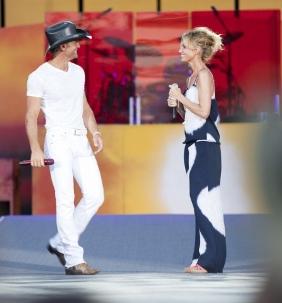 By Phyllis Stark
Special to MSN Music
Taking care to differentiate their upcoming Las Vegas show from the more standard residencies many artists perform at the city's hotel/casinos, Tim McGraw and Faith Hill say their new production at The Venetian Las Vegas will capture "a moment in time" in their careers.
In fact, both stars used that expression multiple times during a press conference this morning in the hotel's Venetian Theatre, where the "Soul2Soul" show will run for 10 weekends—and 40 performances—between​ December of this year and April 2013.
The Venetian Theatre's current production of "Phantom" winds down at the beginning of next month. That made for an odd setting for today's press conference, which took place amidst the current show's ornate set pieces, and was watched from the red velvet-draped balconies by dozens of mannequins in late 1890s period costumes.
The "Soul2Soul" deal has been a longtime in the works. Venetian executives first approached McGraw and Hill with the idea for the show in July 2011.
One Country: McGraw helps give away 18 homes to wounded veterans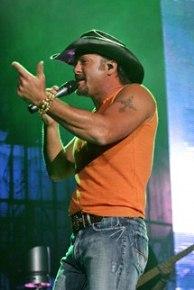 The two stars, who have been married to each other since 1996 and have three daughters, said The Venetian worked around their children's Nashville, Tenn., school schedules to accommodate the couple. Hill and McGraw said they will be flying in and out of Vegas on their performance weekends rather than setting up residence there because of the children. McGraw joked at the press conference that his daughters are enjoying taking in other Vegas shows so much that "they probably won't see ours."
Both singers said they're enjoining the process of building a show from the ground up that will be quite different from their previous two "Soul 2 Soul" tours in 2000 and 2006. One key difference in The Venetian show is that the singers will remain on stage together most of the time, rather than trading off sets.
Another key difference is the intimate size of the venue—1,815 seats. Their previous Soul2Soul tours played arenas, and McGraw's current Brothers of the Sun tour with Kenny Chesney is playing stadiums that seat 50,000-60,000 people.
Said Hill, "We're creating a show that's going to be remarkable for our fans . . . and for us as well." She later said the show will be "completely different than how we've approached it in the past."
Added McGraw, "It's a different way for us to perform. We're in the process of building the show now. The production's going to be very cutting-edge." In addition to the couple's numerous hits, McGraw said, "We're working on some new stuff, too."
Hill said of the production, "This affords us the opportunity to be creative in a way we haven't been able to do together" in the past. "It's important to push yourself as an artist and create."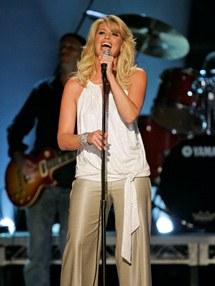 The singers will do four shows per weekend, with the first set for the weekend of Dec. 7-8. The pre-sale of tickets for fan club members and other select groups starts tomorrow. Tickets go on sale to the general public Aug. 13 at Venetian.com, with prices starting at $95.50.
MSN Music: Live music report card
"Soul2Soul" dates have been set for two weekends in December, two in January, three in February, one in March and two in April. At the press conference, John Caparella, president and chief operating officer of The Venetian, The Palazzo and Sands Expo, left the door open for the show to continue beyond the scheduled dates.
The Recording Academy's GRAMMY magazine recently referred to a Las Vegas casino/hotel show run as "the career equivalent of a coronation," and McGraw agrees. "It's a place where, at the peak of your career, you can come and do something like this . . . in an intimate environment," he said at the press conference.
Among the stars that have had or are currently enjoying extended runs at Las Vegas hotels are Celine Dion, Elton John, Donny & Marie, Carlos Santana and Motley Crue. Cee Lo Green will kick off his show, "Cee Lo Green Is Loberace" in February at Planet Hollywood Resort & Casino.
On the country front, Garth Brooks began a five-year run at the Encore Theater at the Wynn in 2009, and Shania Twain will open her Vegas show, "Still the One" at Caesars Palace Dec. 1, putting it in direct competition with "Soul2Soul."
Are you sure you want to delete this comment?
live local music on
Enter your ZIP code to see concerts happening in your area.
Data provided by Zvents
follow msn music