Sky's the limit: Sky Ferreira at the Mercury Lounge
The blog-buzz star shines in intimate showcase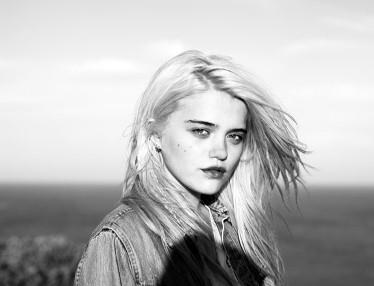 By Kathy Iandoli
Special to MSN Music
Anyone with a computer and a sharp ear for taste-making knows that Sky Ferreira is not a "new" artist. Her 2011 debut EP, "As If!," was like spiked bubblegum, as Ferreira delivered slick cuts, including her breakout single "Sex Rules." Then she dramatically shifted to mid-tempo dark pop on this year's full-length, "Ghost," and we met the product of that transformation at New York's Mercury Lounge on Nov. 29.
The dank venue is known for mixed audiences, from the happy hour crowd to those checking out a new band like they're reliving the leather years of the city's Lower East Side. Neitherseemed to love Sky's sound (the 1.0 version or the remix). Scattered label people and bloggeratti were also present, warmly welcoming her emergence onstage. In a cable-knit sweater and short black skirt, the petite siren opened her 40-minute set with the Internet buzz single "Lost in My Bedroom." Once she opened her mouth and the husky soul poured out, the crowd stood at attention. Moving into the Shirley Manson co-penned "Red Lips," Sky channeled her femme fatale predecessors, cooing in a vein similar to Fiona Apple's attack on the full-length "Tidal" and similar to that of Garbage frontwoman Manson. For an artist whose greatest work to date lives on YouTube and Idolator, it's difficult to gauge an offline crowd, but Ferreira managed to balance her set with enough of the current EP's hits, like "Ghost" and "Sad Dream," plus MP3 favorites like "Pretty Doll" and "Werewolf (From Waist Down)."
Bing: Watch Sky Ferreira videos
Sky didn't have much interaction with her listeners. She'd glance up and smile or give an, "Uh, thanks," at the crowd's affirmations. When she did reach "Werewolf," she told the crowd it was for her mom and Nick, playing into the intimacy of the setting. The entire venue was in fact packed, from the concert's main floor pouring into the front bar. Initially Ferreira was surrounded by neon white lamps, but once the backstage crew realized they were blinding the entire front row, they shut them off. That's the thing about an artist like Sky Ferreira. Her sound is designed for larger venues, and now it's just a matter of waiting for that exact moment. While her switch from glam to quasi-emo might suggest she's hustling backward into the mainstream, her sound is CW Network gold, and presently she's the "it" girl in pop music's breeding ground.
By her closing song, "Everything Is Embarrassing," the audience wanted more – hoping for double-encores like she was selling out Roseland or Terminal 5. Even they wanted to hurry her success. As Sky exited the stage and walked into the crowd to head out (there's no real backstage at Mercury Lounge), concertgoers were shouting at her, "Just please play one more song!" almost agitated that her catalog isn't big enough for a gigantic set.
If there's anything to be learned from this Sky Ferreira performance, it's that a) She sounds the same live as she does blaring through computer speakers and b) Her intimate showcases will not last much longer before her venue size doubles. Those in attendance at Mercury Lounge were present for history in the making and they probably didn't even know it. They will soon enough.
Setlist
Lost in My Bedroom
Red Lips
You're Not the One
Ghost
Werewolf (From Waist Down)
Sad Dream
Pretty Doll
Everything Is Embarrassing 
live local music on
Enter your ZIP code to see concerts happening in your area.
Data provided by Zvents
follow msn music