Coachella 2013: Red Hot Chili Peppers, Blur & Phoenix top the bill
Yeah Yeah Yeahs, Modest Mouse, The Postal Service & Stone Roses are among the other big names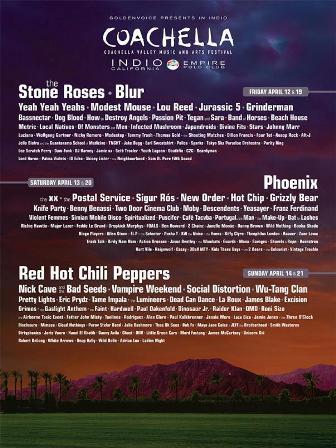 This year's Coachella lineup has been revealed and it's not what most expected.
Instead of geriatric rockers The Rolling Stones, Coachella attendees will get a headlining set from another group of Rock and Roll Hall of Famers in the Red Hot Chili Peppers. And in place of a heavily rumored appearance by French electronic music icons Daft Punk, French dance-rock group Phoenix will deliver a headlining set in the desert. The other headliners, Brit-pop icons Blur and The Stone Roses, are equally unexpected names. The two were once among the biggest bands in the world. 
Aside from those acts, some of the other big-name performers include frenetic rockers Yeah Yeah Yeahs, Grammy-nominated neo-folkers the Lumineers, reunited backpack rappers Jurassic 5, rock legend Lou Reed, alt-rock staples Modest Mouse, moody indie favs The xx, '80s dance rockers New Order, hip-hop legends Wu-Tang Clan and cult heroes Nick Cave and the Bad Seeds. And as reported earlier this week, Ben Gibbard's electro-pop side project The Postal Service will reunite and perform at Coachella.
MSN Music: 2013's hottest concert tours
The festival's undercard also includes an impressive crop of up-and-coming buzz bands. Of Monsters and Men, Alt-J, Japandroids, Father John Misty, Reignwolf, Pretty Lights and Trent Reznor's new band How to Destroy Angels are among the names likely to make a big splash. 
Noticeably missing from this year's lineup are major headlining hip-hop acts. Last year Dr. Dre and Snoop Dogg made headlines with a holographic Tupac Shakur and previous years featured headlining sets by Jay-Z and Kanye West. Also missing are Frank Ocean and Kendrick Lamar, two of last year's hip-hop and R&B critical darlings who were expected to be a part of this year's Coachella.
MSN Music: 2013's rising stars and next big things
The Coachella Music Festival takes place April 12 -14 and 19 -21 at the Polo Grounds in Indio, Calif. Tickets cost $349 per weekend.
live local music on
Enter your ZIP code to see concerts happening in your area.
Data provided by Zvents
follow msn music