Newport Redux Part 2: The Folk Revival Continues
A wide array of artists prove the festival's legacy is alive and well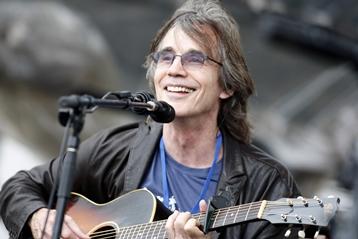 By Jonathan Zwickel
Special to MSN Music
In its sixth decade, the Newport Folk Festival remains folk's ground zero, where the entire eclectic span of folk music comes into living, breathing focus—if only for a weekend. The difference between now and 1959 is that folk has so deeply infiltrated mainstream America that today just about any kind of music qualifies for the title. With over 50 bands playing three main stages over two full days (and one long night), this year's festival trafficked in the genre's extremes: folk music's most far-out sounds and its most hackneyed; some of its most promising up-and-comers and one of its most revered stars.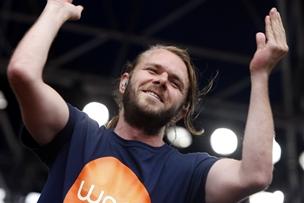 Sporting a dark leather jacket and magnificent hair, Jackson Browne stalked the festival grounds all weekend, guitar case in hand. The Rock and Roll Hall of Fame-anointed troubadour checked out various performances and by Sunday was ready to jam. Early in the day, he played a song with fiddler Sara Watkins during her main stage performance and sat in with Jonathan Wilson at the Harbor Stage. He began his main stage headlining set as the ever-threatening rain made its move. Members of LA band Dawes sat in on "These Days" and "Take it Easy," two Browne classics. To close out the festival, Rage Against the Machine guitarist Tom Morello joined Browne for a version of Warren Zevon's "Lawyers, Guns and Money." By that time, an ark-worthy deluge had driven out most of the festival's 10,000 attendees.
Speaking of extremes, consider Frank Fairfield and Tune-Yards. Fairfield was a walking anachronism, taking the Museum Stage on Saturday like a Dustbowl-era apparition, dressed in what looked like a handmade button-up shirt and wool pants. The LA musician sat alone with the gravity of a fallen meteor, his fiddle, banjo and acoustic guitar surrounding him on the floor of the stage. He engaged each with intense virtuosity, playing 100-year-old "pop songs" by artists like Chris Smith who, he said, made it big in sheet music licensing. From beneath a mop of shaggy hair and overgrown mustache, he introduced songs in a pinched, studied voice, part carnival huckster part musicologist. The indoor, new-this-year Museum Stage was filled to capacity with just over 100 people, forcing eager onlookers outside to stand on folding chairs and gawk through open windows.
Listen: Full sets from the 2012 Newport Music Festival on NPR Music
If Fairfield reenacted the sound of yesterday, Tune-Yards posited the sound of a possible tomorrow. Merrill Garbus began the band several years ago as a solo project based out of her Oakland, CA home but tours with a pair of sax players, bassist and drummer. Garbus plays an electric ukulele and loops beats from her mouth or standing tom drum. More than anyone else at Newport, her band strained the definition of folk music. And yet reveled in it: Garbus' voice was her primary instrument, a deeply resonant wail that veered from barking to booming. Superficially, there was little in the stomping electro-funk of "Bizness" and "Gangster" that connected with the festival's folky MO. But Garbus' unhinged passion and weirdo soul were enough to enthrall the crowd.
For Seattle sextet the Head and the Heart, finely-crafted, earnestly delivered songs did the trick. Thousands sang and clapped along to the band's easygoing, acoustic pop, the type of participatory music that defines modern day mainstream folk. The band has been playing most of its eponymous debut on what seems like a never-ending tour over the last two years—including a stop at last year's Newport Folk Fest—and still it doesn't get old. The set-closing combo of "Down in the Valley" and "Rivers and Roads" was the most moving one-two transition of the weekend.
"Last year we played here and knew nobody," Head and the Heart bassist Chris Zache told me after the band's performance. "Over the past year, we've toured and played with a lot of the bands that are here—Trampled by Turtles, Blind Pilot, Dawes, My Morning Jacket. So now we see each other and it's like family. We couldn't sound more different but we're all doing the same thing. When we get off the stage we're all the same."
MSN Music feature: Folk Roots: Troubadours Rise Again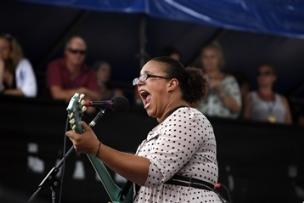 For some bands in this burgeoning community, familiarity is a double-edged sword. Of Monsters and Men, a six-piece Icelandic folk-rock ensemble played an afternoon set at the Quad Stage within the towering walls of Fort Adams. They drew a huge crowd thanks to the song "Little Talks," which actually charted earlier this year, reaching #1 on Billboard's Alternative chart. An upbeat, ridiculously catchy track, it sounds like a lab-engineered pastiche of indie-folk's most popular acts, right down the middle of Mumford & Sons, Edward Sharp and the Magnetic Zeros and the Lumineers. Of Monsters and Men's music was adeptly played but felt uninspired in this setting of true originals, dedicated students and intent innovators. Modern folk's only limitation, it seems, is the creativity of its practitioners.
American pop culture is blindingly prolific, spewing new content like a flailing fire hose. Such overwhelming output inhibits retention—as the past is instantaneously replaced by the present, we naturally lose hold of the culture that came before. In doing so, we lose our sense of history and our sense of self.
Newport is different. It upholds an institutional memory that's rare and valuable in America. Certainly every artist present this year was aware of the festival's legacy, carried on by its reputation as well as by the people present: George Wein, the 86-year-old festival founder; members of the Guthrie family, celebrating the 100th birthday of Woody Guthrie by sitting in with bands all weekend. Every artist carried on that legacy with their own performances, imbued with a sense of reverence and honor. Jim James of My Morning Jacket referred to the festival as "hallowed ground."
Editor's note: This is the second of two posts about the Newport Folk Festival. The first post can be read here.
live local music on
Enter your ZIP code to see concerts happening in your area.
Data provided by Zvents
follow msn music