Bob Dylan: Braving His 'Tempest'
An ever-changing artist reopens a fabled venue on his Never Ending Tour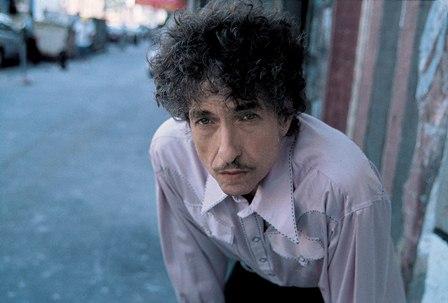 By Alan Light
Special to MSN Music
In 1962, Bob Dylan was a baby-faced rookie filling his debut album with hard-fought blues songs like "See That My Grave Is Kept Clean." Fifty years later, he remains a peerless study in contrasts.
Dylan's riveting new album, "Tempest" (which arrives on Sept. 11), spins tales of death, rage and revenge; even for an artist who has always harbored a strong apocalyptic streak, this record is dark. Yet on Tuesday night, Sept. 4, when he and his band performed at the reopening of the historic Capitol Theatre in Port Chester, N.Y., the 71-year-old Dylan was more playful and animated than he has been in many years.
Efficiently blasting through 17 songs in 100 minutes, he pranced and mugged, gestured and grinned, and generally seemed to be having the time of his life. Even Dylan's attire has changed -- the cowboy hat and duster of recent tours replaced by a military jacket and white slacks, as if the cold-eyed gunslinger has turned into a jaunty riverboat captain.
MSN Music: Stream Bob Dylan's new album "Tempest"
For a number of years now, Dylan picks up a guitar onstage for only a couple of songs at most, spending the bulk of his time behind a keyboard. But where the small electric piano of tours past mostly seemed like a prop to give him something to do and was kept low in the sound mix, the baby grand he commanded in this show was truly the focal point of the arrangements. He's no virtuoso, but he has developed a swinging, rhythmic style. His limitations on the instrument enhanced some songs (the barrelhouse breaks that anchored a jazzy shuffle version of "Highway 61 Revisited") and hindered others (an annoying, overly repetitive piano figure distracted from an otherwise lovely "Visions of Johanna").
Dylan often sat sidesaddle on the piano bench, playing with one hand while facing the audience and gesticulating as he delivered the lyrics. Meantime, as Dylan's own solos have become more prominent, utility player Donnie Herron (steel guitar, mandolin, fiddle), who has often been crucial to the band's live sound, almost feels superfluous.
Virtually every song, no matter how familiar, was given a new approach. But while this constant tinkering has sometimes seemed willfully perverse in the past, this time there was a sense of purpose to Dylan's experiments. The vocals on "Ballad of a Thin Man" were drenched in a theatrical echo, and "Tangled Up in Blue" was slowed down and rocked up, with lyrics that shifted the kaleidoscopic tale's perspective from first to third person. Some of these alterations were revelatory, some fell flat, but it is nothing short of astonishing to witness an artist offer songs from all five of the decades his career has covered, still searching for new ways into each one, new possibilities to explore.
MSN Music: Bob Dylan debuts shockingly violent new video
One of the night's highlights was a dramatic, poignant reading of "Shooting Star," from 1989's "Oh Mercy" album. Dylan's latter-day death rattle of a voice was notably clear and dug hard into the words. "Seen a shooting star tonight, and I thought of me," he sang, standing center stage with only a harmonica in his hands. "If I was still the same, if I ever became what you wanted me to be." Still the same? Not now, and not ever. But the kind of creative vitality Bob Dylan revealed on this night is certainly all a fan could ever hope for.
The Capitol, located about 30 miles north of New York City, shone brightly for this high-profile opening. Designed by the same architect who laid out the Beacon Theatre in Manhattan, the venue was a favorite of the Grateful Dead, Janis Joplin and Pink Floyd in the '60s and '70s, but for three decades it has been mostly closed to the public. (Dylan, among others, has used the theater as a rehearsal space, perhaps helping to account for his giddy mood.)
The sound was remarkably clear; each instrument came through audible and distinct. Even if everything wasn't 100 percent ready (the lobby bar isn't yet finished), it certainly seems the 1,800-seat Capitol will be a welcome addition to the region. In a hopped-up version of the song that won him an Academy Award in 2001, Dylan sang, "I used to care, but things have changed." The same could be said of many music venue operators these days -- a trend that hopefully the Capitol can help reverse.
Alan Light is the co-author of Gregg Allman's best-selling memoir "My Cross to Bear." A regular contributor to MSN Music, he is the former editor-in-chief of Vibe and SPIN magazines. He is the director of programming for the public television concert series "Live From the Artists Den" and contributes frequently to The New York Times and Rolling Stone. Light is a two-time winner of ASCAP's Deems Taylor Award for excellence in music writing.
live local music on
Enter your ZIP code to see concerts happening in your area.
Data provided by Zvents
follow msn music