Metal, Moshing & Mayhem at Montreal's Heavy MTL Festival
Slipknot, Deftones, Voivod and more reign over North America's only metal destination fest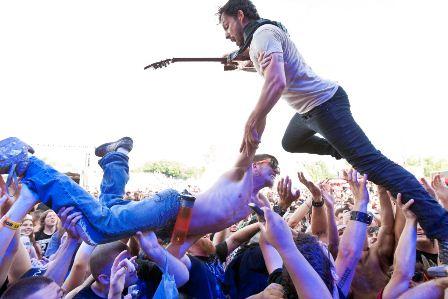 By Adrien Begrand
Special to MSN Music
This past weekend 40,000 metal fans from across North America and around the world descended on Montreal, Quebec for the fourth annual Heavy MTL Festival. The only metal and hard rock "destination festival" of its kind in North America, organizers have modeled it after the likes of Denmark's Roskilde and Germany's Wacken Open Air, only with one unique twist, staging it right in the middle of one of the prettiest and coolest cities in North America. Held at the lush, spacious and hilly Parc Jean-Drapeau on Île Sainte-Hélène, an island in the St. Lawrence River, it's not only a scenic locale but a practical one as well; its location, subway access, and environment making it very easy to accommodate tens of thousands of concertgoers.
Featuring 39 bands from various subgenres of metal and hard rock, this year's Heavy MTL had enough big names (Slipknot, System of a Down, Deftones, Marilyn Manson), mid-level acts (Trivium, Killswitch Engage, Gojira, Between the Buried and Me), bands popular with the younger set (Veil of Maya, Emmure, Periphery), and more extreme-oriented bands (Cannibal Corpse, Exhumed, Origin) to attract a very wide range of metal fans. From one in the afternoon until 11 at night, there was an excellent range of different bands to hear. I reported from the two-day festival as it happened over at MSN's Headbang blog (Part One, Part Two, Part Three), but for the Live Music blog I figured I'd try to boil it down to the best and worst moments of an eclectic festival fueled by Jagermeister, beer, and poutine, featured heavy metal camaraderie at its finest, and despite an unfortunate deluge on Saturday, was exceptionally organized.
Day One Highs:
The Kataklysm/Cannibal Corpse One-Two Punch
With two main stages beside each other the festival moved very swiftly; when one band finished on one stage, the next band started immediately after on the other. It made for some weird combinations on some occasions, and some brilliant ones every once in a while. Among the latter were the sets by Quebecois heroes Kataklysm and Buffalo, New York's Cannibal Corpse, whose brands of pulverizing, punishing death metal were a perfect match. The way Kataklysm's closer "Push the Venom" was answered by Cannibal Corpse's mighty "Demented Aggression" was something to behold, a prime example of the visceral power of death metal.
Is there any more suitable band in metal for a rainy night than the Deftones? While the skies emptied on a jam-packed grounds the Sacramento, Calif. band churned out their unique brand of heavy music, guitarist Stephen Carpenter alternating from chunky nu-metal riffs to subtler sounds derived more from post punk and shoegaze, singer Chino Moreno shifting from hostile screams to tender crooning.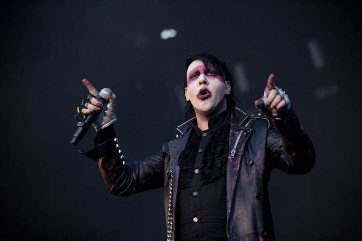 Metal Baby
While checking out Kansas death metal geniuses Origin at the third stage, located on the other side of the small island, I stumbled across an unexpected scene amidst all the mayhem: a mom, dad, and baby boy not 30 yards away from the stage. Far from coming off as irresponsible behavior, baby had noise reduction headphones on, and better yet, was merrily bouncing along to the riffs and blastbeats that reverberated, chowing down on some food – an unexpected moment of cuteness at a place where you'd expect a little more debauchery.
Day One Lows:
The inexplicably popular Los Angeles band generously scraped the bottom of the mainstream metal barrel with a set loaded with posturing, hostility, and obnoxiousness. Singer Ivan Moody was front and center, sporting brass knuckles and spewing "dude rock" clichés, from misogynist braggadocio to pandering, Nickelback-style power balladry.
Make no mistake, System of a Down can be a phenomenal band on record, and live they sound very, very tight. However, the power of their music is lessened in a live setting because they don't have a rhythm guitarist backing up Daron Malakian. So when he ventures off into displays of Zappa-esque noodling, all of a sudden the band sounds weak and empty (Van Halen they are clearly not). The band dutifully played a greatest hits set to end Saturday, but after a long day it was little more than an anticlimax.
Day Two Low:
Manson: All Build-Up, No Pay-off
Marilyn Manson always arrives with such fanfare, this time "Goblin's Theme" from Suspiria serving as the overture, but for all the flash, when the actual band starts playing, it's nothing short of deflating. The backing band sounds artificial, Manson's voice lacks the power for a setting as huge as this, and even worse, he continues to suck all the fun out of shock rock. An utterly joyless exercise.
Day Two Highs:
Gojira Steals the Show:
The French band has been on the rise over the last six years, and their latest album "L'Enfant Sauvage" is selling very well, so momentum was on their side when they arrived to play on a sweltering Sunday afternoon. Having created a very unique sound that goes over extremely well live – built around robust rhythm riffs, clever use of melody, and powerful but lithe drumming – Gojira attracted a massive crowd for an afternoon band and thanks to the strength of their newer material, showed one and all that they're on the top of their game.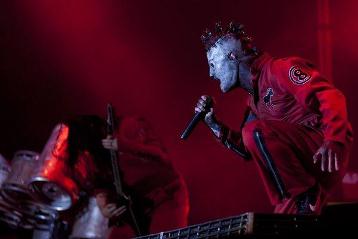 Suicidal Tendencies
At first the long-running Venice, Calif. crossover band attracted only a modest crowd, mostly consisting of people like yours truly who used to listened to their records in the '80s, but as their set went on, more people were drawn to the positive energy singer Mike Muir and his band were creating. It didn't hurt that their hour-long set was loaded with such classics as "How Will I Laugh Tomorrow," "Possessed to Skate," "War Inside My Head," and the timeless "Institutionalized,"​ and by the end Muir had pulled up a few dozen fans from the growing crowd to create an onstage most pit as they played "Pledge Your Allegiance." It was a joy to watch.
The Quebec metal legends had the unenviable task of going on at the same time as Slipknot, but while 40,000 people watched a bunch of grown men in clown masks bang on garbage cans, several hundred people gathered in the woodsy darkness to see some real innovators at work. Creators of one of the most inimitable, peculiar styles heavy metal has ever seen, the foursome played classic material ("Tribal Convictions," the famous cover of Pink Floyd's "Astronomy Domine"), deeper cuts ("Psychic Vacuum", "Chaosmongers"), and a very impressive pair of new songs. Accentuated by a stunning light show that flashed, flickered, and showed aptly psychedelic images, it was as flawless a Voivod set as I have ever seen. And for the record, the last half of Slipknot's set was an incredible spectacle, the crowd simply astonishing in size, but for a handful of people, theatrics and gimmickry were passed over in favor of some real substance in a cozy corner of a pitch black park.
The 10 Best Performances of Heavy MTL 2012:
1. Gojira
2. Voivod
3. Suicidal Tendencies
4. Kataklysm/Cannibal Corpse (an obvious draw)
5. The Dillinger Escape Plan
6. In Flames
7. Overkill
8. Exhumed
9. Killswitch Engage
** Photos by Tim Snow
live local music on
Enter your ZIP code to see concerts happening in your area.
Data provided by Zvents
follow msn music