Jay-Z Taps Beyoncé for Final Barclays Show
The megastar MC shows his vulnerable side during a hometown show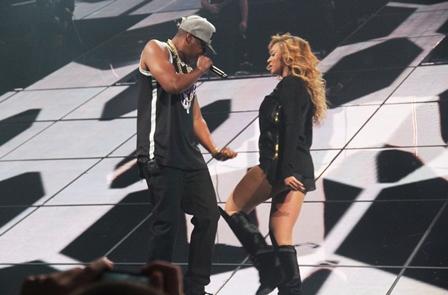 By Larry Gilchrist
Special to MSN Music
On Saturday, Jay-Z wrapped an eight-night run christening Barclays Center, Brooklyn's new arena. The new venue is of significance to the megastar because it's in his hometown – minutes from where he lived at one point – as well as home to the newly minted Brooklyn Nets, a team he owns a stake in. But you likely knew that ... unless you live under a rock (pun intended).
So, the real questions were, which famous friends would he bring out during the residency, and how would those shows differ from previous Jay events (his "retirement" concert at Madison Square Garden and the recent Watch the Throne tour come to mind)?
The answers saw the hip-hop titan revealing more about himself than he has in any other show. During his Barclays run, Hov did bring out Big Daddy Kane, J. Cole and Memphis Bleek. However, he saved the best for his final night when he brought out his better half, Beyoncé, suggesting the couple that plays together stays together.
Jay's stage show for this inaugural series was as entertaining and anthemic as ever. Kicking off with a trio of "Where I'm From," "Empire State of Mind" and "Brooklyn Go Hard," the mogul showcased the cool, calm and collected demeanor that fans have come to know as "swagger." And while the 32-song set was littered with many of his hits – "I got a million of these," he said in the midst of a set of party bangers like "On to The Next One" and "Dirt Off Your Shoulder" – it was when Jay addressed the crowd that you noticed something different.
MSN Music: Jay-Z to release 'Live in Brooklyn' EPs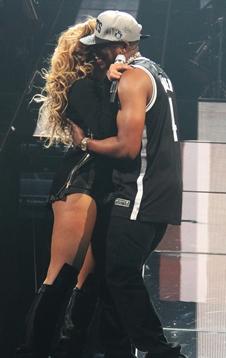 "Everyone has genius level – you just have to figure out how to best to use that talent," Jay-Z told the audience. Throughout the show he told stories about how the arena was built on the grounds where the Brooklyn Dodgers were supposed to play before moving to L.A., how his uncle once told him that he would never be as good as LL Cool J and that critics tried to downplay his ownership stake in the Nets.
This openness and vulnerability is something that MCs – particularly of this caliber – rarely show, unless their last name is West. He was genuinely moved by seeing 19,000 in a packed arena that he helped to build in his hometown – not to mention the tens of thousands who watched the final performance streaming live globally on the Web. It was truly a homecoming, and Jay-Z was king.
And for those of you who missed seeing Jay live, have no fear. He announced on Saturday that he will be releasing a concert EP simply titled "Live in Brooklyn" Tuesday.
Setlist
Where I'm From
Empire State of Mind
Brooklyn Go Hard
Juicy (The Notorious B.I.G. tribute)
U Don't Know
99 Problems
Run This Town
On to the Next One
Dirt Off Your Shoulder
I Just Wanna Love U (Give It 2 Me)
Big Pimpin'
Clique
'03 Bonnie & Clyde
Diva (with Beyoncé)
Crazy in Love (with Beyoncé)
Dead Presidents II
Can I Live
Public Service Announcement
Heart of the City (Ain't No Love)
Hard Knock Life (Ghetto Anthem)
Encore
Encore:
What More Can I Say
Anything
Izzo (H.O.V.A.)
Jigga What, Jigga Who
Money Ain't a Thang
Take You Home With Me
What They Gonna Do, Part II
Excuse Me Miss
Snoop Lion's I Wanna Rock (verse)
Rick Ross' 3 Kings (verse)
Young Forever (with Beyoncé)
live local music on
Enter your ZIP code to see concerts happening in your area.
Data provided by Zvents
follow msn music