2NE1: Teen Screams, K-Pop Style
A giddy Korean pop mashup lands in New Jersey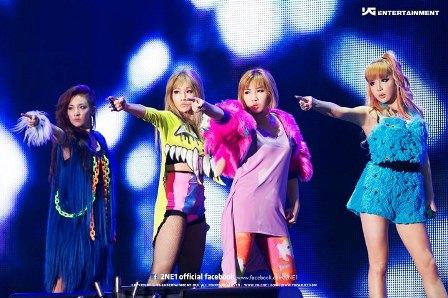 By Philip Freeman
Special to MSN Music
Stateside fans got a rare glimpse of Korean pop sensation 2NE1 when the girl group made their second-ever U.S. live appearance at Newark's  Prudential Center on Aug. 17, with a show at the Staples Center in Los Angeles to follow on Aug. 24. The quartet previously played four songs at the Best Buy Theater in Manhattan in December 2011, after MTV's internationally focused venture, MTV Iggy, crowned them Best New Band in the World in November of that year.
The Newark show got off to a somewhat rocky start: The doors were supposed to open at 7 p.m., with the concert beginning at 8, but no one was admitted until 8:30, and the music didn't start until an hour after that. The arena full of fans had lost none of their enthusiasm in the interval, though; they'd been waiting years to see their idols perform, and the screaming reached decibel levels (and high-frequency peaks) that would probably remind older folks of seeing the Beatles. 2NE1 videos (as well as rapper PSY's viral hit "Gangnam Style") were played on the video screens, and the crowd sang along with wild enthusiasm.
When the group finally emerged, they definitely delivered what had been promised: The nearly two-hour set featured performances of nearly every 2NE1 song, as well as some released by individual members. The crowd was very mixed. Obviously, the majority were young Asians of both sexes, but there were plenty of white, black and Latin attendees, with an age range that spanned mothers with young daughters, hipster couples on dates, and even a few overweight middle-aged men who fit the stereotype of "the dude way too into anime and Asian girls" a little too close for comfort. But no one present, onstage or in the audience, seemed concerned with a language barrier at the show: After all, most 2NE1 songs feature at least a phrase or two in English, if not a full English chorus, and each of the four members speaks the language.
The very fact that this show occurred at all was a demonstration of the way music is consumed in the 21st century. All of 2NE1's music is available on iTunes, but it's easy to believe that many of the audience members had first encountered the group via YouTube (where "I Am the Best" has over 50 million views, and their latest single, the electro-pop "I Love You," has over 11 million since its release in July) and/or illegal downloads.
On video, 2NE1 are so high-style they frequently seem like aliens, or post-human androids whose programmers have fed 30 years of pop music style iconography into a blender set on "random badassery:" They wear spiked leather sometimes, ultra-glam gowns other times, and flaunt more bling than Rick Ross and Diddy put together. But onstage, they required more freedom of movement than spiked heels and gleaming, skintight catsuits could provide, so they emerged wearing tracksuit jackets with their faces airbrushed on the front and their names — CL, Minzy, Bom and Dara — in puffy graffiti lettering on the back.
Each also wore a gold rope chain with one of the four letters of the group's name dangling from it. Their choreography was fairly simple, a mix of early '00s too-many-backup-danc​ers precision (they had a half dozen or so, mostly male) and hip-hop style strutting around the stage. The vocals were definitely live. Though Bom is the powerhouse singer of the group, taking a solo turn mid-set that combined two Mariah Carey-style ballads into one number, each of the girls can both sing and rap convincingly, some in both Korean and English, but they went off-key a few times. What always saved them was that they did it in a shouty, fun way, like they'd overextended themselves, not in a wavery, tentative way. The members of 2NE1 are selling brashness and a swaggering version of girl power that verges on cartoon ganghood, so the farther over the top they go, the better their fans like them.
CL, the group's leader, has a gleeful, mean girl edge to her swagger. When she smiles, there's a hint that a fang might peek out. She hyped up the crowd in perfect, accentless English (she also speaks French and Japanese), promising to make the night worth the wait, and for her solo moment onstage, she ascended in a DJ booth on a pedestal, from where she cranked up techno remixes of Cyndi Lauper's "Girls Just Want to Have Fun" and Rihanna's "We Found Love."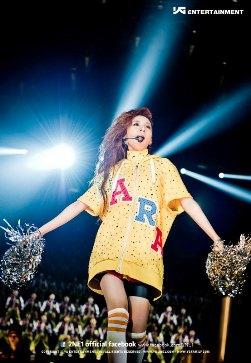 Minzy is CL's sidekick, and at 18, she is the youngest and toughest of the four girls. Her spotlight moment consisted of dancing aggressively to Missy Elliott's "I'm Really Hot" and Common's "Universal Mind Control," forcefully pushing away backup boys who tried to grind up on her, then bending backward until her shoulders nearly touched the stage. Bom and Dara, despite being a few years older than the 21-year-old CL or the teenage Minzy, behave like junior members, slightly more shy and girlish. For Bom's solo turn, she wore a long sparkly silk robe and sang from a cloth-draped staircase. Dara sang her solo single, "Kiss," which climaxed with her climbing down to the level of the fans on the floor and kissing one burly dude on the cheek; he flipped out in a very entertaining manner.
There were minor technical problems throughout the show. One of the panels on the big screen behind the group refused to light up, and CL's headset microphone died after a few songs, forcing her to sing through a handheld mic for the rest of the night. And the stage seemed sparsely decorated for an event of this size; props were minimal (a gold couch from which the group sang "I Don't Care," a midtempo song reminiscent of a No Doubt ballad; a roller coaster car in which CL and Minzy sat to sing "Please Don't Go" as the screen simulated them riding a wildly curving track) and their backing band — three women on guitar, bass and keyboards, and a male drummer — performed in an orchestra pit of sorts, occasionally being raised up into public view by hydraulics. But overall, the show was a high-energy, two-hour party, and by the time it ended with a second performance of "I Am the Best," the audience had screamed themselves hoarse, danced in their seats and on the arena floor, and were left totally satisfied.
Setlist
I Am the Best
Fire
Clap Your Hands
I Don't Care (Reggae Version)
Don't Stop the Music
CL Solo (DJing Cyndi Lauper "Girls Just Wanna Have Fun," Rihanna "We Found Love," Madonna "Hung Up")
Bom Solo (singing "Don't Cry" and "You and I")
Try to Follow Me
Please Don't Go (CL and Minzy only)
Pretty Boy
Minzy Solo (dancing to Missy Elliott's "I'm Really Hot" and Common's "Universal Mind Control")
Dara Solo (singing "Kiss")
It Hurts
Lonely
In the Club
Stay Together
I Love You
Ugly
Let's Go Party
Scream
Hate You
Go Away
Can't Nobody (English-language version)
I Don't Care
I Am the Best (Remix)
live local music on
Enter your ZIP code to see concerts happening in your area.
Data provided by Zvents
follow msn music