The Devil and Ms. Jones
Onstage, Norah Jones weaves darker new threads into a tougher, indie-leaning stance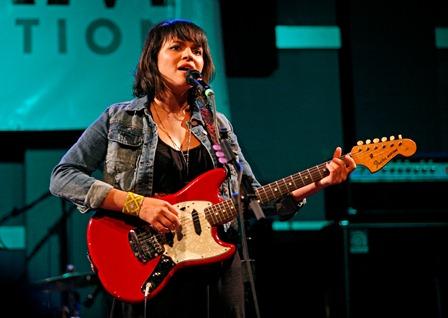 By Sam Sutherland
MSN Music
Norah Jones's earliest fans could be excused for sighing contentedly as she opened her Aug. 18 concert with the gentle seduction of "Come Away with Me," the title track from  her 2002 breakthrough sophomore album. That set defied mainstream pop fashion to become a global hit, racking up five Grammys and multi-platinum success with its spare, sultry pop synthesis of jazz, blues and country. A decade later, Jones has evolved far beyond that style, augmenting her core gifts as a supple vocalist and deft keyboard player with journeyman live gigs and outside collaborations that allowed her to push more deeply into indie-rock, country and hip-hop.
Her headlining show at Marymoor Park in suburban Redmond, Wash., thus started with aural comfort food but quickly jumped to the title song of her much darker current release, "Little Broken Hearts," a collaboration with producer and instrumentalist Danger Mouse laced with themes of romantic and sexual obsession and betrayal.  Its predecessor, "The Fall," showed Jones ready to risk her mainstream appeal by casting off her de facto sweetheart image to try on darker roles; in league with Danger Mouse, she's gone even further down that path, injecting bursts of cold rage, anxiety and resignation, and stepping into deep, even menacing psychological shadows.
For the Marymoor set, Jones and her current crack band let the dark "…Hearts" songs dominate, with seven songs effectively outlining the project's range of unsettling emotions.  "Say Goodbye" and "Happy Pills" balanced on a knife-edge between percolating pop rhythm arrangements and caustic, rueful lyrics, while a spare, hypnotic "Miriam" was a minimalist murder ballad that Jones herself cheerfully introduced as "the creepy song." (Its current music video has already earned that descriptor, making the song's intimation of homicidal intent more explicit.) On "After the Fall," Jones and the band gradually built a full-throttled rock assault that was far removed from the cabaret delicacy of her early hits, with the headliner digging in on guitar as her lead guitarist duly shredded in an extended solo. All that platinum hasn't dented Jones's egalitarian stance as one of the band.
With a solid rhythm section (bassist Josh Lattanzi and drummer Greg Wieczorek) and versatile foils in lead guitarist Jason Abraham Roberts and keyboard player Pete Remm, Jones herself spent more time playing electric and acoustic guitars and Fender Rhodes than the acoustic piano identified with her early records. She still managed to radiate cheerful warmth in her between-songs asides, and she sprinkled in enough of her gentler signature songs (a solo "Don't Know Why" and her syncopated spin on Hank Williams' "Cold, Cold Heart," both retaining their earlier charm while allowing for some fresh tweaks) plus smart covers from Tom Waits and the Grateful Dead to please the mellow al fresco audience and earn a hearty encore. 
Opening on this leg of the Jones tour was Cory Chisel and the Wandering Sons, a lean acoustic act built around Chisel's sturdy original songs and full-throated vocals. Formed in Wisconsin and since relocated to Nashville, the current configuration balances Chisel's voice and acoustic rhythm guitar against Adriel Denae's husky vocal counterpoint and spare but strategic keyboard coloration to sustain a rich sense of musical dialogue. Adding delicate filigree on electric and lap steel guitar was Jason Verstegen, who further enabled the trio to project richer, nicely detailed arrangements than the spare lineup would suggest.
Chisel's lyrics sift gospel allusions and folk poesy through their romantic themes, set against a distinctive lyricism in his melodies. The set list focused on Chisel's June full-length release, "Old Believers," with "I've Been Accused," "Never Meant To Love You" and "Over Jordan" among the most immediate and indelible high points. The balance of roots-oriented source points with the Sons' casual but polished performances were a good fit for the bill.
Chisel himself is clearly a comfortable front man even in the potentially frustrating context of a summer outdoor venue where the reserved seats directly opposite the stage didn't begin to fill until the end of the set. Those empty chairs didn't dampen the trio's enthusiasm, which connected with the larger crowd deployed around Marymoor's lawn seats.
Norah Jones set list
Come Away with Me
Little Broken Hearts
Say Goodbye
Take It Back
It's Gonna Be
Chasing Pirates
All a Dream
The Long Way Home (Tom Waits)
Black (Danger Mouse, Daniele Luppi)
Cold Cold Heart (Hank Williams)
Miriam
After the Fall
Happy Pills
It Must Have Been the Roses (Robert Hunter, Grateful Dead)
Don't Know Why
Sinkin' Soon"
Painter Song
 Stuck
Lonestar
Encore:  
Sunrise
Creepin' In
live local music on
Enter your ZIP code to see concerts happening in your area.
Data provided by Zvents
follow msn music