Anita Baker and Esperanza Spalding: Soul at the Bowl
The R&B songstress and the budding jazz ingénue share the bill in Hollywood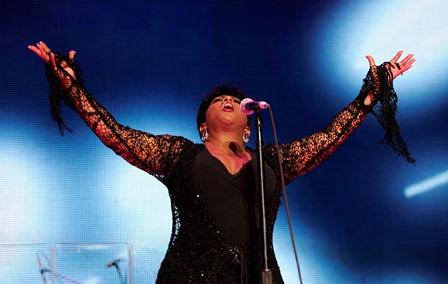 By Melinda Newman
Special to MSN Music
"I get the feeling I'm going to be one of those performers: They're just going to have to take me out in my wheelchair," declared Anita Baker, professing her deep love of playing live.  And that would be just fine with her audience.
As the R&B legend showed during her enthusiastically- received, 85-minute show at the Hollywood Bowl on Aug. 22, even if it's a little less potent than it was 10 years ago, Baker's jazzy, soulful voice still rises and falls and swoops up melody lines in an effortless way that defies gravity. 
There were flashes of that wondrous instrument during the eight-time Grammy winner's concert, especially on "Caught Up in the Rapture," "Been So Long" and "Same Ole Love," all from her best-seling 1986 classic, "Rapture." And just to make sure the audience knew there was no studio wizardry enhancing her performance, she pointedly noted, "Every person in front of an instrument is actually playing. Everyone who occupies space in front of a microphone is actually singing," and repeated, "Singers singing," throughout her show, lest anyone forget.
Though Baker seemed genuinely appreciative of the audience, profusely thanking them and guest vocalists Tamia Hill and Lalah Hathaway, for most of the show the headliner appeared unfocused: She introduced Hill several songs too early, she occasionally forgot what song was next on the set list, she meandered over to the piano to rest her head, returning later to purposefully pluck all the long-stemmed roses out of a vase and lay them down on the piano, declaring the flowers too neat. She also took the time out to chide "Mr. Lighting Person" for leaving the same starry visual backdrop up for too long.
Bing: Anita Baker music, videos and more
An unwieldy stage setup did Baker no favors. With the exception of her pianist, her seven-piece band stood on a riser far behind her, leading Baker to spend large portions of the show with her back to the audience.
With the Bowl stage all to herself, she seemed overwhelmed by its enormity, distractedly roaming back and forth as if she had to cover all the terrain when planting herself occasionally in front of her mic would have been far less distracting for the audience and, undoubtedly, far less exhausting for her.
Perhaps some of the antics were to catch her breath and give her a rest between songs. If so, it worked: She ran through only 11 or so of the 16 songs on her set list, even leaving out new single "Lately," her highest- debuting tune in 18 years. With about 20 minutes left before the Bowl's 11 p.m. curfew, Baker seemed to gain some focus, reviewing some of the remaining songs with the audience to let their applause decide which ones to include. She seemed determined to use up every bit of her time, shoehorning a truncated version of "Fairy Tales" as an encore.
For as scattered as Baker seemed, opener Esperanza Spalding provided an hourlong set with pinpoint execution and with a purity of mission that engaged the audience from the beginning and kept them enthralled throughout. 
Her backing band, complete with a full horn section, was in lockstep with the bassist musically and spiritually as she glided through intricate, often complex traditional jazz melodies on both upright and electric bass.
Bing: Esperanza Spalding music, videos and more
Spalding, who stunned many when she won the Grammy for Best New Artist in 2011, left no doubt that the award had ended up in the right hands. Music simply flowed through her in a way that was remarkable to watch, whether on her own compositions, "Crowned & Kissed" and "Black Gold," or on an electrifying performance of Wayne Shorter's "Endangered Species," that was full of sharp edges and angles before giving way to a soft improvisation.
Her singing was as supple and clear-eyed as her playing, fluidly wrapping around the other instruments to form a complete, full sound where every instrument united with the others but at the same time seemed totally distinct.
Spalding appeared totally in the moment, intent on connecting with the audience and spreading music as a healing force over the crowd in a way that never felt forced and always felt joyous. She ended, appropriately, with "Radio Song," a tune from her latest album, "Radio Music Society," the celebrates music's ability to lift one's spirits and fill one's heart with love. As she led the audience in a sing-along, there was no doubt that Spalding possesses those same qualities in abundance.
Melinda Newman is the former West Coast bureau chief for Billboard magazine. She has covered music and entertainment for the Los Angeles Times, The Washington Post, The Associated Press, MSN, AOL Music, Hitfix.com, Variety, People Country and other outlets.
live local music on
Enter your ZIP code to see concerts happening in your area.
Data provided by Zvents
follow msn music