Imagine Dragons are ultimate inspirers at the Roseland Ballroom
The Las Vegas band acts as the voice of the people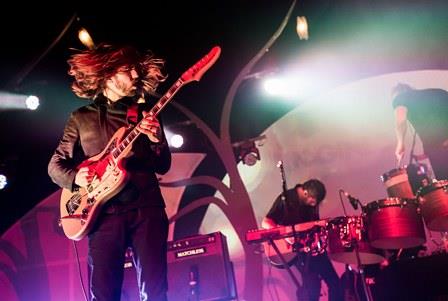 Danielle Cheesman
Special to MSN Music
It was dark in the Roseland Ballroom when crickets' chirps and thunder cracks sounded throughout the vintage venue and when, on a large screen positioned between fake life-size trees and their dangling leaves, the eerie whites of animal-like eyes began to blink. But the lights were raised when Imagine Dragons took the stage -- as were likely the spirits of many of the 20- to 30-somethings who made up their crowd.

Whether the Las Vegas band's intention or not (but clearly evidenced by their now omnipresence in pop), that's who Imagine Dragons' music most resonates with: a down-on-their-luck generation who, by an unfortunate turn of events, are experiencing somewhat of a quarter-life crisis. So, despite being an overqualified, underpaid and debt-ridden clan, it's hard not to feel encouraged and inspired when you're watching all 6'4" of lead singer Dan Reynolds pump his fist as if leading his army of admirers to war.

"Without a sense of purpose/We're setting up to fail/You don't have to make it right/Just hold your head up high," he encouraged on opener "Round and Round." He was also every bit the leader on the epic chorus of "Amsterdam" when, standing in front of starry-night-sky backdrop, he roared, "Your time will commme/If you wait for it/It's hard/Believe me, I tried." And if there was such thing as a pop music pulpit, Reynolds would prevail at its helm. On "Tiptoe," he broke from the tune's conventional melody and got the crowd to chant into oblivion, no less than 30 times, "Nobody else -- can take me higher!"

After "Hear Me," Reynolds admitted he was a "little under the weather" (and that he wouldn't have missed the show even if "throwing up"), but his voice showed no signs of suffering when he enunciated every syllable to "Cha-Ching" ("You've got to live your life/While your blood is boiling/These doors won't open/While you stand and watch them") -- nor did his body when, like a boxer in a ring, he jumped up and down waiting for the song's beat to build.

MSN Music: Imagine Dragons and 36 other buzz bands to watch in 2013

And his chest seemed to hold up just fine too when, at the end of "Rocks," he slapped on it like a drum -- of which, by the way, there were no less than six onstage, one bigger than the frontman himself. But the excessive percussion quite literally played its part in providing one of the biggest moments of the night: when each member of the band, guitarist Wayne Sermon and bass player Ben McKee included, picked up a set of sticks for a pounding, strings-assisted midsong breakdown of their hit "Radioactive."

The night slowed on the tear-worthy "Thirty Lives," the sacrificial story of "Bleeding Out," and even the a cappella opening to latest single "Demons," but there was no more proof of just how hopeful and happy-hearted Imagine Dragons really are until they threw illuminated balloons out to the crowd during "Underdog" (a tune that, naturally, champions the titular character). Or when they asked that the audience not let anybody "touch the ground because we're all family" if fans tried to crowd-surf during the handclap-and-whistle​-led "On Top of the World" (which, of course, resulted in no less than three attempts). Or when Reynolds himself shook his head, still in disbelief of their devotees, and sincerely kissed the heads of his fellow bandmates after allowing the crowd to take the chorus on their almighty anthem "It's Time."

Imagine Dragons are motivational masterminds parading as pop stars, so if you're feeling too bogged down with the "baby, baby please" pleas and "call me maybe"s of today's music, they're the pep talk you never knew you needed.
Photo credit: Retna Ltd.
live local music on
Enter your ZIP code to see concerts happening in your area.
Data provided by Zvents
follow msn music