Robert Glasper's 'Experiment' pays off
A visionary pianist and bandleader formulates soulful new jazz deconstructions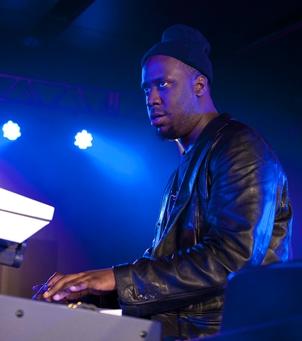 By Andrew Luthringer
MSN Music
Robert Glasper established himself as an important, forward-thinking jazz pianist with his early trio work on the Blue Note label, sporting brilliant technique, plentiful melodicism and a richly varied harmonic sense. Glasper left no doubt that he was knowledgeable and comfortable inside the jazz tradition, but right from the start, there were hints of other directions to come, as slivers of hip-hop-inflected groove bubbled up, as well as chordal patterns that could at times recall hazy samples from Blue Note albums of an earlier era.  For the second half of his album "Double-Booked" (2009), Glasper debuted his Experiment unit, with bassist Derrick Hodge, Casey Benjamin on vocoder, synths and alto sax and the astounding drummer Chris Dave, and the unit's more overtly electric and funky sound flowed smoothly out of the more acoustic-leaning trio pieces.  
However, it was this year's 'Black Radio' album that really laid out the richness and reach of Glasper's project.  A warm soulful and organic mix of surprising covers and percolating originals, rounded out by an impressive coterie of guest vocalists and rappers, the album placed an emphasis less on burning solos than on vibe and group interplay.  The album had a big impact well beyond the jazz world: Though it did hit No. 1 on the Billboard Jazz charts, it also debuted at No. 15 on the Top 200 and No. 4 on the R&B/Hip-Hop chart. Expect to see it on a number of 2012 best-of lists.
Glasper brought his Experiment unit to Seattle's venerable and eclectic Earshot Jazz Festival, packing the stellar Triple Door nightclub for two standing room only sets. The crowd was a lively mix of ages, races and temperaments, from high school b-boys and stylish couples to gray haired jazz geeks. Large swaths of the audience weren't just there to check out the reputation or see what's new, but were very familiar with the album and cheered heartily as the opening chords for Glasper originals like "Gonna Be Alright (F.T.B.)" rang out.
Bing: Watch Robert Glasper in action

Though the stage was lit only in murky reds and blues, and the music clearly had a stoney nocturnal vibe, the band percolated with energy and easy virtuosity. Glasper's acoustic and electric piano, Hodge's fat low end throb and Benjamin's vocoder and synth and were filled out by Chris Dave's replacement drummer, Mark Colenburg. Though Dave's bracing rhythmic innovations would seem difficult to replace, by halfway through the first tune jaws were dropping as Colenburg skittered cymbals and snares over bomb-drop beats, mixing shuffles and straight beats together, scattering unexpected and oddly placed accents like a cyborg remixer, held in check by Hodge's throbbing low end. The jarring and surprising transitions and displacements made it seem as if Colenburg was sometimes stretching the beat, sometimes breaking it completely, and generated wide-eyed amazement and smiles from the audience and bandmates alike.
Glasper is a generous and low-key bandleader, giving ample spotlight time to his talented band. Hodge (himself a recent Blue Note signing) showed his range and mastery with an amazing solo introduction to Sade's "Cherish the Day," rippling thick chordal figures that invoked everything from gospel to Bach, and as the tune revved up, Benjamin unleashed a burning electronically processed alto sax solo, which left the crowd cheering.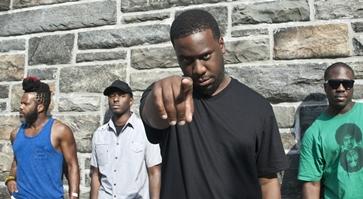 The band closed with one of their signature covers, Nirvana's "Smells Like Teen Spirit," probably a setlist requirement in the Pacific Northwest, and their version managed to be fully true to the melodic contours of the original while simultaneously opening up entirely new areas of reharmonized sensation. It's a long time since 1991, but I think Kurt Cobain might have dug it.
The only quibble one might raise about the band's set was the ubiquity of Benjamin's vocoder as the primary melodic voice. While it was unquestionably effective and distinctive on "Smells Like Teen Spirit," it's not an instrument with a wide timbral variety, it makes the words hard to decipher, and after four or five tunes, a certain monochromatic flavor emerges. Since it's used in the band palette to state the melody and lyrics, it begs the question a bit: Why not go all the way and also have a singer as part of the band? Bilal, with whom Glasper has worked extensively, would be a fantastic presence to have on the stage along with the rest of the crew.
All that aside, the show was superb. Glasper is clearly layering something new onto the firmaments of whatever is defined as jazz in the year 2012. While it's not "swing," strictly speaking, the band has all the interplay, flexibility and communicational rapport of a jazz group. But more than the harmonic elements or cross-genre plays, the band's real innovations are in the areas of rhythm and collage: fractured and reconfigured beats and musical figures. The Experiment's groove is a radically destabilized and often disorienting rhythmic landscape -- the flow can be very challenging and "out" -- but it makes sense in the modern musical landscape, and heads are still bobbing.
Glasper's Experiment illuminates a path through a musical landscape where human time-keeping has fully melded with the possibilities presented by sampling technology and the innovations of the figure who could arguably be called the patron saint of this band, the late
J Dilla
. The iconoclastic and idiosyncratic vibe the visionary producer created is a central presence and spirit in Glasper's music, and Dilla's increasing influence in jazz circles can arguably be attributed in a large part to Glasper's impact. Add to that the natural quotational element that jazz and hip-hop share (Glasper can sometimes sound like a pianist reconstructing a sample of a jazz pianist, to put a recursive twist on it) and you have a multilayered and innovative sound that any engaged and open-minded jazz fan needs to pay attention to.
Photo credits:
Robert Glasper (top) - Retna Ltd.
Robert Glasper Experiment - Kamau Ware
live local music on
Enter your ZIP code to see concerts happening in your area.
Data provided by Zvents
follow msn music