Who cares? The Who do
Rock icons Roger Daltrey and Pete Townshend share the stage with Elvis Costello for Teen Cancer USA benefit
By Alan Light
Special to MSN Music
"It's the last show of about 60 or 70, and it's great to be here in the neighborhood," said Pete Townshend at the end of the Who's Thursday night performance at New York's Theater at Madison Square Garden. Spirits were high as the legendary band added one final stop to their lengthy U.S. tour: a show billed as "Who Cares," benefiting Teen Cancer USA. Singer Roger Daltrey has long been involved with the charity, and this night saw proceeds (reportedly raising $2 million) going toward the cancer centers at New York's Memorial Sloan-Kettering hospital and Yale New Haven Children's Hospital.
MSN Video: Roger Daltrey helps teens get cancer care that rocks
The Who were joined by Elvis Costello for this special show in the relatively intimate setting (with a capacity of 5,600, approximately one-third the size of the arenas they've been playing other nights), where ticket prices topped out at a face value of $1,000. All other stops on this tour featured the band playing their complete 1973 opus "Quadrophenia," while this evening was billed as a "greatest hits" show (the tour will pick up again in Europe in June).
In truth, though, the 10-song set was mostly drawn from material the Who (currently made up of the two frontmen backed by bassist Pino Palladino, guitarist Simon Townshend, and drummer Zak Starkey, plus multiple keyboard and horn players) have been performing during these recent dates. Five of the selections came from the unvarying encore the band has offered at the end of the "Quadrophenia" songs, while three more were taken from the album itself — including two of the evening's highlights: an extended, blistering version of "5:15," with some of Townshend's most ferocious guitar work, and a powerful "Love Reign O'er Me" which required Daltrey to dig deep for the big, shouted climaxes.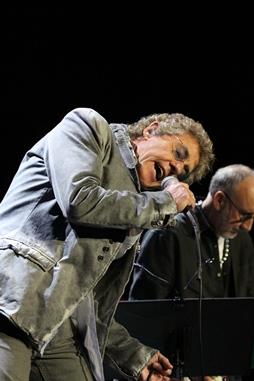 Those peaks were especially impressive since the singer — who turns 69 years old today, which he didn't mention — looks in great physical shape, but is showing considerable wear and tear in his vocal range. While his energy and presence can cover on such rockers as "Pinball Wizard" and a surprisingly effective "You Better You Bet" (one of the songs added for this show), his voice has naturally lowered, and in a ballad like "Behind Blue Eyes," he strained at the high notes. Townshend, who took the lead on "Drowned," remains impressively aggressive onstage at age 67 — though perhaps it was telling when he said, as the Who took the stage, that he had just been woken up from a nap and missed Elvis Costello's set. "Let's see if I can get my teeth in!," he joked.
That was certainly Townshend's loss, because Costello's opening performance was a revelation. Maybe he was inspired by the teen focus of the evening's charity, but he went all the way back to his earliest days for this show, drawing the bulk of his set from his flawless first two albums, "My Aim Is True" and "This Year's Model," released in 1977 and 1978. In fact, the most recent song Costello played was a punchy, funked-up version of "Everyday I Write the Book" from 1983.
Bing: More on the Who | Bing: Teen Cancer USA
Backed by the Imposters — keyboardist Steve Nieve, bassist Davey Faragher and drummer Pete Thomas — Costello blasted through a dozen songs at breakneck pace in 45 minutes, capably navigating the razor-blade reggae of "Watching the Detectives" and the rapid-fire assault of "Pump It Up" (with a bit of Taj Mahal's "Ain't That a Lot of Love" tossed in). He was resplendent in a green blazer, complete with red flower in the lapel, over a polka-dot shirt, and his voice sounded virtually unchanged on material dating back 35 years, even when he slowed down for a gentle take on "Alison" that also incorporated lines from Jimi Hendrix's "The Wind Cries Mary" and "Over the Rainbow."
He could have passed for the Angry Young Man who came ashore with the punk movement, except for the big grin on his face between songs — especially when he followed the presumed closing song, the hard-charging "(What's So Funny 'Bout) Peace, Love and Understanding," with a quick, cheeky take on the headliners' own early classic, "Substitute."
Still, the concert's emotional high point belonged to the Who when they played "The Kids Are Alright," one of the anthems from their 1965 debut album, "My Generation," as video of the band members visiting teenage cancer patients flashed behind them. It was a sweet reminder of the night's cause, which Daltrey also spelled out in a speech that followed the band's hourlong set (as well as explaining that going any longer would eat away the night's profits with overtime union costs). "We're shooting in the dark with this disease," he said. "But no one makes a society better than teenagers." This time, the Who's efforts were dedicated to the hope that these brave patients won't have to die before they get old.
Alan Light is the author of "The Holy or the Broken: Leonard Cohen, Jeff Buckley and the Unlikely Ascent of 'Hallelujah.'" A regular contributor to MSN Music, he is the former editor-in-chief of Vibe and SPIN magazines. He is the director of programming for the public television concert series "Live From the Artists Den," and contributes frequently to The New York Times and Rolling Stone. Alan is a two-time winner of ASCAP's Deems Taylor Award for excellence in music writing.
Photo credit: The Associated Press
live local music on
Enter your ZIP code to see concerts happening in your area.
Data provided by Zvents
follow msn music