While His Guitar Loudly Weeps: Jack White at Seattle's WaMu Theater
The guitar wizard dazzles with a career-spanning set
By Travis Hay
MSN Music
Jack White sat perched on a piano bench at Seattle's WaMu Theater on Tuesday with a grin on his face and excitedly asked the 7,000 fans in attendance if they were ready for the show to begin. For most performers such a comment is meaningless banter, but most performers aren't Jack White.
WaMu Theater is known for boasting less than stellar acoustics and throughout the evening White valiantly battled the venue and its cavernous design, which ruined the sound of several songs with muddled bass and washed-out vocals. Unfortunately this dramatically lessened the impact of what was a tremendous showing of excellent musicianship by both White and his six-piece all-female band, the Peacocks (White also travels with an all-male band, the Buzzards. He decides which band he wants to play with the day of show). And even though White's comment came 18 songs into a 22-song set that covered all the bases from his career – selections from the White Stripes, the Raconteurs, the Dead Weather and his solo record, "Blunderbuss," were featured – it felt as if that very moment, right before he broke into "Take Me With You When You Go," was when the show really began.
For most of the song White was seated at a piano, but during its tail end, he stood up, grabbed a guitar and tore into a vicious solo that breathed new life into "Blunderbuss'" closing track. He followed that with a blistering "Ball and Biscuit," and his furious frenzy of fuzzed-up soloing on both songs served as the perfect lead-in to stadium anthem "Seven Nation Army," during which the crowd sang along to its iconic riff, before ending the show with a cover of Leadbelly's "Goodnight, Irene."
Such is the magic of a superstar like Jack White. He can seemingly convince a crowd of thousands that the previous 90 minutes didn't happen just by letting his guitar take center stage. And while White's closing crescendo was spectacular, the beginning and middle of the set weren't too shabby either.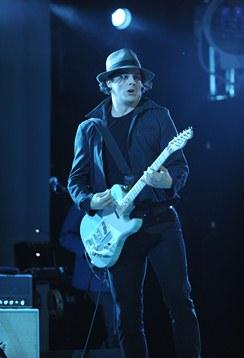 Bathed in blue and white lights, White and the Peacocks started things off with "Dead Leaves and the Dirty Ground." The song was one of several White Stripes cuts on the setlist, but playing them with a full band meant songs like "Hotel Yorba" and "The Same Boy You've Always Known" lost their minimalist charm. However, while White sacrificed some of their charm, the songs were given added depth and new arrangements featuring lap steel, fiddle, piano and bass.
An early highlight came when White upped the intensity by practically yanking the flange out of his guitar by forcefully plucking and pulling its strings during "I'm Slowly Turning Into You." That intensity was matched by Lillie Mae Rische who stood by his side and provided a feistily fiddled backdrop that mirrored White's energy. But it wasn't just the White Stripes material that benefitted from the Peacocks. "The girls," as White called them, gave the Raconteurs' "Top Yourself" extra twang and flair, and the Dead Weather's "Blue Blood Blues" came across as extra sinister.
MSN Music: Exclusive video interview with Jack White
White and his band excelled most when taking on the set's nine "Blunderbuss" songs. The record touches on a multitude of styles – including gospel, blues, roots, and of course, rock – and does nearly all of them well.  "Love Interruption" was a tension-filled duet between White and Ruby Amanfu, whose sultry backing vocals accentuated most every song of the show. Encore starter "Sixteen Saltines" allowed White to share the load with his band, as opposed to overpowering them with his guitar, and the album's title track was perfectly placed near the end of the evening, providing one of the set's lone tender moments.
As to be expected, White's solos were as big a part of the show as his backing band. At times his wailing overpowered his female companions, which is a bit of a shame because they were almost as exciting to watch as White, but nothing on stage was as captivating as White playing his guitar. After all, you don't go to a Jack White show to watch his band, no matter how good they are.
Setlist
Dead Leaves and the Dirty Ground*
Missing Pieces
Weep Themselves to Sleep
Love Interruption
Hotel Yorba*
Top Yourself**
Hypocritical Kiss
Screwdriver *
Blue Blood Blues****
I'm Slowly Turning Into You*
I Guess I Should Go to Sleep
The Same Boy You've Always Known*
The Hardest Button to Button *
Encore:
Sixteen Saltines
Freedom At 21
Steady, As She Goes **
Blunderbuss
We're Gonna Be Friends*
Take Me With You When You Go
Ball and Biscuit *
Suzy Lee / Seven Nation Army*
Goodnight, Irene (Leadbelly cover)
* White Stripes cover
** Raconteurs cover
*** Dead Weather cover
live local music on
Enter your ZIP code to see concerts happening in your area.
Data provided by Zvents
follow msn music