Sound City onstage: Dave Grohl's rock 'n' roll fantasy comes alive
Reunited with Foo Fighters, the Nirvana alumnus taps Stevie Nicks, John Fogerty and a diverse crew of rockers for an exuberant, extended concert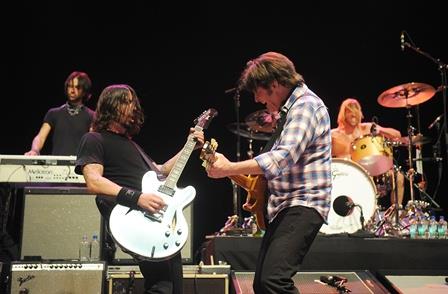 By Alan Light
Special to MSN Music
"That rock fantasy camp s---?," screamed a shirtless Taylor Hawkins. "This is it right here!" The Foo Fighters drummer — taking a rare turn standing up front, in the lead singer's spot — then counted off "I Want You to Want Me," backed by the song's writer, Cheap Trick guitarist Rick Nielsen, and the surviving members of Nirvana. It was a collision of rock 'n' roll stars and styles that characterized a marathon show at New York's Hammerstein Ballroom on Wednesday night by the collective known as the Sound City Players. And bashing away on the drums, his grin visible from the back row, was Dave Grohl, the impresario behind it all. 
The show was a celebration of the legendary Sound City Studios in Los Angeles, whose story Grohl explores in a new documentary. The notoriously scuzzy facility was the home to countless classic sessions over the years, including Fleetwood Mac's self-titled breakthrough album and its epic sequel, "Rumours," Tom Petty's "Damn the Torpedoes," Neil Young's "After the Gold Rush" — and, the reason for Grohl's obsession, Nirvana's "Nevermind." As a companion to the film, Grohl cut new recordings at Sound City with artists including Paul McCartney, Trent Reznor, and Josh Homme from Queens of the Stone Age. The all-star, cross-genre concert followed similar shows at the Sundance Festival and in Los Angeles, and will be followed by a show next week in London.
The idea for assembling a live Sound City event was presumably to pay further tribute to the studio and its legacy, but the concert felt more like a tribute to the teenage Dave Grohl's record collection. His first words onstage were a warning — "It's gonna be a long f---ing night! You know that, right?"—and for more than three hours and almost 40 songs, Grohl never stopped playing, as he provided support for seven different sets, including punk legend Lee Ving from Fear, one-time teen idol Rick Springfield, and classic rock superheroes John Fogerty and Stevie Nicks. If the only thing connecting these artists is their work at Sound City, that was enough for Grohl, probably the only musician who could bridge so many pop worlds, or would even want to.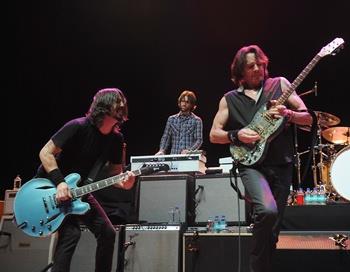 The show's first half was dedicated to the more underground artists, starting with Alain Johannes playing the snaky, sludgy lines of Queens of the Stone Age and his band, Eleven. It was a bit startling when the curtain rose and the full lineup of the Foo Fighters began playing—it was less than six months ago that Grohl announced that the band was planning a lengthy hiatus. Things alternated between hard, fast, and loud and hard, slow, and loud when Chris Goss of Masters of Reality took the stage, and Ving's set of pioneering hardcore was oddly charming and melodic, demonstrating mostly that Hawkins doesn't possess the attack of a punk drummer. 
Things took a more poppy turn during Nielsen's turn onstage, with Hawkins kicking and writhing with moves from the Iggy Pop playbook and slightly blowing the classic Cheap Trick "Live at Budokan" intro to "Surrender" ("This next one is the first song on our new album"). Springfield, still rocking the same haircut from his glory years and getting away with a sleeveless shirt, illustrated the limits of a night dedicated to Grohl's limitless fandom. There's no resisting the power of the 1981 No. 1 smash "Jessie's Girl" (as Grohl put it, "This man wrote a song that everybody knows from the first three notes — teach me, Rick, teach me!"), but five numbers from the Australian soap opera star was more than anyone needed to hear.
The room elevated when Fogerty took the stage as the clock neared 11. His voice sounded unchanged from the heyday of Creedence Clearwater Revival, and the Foos were rock-solid behind him on masterpieces like "Born on the Bayou" and "Bad Moon Rising." Grohl and Fogerty traded verses through a full seven songs (the most any act played), and closed with a searing version of the Occupy Wall Street blueprint "Fortunate Son"; a recording of the song by this same lineup is a highlight of Fogerty's upcoming duets album.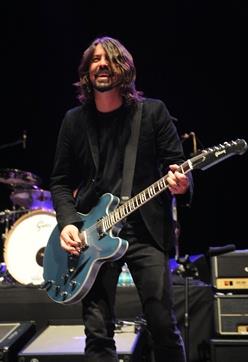 Finally, it was time for rock 'n' roll deliverance as Stevie Nicks took the stage. You could instantly picture the dreams of the adolescent Grohl coming true as he sang Tom Petty's part on "Stop Draggin' My Heart Around." By far the most compelling of the new Sound City songs is "You Can't Fix This," which Nicks explained that she wrote for her godson, who died at a frat party. Her vocal at the Hammerstein was a soaring incantation over a swirling and moody groove, like a classic Fleetwood Mac song. A muscular version of "Dreams" (Mac's only No. 1 hit) followed, and then a reverent reading of "Landslide," which Nicks described as "the foundation for Fleetwood Mac." 
The night's final song was a dramatic and droning "Gold Dust Woman," the closing track on "Rumours." It seemed at first an oddly downbeat ending to a night of celebration, but served as a fitting tribute to the dark side of a recording studio in L.A., a nod to the demons that also visited Sound City. Like all the best moments from this evening, it's certainly not a song you can imagine someone recording at home on her iPad.
Alan Light is the author of "The Holy or the Broken: Leonard Cohen, Jeff Buckley and the Unlikely Ascent of 'Hallelujah.'" A regular contributor to MSN Music, he is the former editor-in-chief of Vibe and SPIN magazines. He is the director of programming for the public television concert series "Live From the Artists Den," and contributes frequently to The New York Times and Rolling Stone. Alan is a two-time winner of ASCAP's Deems Taylor Award for excellence in music writing.
* Photo:  BradBarket/AP

Too bad people like this author cant get over what a persons image might of been in the past. Fact is i never bought his early stuff but what he put out in the last 10 yrs as as good as if not at times better than what passes for rock today. Guess some people always live in the past. That why classic artists never can get their new material played either.
Are you sure you want to delete this comment?
live local music on
Enter your ZIP code to see concerts happening in your area.
Data provided by Zvents
follow msn music