All-star cast of guitar icons, and one billionaire, celebrate Jimi Hendrix's legacy
Mike McCready, Ernie Isley, Vernon Reid, Billy Cox, Paul Allen and more rock Hendrix tunes at Experience Music Project Museum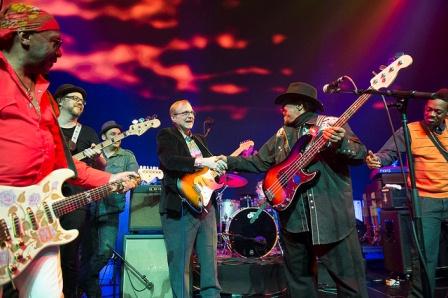 By Travis Hay
MSN Music
Seattle's Experience Music Project Museum could be called the House That Hendrix Built since the oddly-shaped Frank Gehry structure is billionaire Paul Allen's shrine to his rock 'n' roll hero Jimi Hendrix. And on Nov. 17 it provided the perfect location for the Microsoft co-founder to plug in and get onstage at EMP with a half dozen guitar icons and rock out to "Red House."
The all-star jam, which also featured Ernie Isley of the Isley Brothers, Vernon Reid of Living Colour, Hendrix's former bassist Billy Cox and Michael Shrieve of Santana among others, was a part of "Hear My Train a Comin': The concert" which was held in celebration of the opening of a Hendrix exhibit of the same name at the museum. The three-hour show featured a stellar cast of guitarists covering Hendrix's greatest hits and a few deep album cuts too.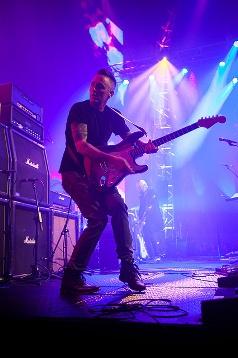 The concert was a merry-go-round of musicians with a new group of ax-slingers taking the stage every two or three songs. It was a small piece of guitar geek heaven with a slew of exceptional players not only showcasing their skills, but also paying tribute to Hendrix, a man who brought guitar playing to new heights during his brief career. Aside from Allen's jamming buddies, some of the other musicians who took the stage throughout the night included Pearl Jam's Mike McCready, former Guns N Roses bassist Duff McKagan, Brandi Carlile, former Screaming Trees drummer Barrett Martin, Eric Gales (who is also Lauryn Hill's touring guitarist) and Audley Freed (Sheryl Crow's guitarist). Some of the standout performances included Gale's hard and heavy take on "Purple Haze," Isley's "Manic Depression" and Ian Moore's "Bold as Love."
All of the aforementioned performances were great in their own way but the guitarist who outperformed everyone was McCready. He delivered a near-perfect take on "Little Wing," accompanied by McKagan and Martin who are his sometimes bandmates in the group Walking Papers, and his electrifying rendition of "Voodoo Child (Slight Return)" was enough to make even the staunchest Hendrix fan cheer in delight.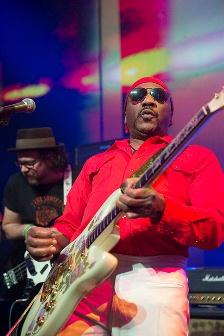 McCready was also joined by singer-songwriter Brandi Carlile for a blistering "Machine Gun," during which Carlile held her own by matching McCready's energy and intensity note for note. He capped his four-song stint onstage with "The Star-Spangled Banner" (what else would you expect?),  and put an exclamation mark on the show by jamming the neck of his guitar into an amplifier leaving the stage in a frenzy of feedback prior to the show-ending all-star jam. Check out videos of "Voodoo Child (Slight Return)" and "Machine Gun" below.
As for the exhibit, it focuses on the nine months Hendrix spent in London prior to breaking big in America at the Monterey Pop Festival, and it opened 10 days before what would have been Hendrix's 70th birthday. Some of the artifacts featured include broken bits of guitars Hendrix smashed onstage, flashy items from Hendrix's wardrobe, press clippings from London, fan letters and a section dedicated to late Hendrix drummer Mitch Mitchell. In total, the exhibit, which will be on display for three years, houses more than 150 items. And although it focuses on Jimi's time overseas, the exhibit is a fitting hometown shrine to Hendrix in the house that he built.
Photos: Top: Paul Allen (center) shakes hands with Billy Cox as Ernie Isley (far left) looks on. Left: Mike McCready. Right: Ernie Isley
Photo credit: Jim Bennett courtesy EMP Museum
live local music on
Enter your ZIP code to see concerts happening in your area.
Data provided by Zvents
follow msn music