A night of biker metal camaraderie with Black Label Society
Zakk Wylde and BLS satisfy their die-hard fanbase in an intimate setting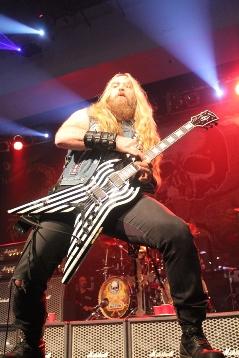 By Adrien Begrand
Special to MSN Music
No metal or hard rock band has marketed themselves as shrewdly as Black Label Society have, especially over the past decade. By smartly playing up the whole "us against them" mentality that makes metal so appealing, and creating a biker-gang aesthetic, the concept has clicked in a huge, huge way with their ever-growing fanbase. With their merchandise, from the T-shirts, to the patches, to the leather vests, it's more than evident that Black Label Society are lending their image a strong Hell's Angels vibe while keeping anything directly related to the notorious club at an arm's length.
Fans wear their emblems proudly – it's an unwritten rule at Black Label Society shows that all fans wear their BLS gear – singer/guitarist/mas​​termind Zakk Wylde calls the fans in whatever city he's visiting a "chapter;" essentially that Hell's Angels safety-in-numbers/on​​e-percenter idea is played to the hilt, forging a connection between the band and their followers. And because it all revolves around a form of safe, middle-of-the-road heavy metal, rather than, say, an activity of the dodgy variety, it seems a harmless bit of escapism and fantasy for everyday people.
Or, so I thought as I went to a Black Label Society show in Saskatoon, Saskatchewan, on Oct. 28, where a security guard shoved his way past me and other squished audience members, brusquely clearing the way for a prominent member of the local Hell's Angels chapter who was given a place of honor beside the stage to take in the show. All of a sudden fantasy and reality were colliding in a surreal way.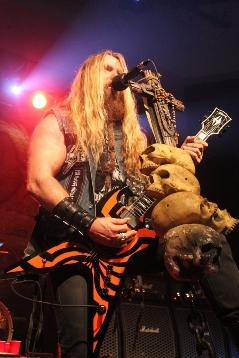 After woefully inept sets of Nickelback-ish "dude rock" by preening bands Pop Evil and Killinger, as well as a hilarious, defiant set by prog-metallers Protest the Hero – who are popular in Canada but generally loathed by the biker-metal crowd – a comically gigantic curtain with the Black Label insignia was raised in front of the stage to the biggest cheers of the night, thus far. It was a strangely "arena rock" thing to do in an intimate, 1,000-capacity venue, but the gimmick worked, as it dropped when the band kicked into "Godspeed Hellbound" from their 2010 album "Order of the Black," revealing a row of eight of Wylde's gaudy "Steel Curtain" Marshall stacks, and sending the jam-packed crowd into a frenzy.
Flanked by guitarist Nick Catanese and bassist John DeServio, and backed up by drummer Chad Szeliga, the obvious focal point was the hulking, bearded Wylde. Ozzy Osbourne's former sidekick postured, shredded, and strutted around the stage like any prototypical god to readers of Guitar World magazine, playing at least a half dozen of his own custom guitars. A total of 14 songs were faithfully carted out, evenly balanced between the old ("The Rose Petalled Garden," "Berserker"), the new ("Parade of the Dead," "Overlord").  Wylde's weepy piano ballad, "In This River," was dedicated to the dearly missed "Dimebag" Darrell Abbot,  and the requisite 10-minute guitar solo  had fans cheering, but left yours truly bored to tears.
Capping things off with "Concrete Jungle" and "Stillborn," and punctuated by Wylde's fist-pumps and Captain Caveman chest beating, the encore-free show gave the fans exactly what they wanted: good tunes, new overpriced merchandise and a few hours where they could leave their workaday lives behind them, pretend to be bikers, and enjoy some good, old-fashioned camaraderie through heavy music. Escapism in metal is a great thing, Black Label Society do it as well as anyone, and nobody left disappointed. Including that Hell's Angels guy.
Set list:
 "Godspeed Hell Bound"
"Destruction Overdrive"
"Bored to Tears"
"Berserkers"
"Bleed for Me"
"The Rose Petalled Garden"
"In This River"
"Forever Down"
"Parade of the Dead"
"Overlord"
"The Blessed Hellride"
"Suicide Messiah"
"Concrete Jungle"
"Stillborn"
*Photos by Darcy Begrand
live local music on
Enter your ZIP code to see concerts happening in your area.
Data provided by Zvents
follow msn music