Ellie Goulding gives a double dose of her Halcyon Days tour to New York
The U.K. pop sensation brings her show Stateside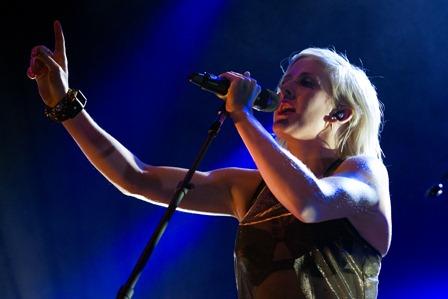 By Kathy Iandoli
Special to MSN Music
Ellie Goulding's name has traveled fairly quickly throughout pop music, leading up to back-to-back sold out shows in New York's Terminal. Fans waited outside in subzero weather on both show dates, eager to hear the vocal stylings of an artist who once performed at the Royal Wedding and has since inched toward pop royalty.
The U.K. artist's debut album, "Lights," arrived in early 2010, yet gained steam by mid-2011 with the help of the album's title track, allowing for a sold-out show at Terminal 5 that same year. The playing field was a tad different this time around. "Lights" (the single) was still a dominant force, sneaking in at  No. 1 on Billboard's Best of 2012 list. Goulding released her second album, "Halcyon," near the end of 2012, fueled by the torch single "Anything Could Happen." The track rapidly evolved into a branding darling, appearing as the soundtrack to Dr. Dre's "Beats by Dre" campaign, plus in the Season 2 trailer for the Golden Globe award-winning series "Girls" among other places. Add to that her viral single (a cover of Active Child's "Hanging On") being used in the latest string of Victoria's Secret commercials and Goulding's fan base became multidimensional. It was so diverse that her first show date at Terminal 5 sold out within minutes. A second date was readily added, and that sold out in minutes as well.
The three-tiered venue is entirely general admission, so stage access is first come, first served. Earlier that day, Goulding had pizzas delivered to the line for her fans waiting in the cold weather. By 6p.m., the line wrapped around New York City's Department of Sanitation located next to Terminal 5. A similar situation happened the following day, though the front of the line was comprised of an older crowd. The doors opened at 7 p.m., with the audience flooding the floors of the venue immediately. By 8 p.m., New York-based synth rock outfit St. Lucia opened the show, having home-court advantage with a built-in local fan base (often rare for opening acts). By 9 p.m., the stage turned purple-lit, with Orbital's "Halcyon + On + On" playing overhead. Goulding and her band emerged on the stage to warm up with "Halcyon"'s album opener, "Don't Say a Word."
MSN Music: An interview with Ellie Goulding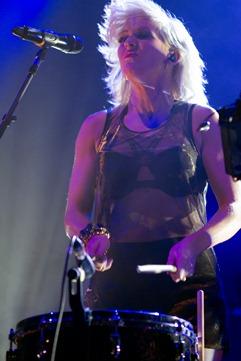 Clad in black leather shorts and a matching fringed blazer, Ellie whipped her blond locks around as she beat on a floor-tom while singing the song's hook. She would switch from tom-tom to MPC during the show, using Auto-Tune on tracks like "Hanging On" and "Under the Sheets" (off her debut album), yet switching to an acoustic guitar for "Guns and Horses." The fans kept up, chanting both projects' lyrics word for word. Goulding would pause throughout her performance, leaving nothing but the fans singing her songs. She cleverly packed her more timid tracks into one down-tempo segment, ushering in ballads like "Explosions" and her cover of Elton John's "Your Song" before continuing with her dark electro-pop infused "My Blood" and "Only You." The crowd reached pandemonium once "Anything Could Happen" rolled around, as the stage lit up and Goulding bounced in unison with her audience.
She closed the set with her very first single, "Starry Eyed," as the crowd began whispering "What about 'Lights,' though?" When she reappeared for the encore, they knew their wish would be granted. Starting with her Calvin Harris collaboration "I Need Your Love," Goulding jumped right into "Lights" shortly thereafter. She turned the second half of the song into an all-out rave, switching the EDM production for the dubstep-heavy Bassnectar remix. With strobe lights, live instruments, and background electronics, Goulding ended her performance on the highest note possible … and the fans were thankful for it.
Ellie Goulding managed to hit every corner of her surrounding New York fan base both nights at Terminal 5. From mainstream casual fans to her cult following (she added lyrics to "Hanging On" from her obscure cameo on Tinie Tempah's "Wonderman"), Goulding made sure that every attendee was fulfilled. Selling out two shows in a row though is proof enough that perhaps her next New York date will be at a much larger venue.
Set list:
Don't Say a Word
Halcyon
Figure 8
Salt Skin
Hanging On
Joy
Explosions
Guns and Horses
I Know You Care
Your Song
My Blood
Only You
Under the Sheets
Anything Could Happen
Animal
Without Your Love
Starry Eyed
Encore:
I Need Your Love
Lights
*Photos by Nicholas Walker/Retna Ltd.
live local music on
Enter your ZIP code to see concerts happening in your area.
Data provided by Zvents
follow msn music