Pink's pop spectacle
The superstar's L.A. show lifts spirits with high energy and powerhouse vocals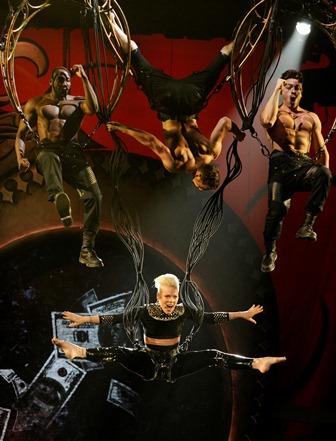 By Robert Spuhler
Special to MSN Music
With pop stars like Rihanna and Katy Perry consistently in the headlines, it can be easy to forget that, according to Billboard, the sixth-biggest female pop star (and 13th overall) of the millennium's first decade was Pink.
It's easy to forget, at least, until one sees the singer on her The Truth About Love tour. When the newly minted CoverGirl model took the stage on Feb. 16 at the Staples Center in Los Angeles, she was surrounded by 10 video screens (including a massive heart-shaped one in the center) and had nearly as many costume changes. The resulting two-hour show, involving acrobats and animations, made for an experience that was part concert, part Broadway show and part pure spectacle.
From Pink's arrival onstage, being shot up into a bungee contraption and spinning throughout "Raise Your Glass," to singing "Sober" while encased in a Gothic-styled spherical cage suspended above the stage, large portions of the show would have felt at home on the Las Vegas Strip during a Cirque du Soleil performance. Others, like the first set closers "Slut Like You" and "Blow Me (One Last Kiss)," were staged with heavy help from a crew of backup dancers, with the latter eventually resembling "La Vie Boheme" from the musical "Rent." Pink also got an assist from fun. frontman Nate Ruess, as the "We Are Young" singer contributed his half of the duet "Just Give Me a Reason" via video.
Most of the best moments, though, came during relatively understated performances. Performances of songs like "Are We All We Are" and "Trouble" left the acrobats and dancers backstage and allowed Pink and her proficient band to play what resembled a rock show, albeit one taking place in the center ring of a circus. "How Come You're Not Here" worked particularly well in a  live environment, though it got a helping hand from an inspired, 8-bit version of Pink going crazy on the LED screens behind the stage. When stripped down even further, like on the ballad "Family Portrait," Pink still seemed at home with just herself, a piano (and piano player) and pictures of her relatives on the big screens.
 MSN Music: P!nk, Rihanna, Madonna and the evolution of the diva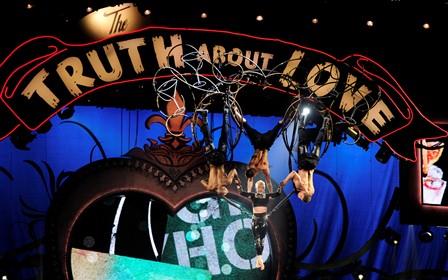 Those moments, along with the between-song banter, showed what has kept Pink so popular for so long, even without headline-grabbing airborne media junkets or low-cut Grammy dresses. Unlike the somewhat dazed performances of Rihanna and the plastered-on smile of Katy Perry, Pink seems to honestly be having fun. Even during the show's awkward moments, like when a guitar malfunctions or it takes an extra few seconds to get into a harness, she beams and laughs, or plays with a stuffed animal given to her by a fan. These moments also allowed her to show off her voice, one of the most underrated in pop music: It's much easier to belt out notes when standing next to a piano than when spinning in circles, hanging from a wire.
This, though, is an arena pop show, and that means spectacle is a must. The two-song encore of "So What?" and "Glitter in the Air" featured Pink suspended 25 feet in the air and zipping around the arena during the former and, for the latter, hanging from aerial fabrics, then dipped into a submerged pool. She is still a rock star, with those rock moves that she sings about, but her pop credentials are beyond reproach.
Those arriving just in time to see Pink, which was the vast majority of the audience, missed out on a pure shot of energy in the form of the Hives, the Swedish garage rock band best known in the States for their 2000 single "Hate to Say I Told You So." Lead singer Howlin' Pelle Almqvist high-stepped around the stage like he was truly playing for "155,000 people from Los Angeles" (his estimate from stage, of course), even heading into the audience for a quick drink and chat with some very befuddled Pink fans. While the younger concertgoers seemed a bit confused, those of a certain age received "Hate to Say I Told You So" and "Tick Tick Boom," the set closer, warmly.
Setlist
1. Raise Your Glass
2. Walk of Shame
3. Just Like a Pill
4. U + Ur Hand
5. Leave Me Alone
6. Try
7. Wicked Game
8. Just Give Me a Reason (ft. Nate Ruess of fun.)
9. Trouble
10. Are We All We Are
11. How Come You're Not Here
12. Sober
13. Family Portrait
14. Who Knew?
15. Fuckin' Perfect
16. Most Girls/There You Go/You Make Me Sick
17. Slut Like You
18. Blow Me (One Last Kiss)
Encore
19. So What
20. Glitter in the Air
* Photos by Chris Pizzello/AP
live local music on
Enter your ZIP code to see concerts happening in your area.
Data provided by Zvents
follow msn music