Doubling Down: Neil Young and Crazy Horse at Red Rocks
The iconic rocker reunites with his longest-running band for a night of incendiary music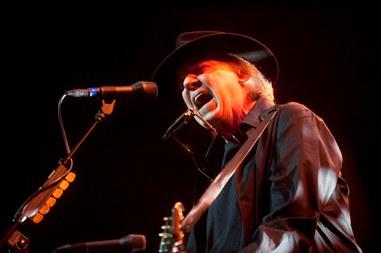 By Mark Brown
Special to MSN Music
It could have been a disappointment. Instead, it was Neil Young and Crazy Horse at their most outrageous, most audacious and most entertaining as they played Red Rocks Amphitheatre in Morrison, Colo., on Aug. 5.  The show was the second stop on their first tour together in seven years.
Young's past several tours have been mellower events; a re-teaming with Crazy Horse for an already-released album of "Americana" standards in advance of second new album just months away could have really gone either way. And more to the point, could Young, Ralph Molina, Billy Talbot and Frank Sampedro do justice in 2012 to the brain-blasting intensity they've reached in the past? The pirate flag flying over Molina's drum kit should have been the tip-off.
With the air heavy with the scent of baby boomer malfeasance,  the band took the stage  Sunday night and immediately devastated with "Love and Only Love," followed by a roaring "Powderfinger" that featured guitar work as sharp as the version on "Rust Never Sleeps."
Things started great – then they got interesting. Two new songs in a row, "Ontario" and "Walk Like a Giant," would have been a challenge to most crowds, but the two sounded like '76 Crazy Horse classics. As Young noted, the new songs "sound just like the old ones." And for the most part he was right.
MSN Music exclusive: Neil Young: Rewiring Folk Music
"Walk Like a Giant" tested the audience – a 20-minute lament at a generation's failed attempt to change the world, filled with guitar solos that Young, 66, strangled out of his classic Les Paul electric guitar, "Old Black,"  and ended with extended blasts of noise designed to sound like a giant stomping across the landscape. All in all, the first 45 minutes of the concert consisted of just four songs, two of them new. The crowd's wild cheers were quickly rewarded as Young strapped on an acoustic guitar for a delicate "The Needle and the Damage Done."
With some more new songs tossed in – the upcoming album is going to be killer – Young again rewarded the crowd with hits like "Cinnamon Girl," "Mr. Soul," as well as favorite album cuts. The punkish anthem "F-----' Up" got an extended coda that easily set the record for the most times the F-word has been used in a rock song, with a playful – yes, playful – Young running around the stage, taunting his bandmates and the audience. I never thought I'd say this after the crushing 1991 "Weld" tour, but this was Young and Crazy Horse at their best. Don't miss this tour.
It took openers Alabama Shakes all of 45 seconds to get the crowd completely in their grasp. Opening with "Goin' to the Party," charismatic lead singer Brittany Howard dominated the stage and mesmerized the crowd. Some were already converted: More than one Alabama Shakes T-shirt was seen in the crowd. It's a testimony to Young's confidence that he's having such strong opening acts; Los Lobos started the tour in Albuquerque, while Alabama Shakes has a set of dates as well. Howard left the stage after 45 minutes to a standing ovation; encores would have been welcome had time permitted.
Mark Brown is a veteran music journalist who was pop critic for the Rocky Mountain News until its demise. He is also a contributor to MSN Music blogs Reverb and Scene & Heard. 
live local music on
Enter your ZIP code to see concerts happening in your area.
Data provided by Zvents
follow msn music