Jessie Ware is a winner at the Bowery Ballroom
The U.K. sensation makes her mark on an adoring crowd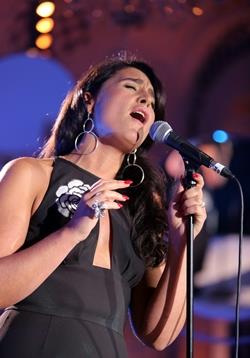 By Danielle Cheesman
Special to MSN Music

Though Jessie Ware's debut album "Devotion" hasn't yet been released stateside, you wouldn't have been able to tell by the audience that packed New York's Bowery Ballroom on Jan. 17. It was a sold-out show (its tickets depleted in 30 minutes, no less) comprised of loyal fans who had maybe hoped to keep Ware close to their hearts, a secret overseas, untainted by overexposure. They had no such luck though, for just the night before, she had made her U.S. television debut on "Late Night with Jimmy Fallon" — the secret was out. And any artist, rightfully so, would be thrilled.

But when Ware stepped onto the stage to open with her title track, clad in all black, her signature bun styled atop her head, she was seemingly somber — making eye contact with her fans but looking unaffected by their screams. And then it happened. By the third verse, over the electronic tinkling and chimes, a smirk that Ware could no longer contain spread across her face. And upon delivering the final note, she leaned back, peered out at the crowd as if shyly from around a corner, and shook her head in genuine disbelief at their adoration. She raced to the edge of the stage to wildly slap their outstretched hands and finally spoke: "It's gonna be a good night, isn't it?," she asked in her charming and cheery English accent. Then the reverberating synths of "Still Love Me" sounded and Ware rocked to the rhythm with finger snaps and neck rolls.

MSN Music: Jessie Ware and 36 other artists to watch for in 2013

A rowdy member of the crowd requested "Strange Feelings" and Ware admitted, "Aw, you've called out the only song I'm not doing on the bloody set," but profusely promised, "I'll make it up to you!" Instead, the strings and hard-hitting drums of "Night Light" emerged, much to the delight of the fans who helped carry the chorus despite Ware altering the song's melody only slightly. She sang the ballad with a confident ease, without ever even clasping the mic stand, and it quickly became clear that Ware isn't one to rely on dramatics, only strong delivery.

She took a moment to raise the lights, point out a fan she remembered from fellow singer Solange's show last month, and address the, well, "ambiance" saying slyly, "Someone's smoking weed in here; it smells good!" before treating fans with her cover of Brownstone's "If You Love Me." The tune's '90s groove was matched by Ware — decked in a blazer and baggy high-waisted pants — walking the stage and bopping her head like a seasoned boy-bander would.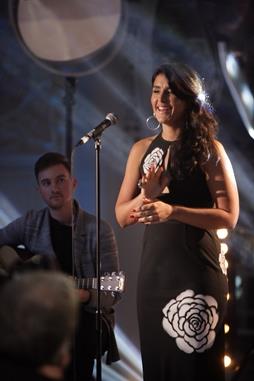 The audience got another surprise when the skittering drums of "110%" started up and the distorted voice on its intro that they once knew to say "carvin' my initials on your forehead" had been changed to "comin' on a mission like a warhead." (Apparently, the initial line came courtesy of an uncleared sample from the late Big Pun's "The Dream Shatterer" and thus, the title of the song had to be changed too; it's now called "If You're Never Gonna Move.") But Ware seemed unaffected by the minor obstacle as she raised her hands above her head, shook her hips and expected the same of the crowd: "I don't see you dancing!"

Next, Ware — quite earnestly it seemed —d edicated "Sweet Talk," with its funky warbling keyboard, to expecting couple Kim Kardashian and Kanye West prior to taking off her jacket, throwing it on the floor and launching into "Swan Song" on which she interrupted herself with an "Oh, s—, whoops!" when missing a note, but finished strong and with emphatic thanks (not that she needed to as her fans barely noticed the flub).

Bing: Jessie Ware music, videos and more
The night took a more emotional turn when Ware revealed that the ballad "Taking in Water," one that details her self-sacrificing for another (and that she admits almost didn't make the album), was about her brother — "I couldn't ask him how he was, so I wrote a song instead," she said. Though the crowd became her backup for much of it, it was Ware's most heartfelt moment of the night. She struggled to keep her composure over the electronic pitter-patters of the slow-moving "Something Inside," too. After that, came her "favorite song," her cover of Bobby Caldwell's 1978 signature hit "What You Won't Do For Love."

"Usually I'm chatty-chatty because I'm so nervous, but I'm enjoying myself so much tonight," Ware said as the night came to a close. She seamlessly blended the airy chants of "No to Love" with a live rendition of Marvin Gaye's "I Want You" for a mash-up-turned-jam session that literally moved the crowd. The booming beat of "Wildest Moments," with its thrashing drums, brought about an epic singalong, causing Ware's brimming smile to widen. And when the pulse-like thumping of "Running" finally faded into silence, Ware grabbed the flowers she'd received from a fan mid-show and gleefully pumped them into the air like any true trophy-winner would. Call it a sign of things to come.
Photos: Jessie Ware performing in London. John Marshall/AP
Are you sure you want to delete this comment?
live local music on
Enter your ZIP code to see concerts happening in your area.
Data provided by Zvents
follow msn music