Neil Young's Hurricane Sandy benefit: A day of reckoning
The maverick rocker ties his Atlantic City benefit to the storm's portents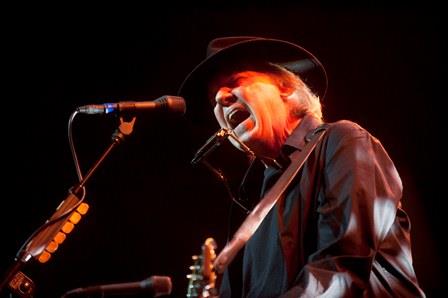 By Alan Light
Special to MSN Music
"There's a day of reckoning coming," says Neil Young. "These superstorms and disasters — they're not a surprise, they were predicted, and they're only going to increase unless people become more aware of what they're actually doing and what can actually change."
On Thursday, Dec. 6, Young will be playing a benefit for victims of Hurricane Sandy at the Borgata Hotel Casino & Spa in Atlantic City, N.J., one of the cities hardest hit by October's unprecedented weather event. (All proceeds from the show will go to the American Red Cross Hurricane Sandy relief effort.)  But for the Rock and Roll Hall of Famer, whose creative vitality shows no sign of slowing down at age 67, the show isn't just about raising much-needed money for the water- and wind-ravaged communities of the Northeast, it's about drawing attention to larger issues.
"This has global significance," says Young, whose longtime concern for the environment has led him to such projects as a years-long study of ways to improve the technology of the electric car. "The climate is changing, and there are things we can do and facts that people need to know. Will we realize it now or wait and realize it later? It would have been nice if we'd started five years ago, but we can still change our habits now; everything you do that makes a difference, what you spend your money on, and how much of a polluter you really are."
Young points out that it's easy to forget about the implications of something like the storm as the news media quickly turn to other stories. "People think that when you stop hearing about something, that means it's fixed," he says. "But really, the media just moves on to something new and more interesting — the gauge for what's important to have on air is different than the reality of what's important to share. So I'm just trying to get people to keep talking about it."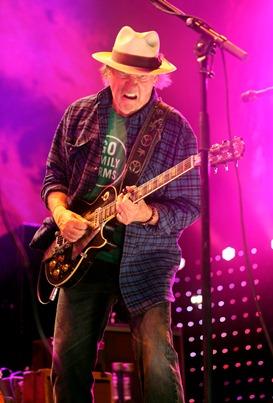 The Atlantic City date was announced just last week, tacked on as the final stop of a tour that has taken Young and his supercharged garage band Crazy Horse across the U.S. and Canada since the summer. The singer was invited to participate in the all-star "12-12-12" benefit scheduled for next week at Madison Square Garden, but he decided that his presence wouldn't add much to an event that had already lined up Paul McCartney, Bruce Springsteen, Bon Jovi, Kanye West, and numerous other megastars.
"What difference would it make, considering the star attractions who are doing it?," he says. "I thought instead we could do our own thing, more grass-roots, right down close to where the damage is, and call attention to the real humanitarian efforts and the people suffering: Americans who work alongside everyone else, and people who've been coming to my shows for 40 years. Whether I know their names or not, these people are part of my life and I'm part of theirs."
The benefit adds to a wildly productive season for Neil Young: In the last few months, he has released two albums backed by Crazy Horse — the reimagined folk songs of "Americana" and the sprawling, two-disc "Psychedelic Pill" — along with his best-selling memoir, "Waging Heavy Peace." He indicates that the Borgata show will be different from the usual sets on the tour, though characteristically, he's not yet sure how. ("We don't have a plan at this point; we'll make it up as we go along, like usual.") But he does say that his plans for the foreseeable future involve staying on the road with his longtime, gloriously noisy cohorts.
"We'll go around the world, and then be back in the US next spring and summer," he says. "There's a lot of areas to cover, places that aren't right on the head of the pin but are still worthy places to play. We're about to go to Australia; I know we're going to Eastern Europe. We'll cover as much of the planet as we can, wherever people enjoy this kind of music and don't see it as some kind of threat to their civilization."
Alan Light is the author of "The Holy or the Broken: Leonard Cohen, Jeff Buckley and the Unlikely Ascent of 'Hallelujah.'" A regular contributor to MSN Music, he is the former editor-in-chief of Vibe and SPIN magazines. He is the director of programming for the public television concert series "Live From the Artists Den," and contributes frequently to The New York Times and Rolling Stone. Alan is a two-time winner of ASCAP's Deems Taylor Award for excellence in music writing.
*Photos: Retna Ltd.
live local music on
Enter your ZIP code to see concerts happening in your area.
Data provided by Zvents
follow msn music