Alanis Morissette stays jagged yet strong at Terminal 5
The Canadian alt-pop pioneer basks in the energy of New York fans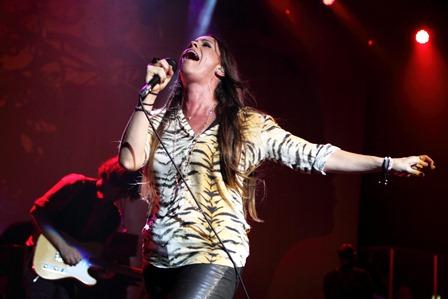 By Kathy Iandoli
Special to MSN Music
New York's Terminal 5 is not the easiest venue to navigate. The 3,000-person arena sprawls across three levels (plus a roof), where catching a glimpse of your favorite act requires standing on your tippy toes – with the occasional pirouette if the artist moves around the stage. For Alanis Morissette fans, though, nothing was getting in the way of hearing their favorite artist perform. Alanis Morissette might be Canadian, but this show felt like a homecoming of sorts, as she reiterated several times how good it felt to be back.
Warming up the crowd was Souleye, aka Mario Treadway, husband of Mrs. Morissette. Sliding through a selection of rap tracks, Souleye closed his set with "Jekyll and Hyde," where his wife hopped onstage in her backstage attire (cobalt blouse and black leggings) to knock out the hook to the song. As she exited the stage, fans began piling into remote corners of the Terminal to prepare for her return.
MSN Music: Alanis Morissette reaps 'Havoc' ... and happiness
The Middle Eastern rhythms of "I Remain" signaled the start of her set, as Alanis sang the lyrics to the "Prince of Persia" soundtrack cut from backstage before racing out for "Woman Down" and greeting the audience with a peace sign. Decked in a tiger-print top and black pants, Alanis juggled selections from her epochal debut full-length, "Jagged Little Pill," up to her recently released eighth studio album, "Havoc and Bright Lights."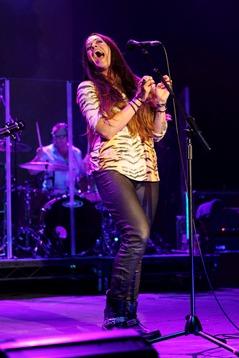 The crowd was a cross-section of young men and women in their late 20s to early 30s, with the occasional 40- or 50-year-old sprinkled in. Losing their minds (and voices) during obvious moments like "All I Really Want," "Right Through You," "Ironic" and "You Oughta Know," the audience screamed louder when Alanis tweaked the lyrics to "Ironic," singing "it's meeting the man of your dreams, and then meeting his beautiful husband." She made another minor modification later on during one of her encores in the dark a cappella bonus track "Forgive Me Love" (off "Jagged Little Pill"), swapping an "iPod" reference over "CDs." Other moments, like the hard rock breakdown during "Uninvited" and the frequent introduction of her harmonica and guitar skills, further proved that Alanis Morissette has neither faltered in performance nor vocal strength throughout her two-decade tenure in music. Completely pitch-perfect and thoroughly engaging, Alanis reminded her fans that night why they've stuck with her for so long.
Bing: Alanis Morisssette music, videos and more
As the encores moved in, Alanis began with Green Day's "Basket Case" before jumping into "Hand in My Pocket," hugged by the crowd's lyrical chants in unison. She continued with the aforementioned "Forgive Me Love," before closing in gratitude with "Thank U."
While it was apparent that evening that her fans are attached to her previous work, their eager embrace of  newer songs like "Lens" indicate that Alanis' career isn't bound for Vegas just yet. She's a rock star in every sense of the word, and as she performed in a venue that frequently houses newer acts, she showed how a seasoned artist really gets the job done. Isn't that ironic?
Photos: Burak
Cingi/Photoshot/Retn​a
Ltd
live local music on
Enter your ZIP code to see concerts happening in your area.
Data provided by Zvents
follow msn music