Kathleen Edwards Returns, Rejuvenated
Singer-songwriter sounding better than ever after setbacks earlier in the year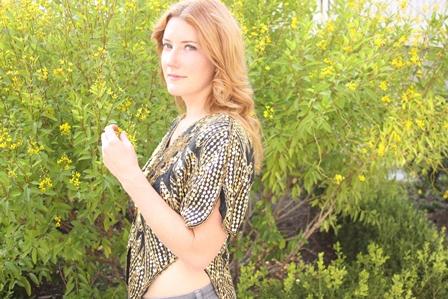 By Adrien Begrand
Special to MSN Music
"You didn't want the April version of me, believe me," Kathleen Edwards told the packed Broadway Theatre in Saskatoon, Saskatchewan, on Monday, Oct. 1. The singer-songwriter might have gotten a good laugh from the audience, but it was a brutally honest comment, as 2012 has had a few rough patches for Edwards. After the release of her outstanding fourth album, "Voyageur," which charted at No. 2 in Canada and 39 in the U.S., and on the heels of a fantastic performance on the "Late Show With David Letterman," she was making a serious breakthrough when fatigue and vocal strain forced her to cancel a string of shows in April, one of those shows being the Saskatoon date this show was making up. If that wasn't enough, in September Edwards went into anaphylactic shock after suffering multiple yellow jacket stings following a performance in Windsor, Ontario, and her life was saved by EMTs.
So it was a particularly reflective Edwards who took the stage with her four-piece band. Chatting in between songs, giving away her favorite books that got her through her recent tough times (Michael Perry's "Coop" and Tanis Rideout's "Above All Things," to be specific), and cracking quick-witted jokes, there was something especially sincere about this performance, as if she's better prepared to savor her time onstage more these days. Always a tremendous performer, the emotion of her music was amplified even more, literally and figuratively speaking.
Striding on stage and kicking into the harder-rocking "Mint," with its Crazy Horse-inspired distorted riffs, it felt so much more visceral than the rather controlled, Justin "Bon Iver" Vernon-produced version heard on "Voyageur." Backed by an ace lead guitarist in Gord Tough and Jim Bryson on keyboards and guitar – a great singer-songwriter in his own right – Edwards took the edgier songs of the new record into new territory, outdoing Vernon's middle-of-the-road production by juxtaposing tender vocal melodies with gritty, spiraling electric guitar. Granted, it's nothing bands like Wilco haven't been doing for a long time already, but Edwards and her crew worked that sound extremely well, especially on the extended jam during "Goodnight, California."
Even on the acoustic-driven songs, there was a dynamic quality to the music that isn't on "Voyageur," or her past albums, for that matter. "Empty Threat" soared a little higher, Bryson and Tough adding tremendous richness to the song, while Edwards' more country-tinged charmers like "Six O'Clock News" and "I Make the Dough, You Get the Glory" – considerable hits on the country-friendly Canadian Prairies - swung a little livelier, rocked subtly harder. Conversely, her acoustic performance of "Hockey Skates" and playful, stripped-down cover of Bruce Springsteen's "Human Touch" with opening artist Jenn Grant were powerful in their minimalism.
Bing: Kathleen Edwards music, videos and more
If there was one slight sticking point, it was that the crowd, who had been waiting for most of 2012 for this show to happen, came across as overtly polite to the point of seeming stiff. Of course, that'll happen at a concert in a seated theater and it wasn't until Edwards started into her salty-tongued retorts during the last half of the show that the buttoned-up audience started to relax a little. Regardless, it was a very warm reception to a winning performance by an artist, who despite hailing from Ottawa, has deep Saskatchewan roots.
"It's nice to play for people where my family is from," Edwards smiled before she closed the show with the Patty Griffin-esque "Mercury." Judging by the rapturous standing ovation she received three minutes later, she'll be welcome back here anytime.
Setlist:
Mint
Empty Threat
Asking for Flowers
Chameleon/Comedian
House Full of Empty Rooms
Goodnight, California
Going to Hell
Hockey Skates
Human Touch (Bruce Springsteen cover with Jenn Grant)
Six O'Clock News
Back to Me
A Soft Place to Land
Change the Sheets
Encore:
Sidecar
I Make the Dough, You Get the Glory
Mercury
live local music on
Enter your ZIP code to see concerts happening in your area.
Data provided by Zvents
follow msn music