Leonard Cohen delivers a chilling marathon of a set in Colorado
The iconic Canadian crooner played a show full of goose-bump moments
By Mark Brown
Special to MSN Music
There may be no concert experience so chilling as listening to Leonard Cohen sing "Everybody Knows," his epic cynical tale of corruption and deceit just days before an election.
"Everybody knows the fight was fixed/ The poor stay poor, the rich get rich/ That's how it goes/ Everybody knows."
At 78, Cohen is doing marathon, Springsteen-length concerts (the tour covers the U.S. and Canada through December) featuring dozens of songs, old classics and new cuts off of his "Old Ideas" album that perfectly fit together. Saturday night in Broomfield, Colo. he kept a crowd mesmerized, weaving his way through decades of complex, dense and personal songs – some uplifting, many pointing an unflinching spotlight at mankind's less-noble tendencies. That doesn't sound like anyone's idea of a good time, but it was absolutely breathtaking. And with no visible teleprompter. Take that, Bruce!
With the energy of someone half his age and charisma without equal, Cohen commanded the stage, repeatedly dropping to his knees and singing entire songs with eyes intently closed, living every moment of the lyrics. Music fans attend hundreds, perhaps thousands of concerts. There are great ones, and then there are the ones where it seems the whole outside world has disappeared and nothing exists but what's happening between artist and audience. This was one of those, full of goose-bump moments.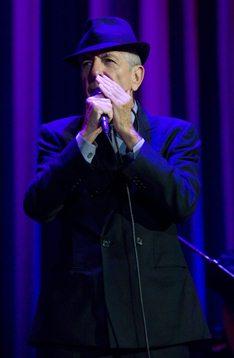 With his suit and hat, Cohen was a throwback to a more gracious, dapper era (even if the experiences that were the basis of many of his greatest songs were far from innocent). He profusely credited everyone from his bandmates to his sound and lighting people for pulling together a spectacular show. Even in a sports arena, the crowd was as quiet and polite as if it were a classical performance in an opera house; they were rewarded with pin-drop clear sound and a Cohen performance that even he said was his "A-game" and "a good night" on his Tumblr account (yes, Leonard Cohen posts profusely to his Tumblr account).
Spectacular pacing helped. For an 8 p.m. concert, Cohen hit the stage at 8:10 with no opening act, delivered two sets with an intermission, and three sets of encores. Cohen and his supremely talented nine-piece band gave up classics early on, including the aforementioned "Everybody Knows" and "Bird on a Wire." Some songs, like "A Thousand Kisses Deep" weren't sung, but recited as poetry. And songs from "Old Ideas" turned out to be highlights. "Darkness" is a look at codependency and depression, yet Cohen's deep, dramatic singing somehow makes this stuff entertaining, rather than feeling like an hours-long therapy session.
Other classics were salted throughout the second set – "Suzanne," "Hallelujah" and "I'm Your Man" among them, then even more saved for those encores – "First We Take Manhattan" (eerie anytime, but more than ever in the week of Hurricane Sandy) and "Famous Blue Raincoat."
After years of not touring the U.S., Cohen has done it repeatedly in the past half-decade, releasing new music and live performances. Who knows what inspired this renaissance. But with new songs as good as his classics, he's in a Dylan-like, late-era resurgence. Let's hope it doesn't end anytime soon.
* Photos: PeterKollanyi/AP
live local music on
Enter your ZIP code to see concerts happening in your area.
Data provided by Zvents
follow msn music