Kimbra Takes Charge
The New Zealand pop ingénue shines at her sold-out L.A. concert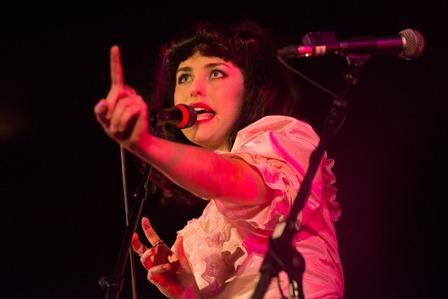 By Melinda Newman
Special to MSN Music
Most U.S. fans still know Kimbra primarily from her guest role on Gotye's mega-smash "Somebody That I Used to Know," but as her sold-out show at Hollywood's Fonda Theater on Oct. 4 showed, she doesn't stand in anyone's shadow.
Preceded by her four-piece male band, who flanked the four corners of the stage to form a square, Kimbra flounced onto stage dressed in a sparkly, bodiced, hoop-skirted minidress that crossed Swiss Miss with Little Miss Muffet.
From the opening dramatic number, "Limbo," until she closed her set 70 minutes later, the 22-year old New Zealander took charge with an unassailable confidence rarely found in an accomplished veteran, much less a newcomer.
Kimbra's Bettie Page black bangs and her cartoonish costume, complete with sleeves made out of a lavender wig, may resemble Katy Perry's cotton candy fashion and hair sense, but her operatic range and awkward-yet-sexy stage moves recall Annie Lennox. 
Throwing herself around the stage like a marionette controlled by herky-jerky strings, the theatrical Kimbra ran through material primarily from her U.S. debut "Vows," including the spooky "Good Intent," during which she declared "I'll take you down to places where we dare not speak."
MSN Music: Kimbra's Canny Breakthrough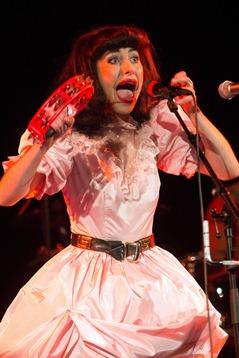 Kimbra's songs ran around the perimeter of pop, but in no way felt confined. Quirky and as expansive as her pliable vocals, Kimbra's tunes often featured atmospheric arrangements that elevated them beyond the steady, droning thump of most of the Top 40 inhabitants.
Lyrically, she rarely strayed beyond romantic musings, but her vulnerability helped raise them above "Does he love me?" banalities.  The shimmery "Something in the Way You Are" may sound like everything's fine in Loveville, until she shamefully lets loose that "nobody knows how it really feels inside to let go of all my pride."
The audience embraced her every move, especially a dow-and-dirty cover of Nina Simone's poignant "Plain Gold Ring, which started with Kimbra singing to a backing track created by her own looped vocals before exploding into a cascading swirl of noise.
Even when she stopped to commit the admittedly "non-rock star moves" of bending down to tie her shoelaces and use her asthma inhaler, she still got a round of applause for joking, "Let's hear it for asthma!"
After keeping the show on a consistently high emotional level, she surged into overdrive with a quartet of her best-known songs that underscored her musical versatility: the spiky, electronic "Warrior," co-written with Foster the People's Mark Foster; the rhythmic "Settle Down," whose a cappella opening showcased her supple vocals; the Motown-flavored, peppy "Cameo Lover" and the rocker "Come Into My Head."
Kimbra's formidable talent marks her as an exciting artist to watch, as her Fonda show captured a compelling artist only at the beginning of what could be a very long journey.
Melinda Newman is the former West Coast bureau chief for Billboard magazine. She has covered music and entertainment for the Los Angeles Times, The Washington Post, The Associated Press, MSN, AOL Music, Hitfix.com, Variety, People Country and other outlets.
Are you sure you want to delete this comment?
live local music on
Enter your ZIP code to see concerts happening in your area.
Data provided by Zvents
follow msn music