Marilyn Manson's onstage collapse punctuates Canadian concert
The shock rocker was rushed off stage after collapsing during the show's final song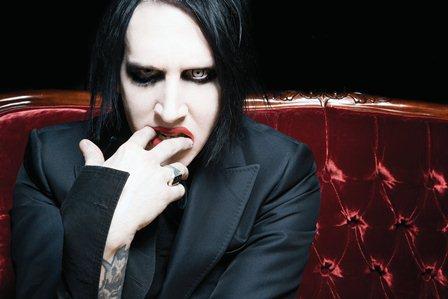 By Adrien Begrand
Special to MSN Music
One of the strange things about shock rock is that fantasy and reality can blur to the point where if something strange happens during a performance, you find yourself standing there thinking to yourself, was this all part of the act, or is this real?
That thought crept into the heads of a couple thousand people at Marilyn Manson's sold-out theater show in Saskatoon, Saskatchewan Wednesday night, as the popular artist withered to the floor after one verse of the final song of his set, "The Beautiful People," and continued to lay there for a couple minutes before being carried off. His three-piece backing band, clearly playing to click-tracked backing music, was forced to see the song all the way through to the end. The trio concluded with a rote flourish, strode offstage, and in the most depressing, anticlimactic conclusion to a concert this writer has seen in a while, a lone confetti cannon poofed out its payload in silence, paper rectangles raining down on a bemused crowd. Good night Springton; there will be no encores.
When Manson admitted he was ill early into his 14-song, 70-minute performance, the comment came across as preening. After all, a professional performer, especially a heavy metal road dog, never complains to an audience that he or she is under the weather. However, as Manson's set rolled along, he seemed to be toughing it out quite well, rolling through a professional, workmanlike set. Newer songs like "No Reflection" and "Hey, Cruel World" were carted out alongside late-'90s tracks "The Dope Show" and "Rock Is Dead," while requisite covers of Depeche Mode's "Personal Jesus" and Eurythmics' "Sweet Dreams" brought the house down.
Still, for all the flash, the show lacked any of the edginess Manson exuded nearly 20 years ago when he was the most controversial figure in American rock music. American flags were hung upside down and the word "drugs" flashed across the stage backdrop, tired attempts to provoke that fell flat. Meanwhile, Manson, still wiry but now with a 40-something paunch – welcome to the club, Brian – looked painfully forced dressed as a pontiff early on, but then 45 minutes later looked right at home poking satirical fun at fascism during the lavish showstopper "Antichrist Superstar."
It was a show that had adequate bells and whistles, but at barely over an hour, and with the pathetic "slut metal" display of opening act Butcher Babies as the only support, fans did not get much bang for their buck. When Manson abruptly stopped performing during the closing song, though – hours later Twitter reports from those closer to the stage say he vomited – two crew members carrying him away while another bolted to the drummer to tell him what was up, it suddenly became a show those in attendance wouldn't forget.
Whether it was real, if his illness had been embellished a little to add some flair to the proceedings, or if it was all a big put-on – although there has been no official word at the time of writing, it sure looked real from this observer – one thing this otherwise tepid show accomplished was that it got people talking, something Manson's music hasn't exactly been able to do as of late.
Editor's note: Below is fan-shot video of the collapse. It happens around the 1:15 mark.
live local music on
Enter your ZIP code to see concerts happening in your area.
Data provided by Zvents
follow msn music