Levon Helm's Live 'Love' Fest
A star-studded benefit salutes the late Levon Helm's roots rock legacy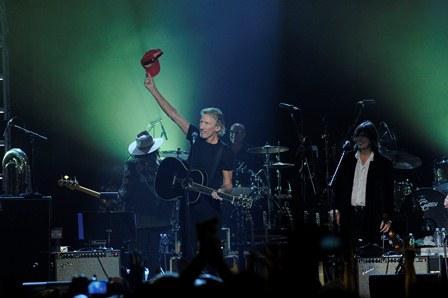 By Alan Light
Special to MSN Music
Levon Helm wasn't exactly a household name. But when the former drummer and vocalist for the Band died in April after a long battle with cancer, the outpouring of respect and affection from musicians around the world illustrated the impact he had made. In many ways, The Band created the updated traditional sounds that are now classified as Americana, and it was Helm's voice and persona — as the one U.S. citizen in a group of Canadians — that truly anchored this breakthrough.
On Wednesday night at the Izod Center in East Rutherford, N.J., that admiration and grief culminated with the "Love for Levon" all-star benefit concert, a three-hour-plus affair that demonstrated Helm's influence on two generations of musicians. The best news of the night was that it was the younger artists who proved that his spirit is alive and kicking, in the process showing the older performers a thing or two.
The show's first half essentially presented the range of styles that Helm's work encompassed, from gospel (Mavis Staples singing "Move Along Train") to country (a haunting "Long Black Veil" by Gregg Allman), from New Orleans funk (Allen Toussaint leading the Band's "Life Is a Carnival," boasting Toussaint's classic horn arrangement) to blues (Jorma Kaukonen's acoustic "Trouble in Mind"). John Prine delivered a charming, laconic reading of Bob Dylan's "When I Paint My Masterpiece," a song Helm made his own as vocalist on the Band's recorded version, and John Hiatt closed this set with a high-spirited "Rag Mama Rag." These cohorts and contemporaries of Helm's were solid and consistent, if a bit lacking in fire.
The base of the house band was the musicians who had been playing with Helm in recent years, at the regular "Midnight Rambles" at his barn/studio in Woodstock and touring when his health allowed. (The money raised from this show will go toward the purchase and upkeep of the barn, to allow the Rambles to continue.) Guitarist Larry Campbell and producer extraordinaire Don Was served as the musical directors, and the band was augmented by such top-drawer session players as keyboardist Rami Jaffee, guitarist G.E. Smith and drummer Steve Jordan.
From MSN Music's archives: Levon Helm Talks About His Righteous Rambles
After a break, the concert's second half saw a sudden increase in energy and risk-taking. Grace Potter's "I Shall Be Released" was dramatic and powerful, starting with her singing solo at the organ before the rhythm section joined for the chorus. Ray LaMontagne did a knockout "Tears of Rage," with John Mayer's guitar fills answering the singer's hoarse, weathered voice.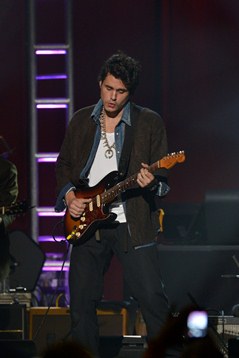 Then it was time for Nashville to take over and show where Arkansas-born Helm's greatest legacy may survive. Dierks Bentley led a raucous "Chest Fever," with Helm's Band-mate Garth Hudson playing his mad-scientist organ intro "The Genetic Method"; With a massive white beard and a big black hat, Hudson looked like a cartoon character, and his presence was a delight.
The biggest surprise of the night came from young country renegade Eric Church, whose impassioned and intense version of "A Train Robbery" and edgy "Get Up Jake" proved that this rising star can command an arena with the best of them. "I've always been told that I marched to the beat of a different drummer," said Church. "I did — it was Levon Helm."
John Mayer returned to reel off a spiky, jazzy solo on the Grateful Dead's "Tennessee Jed" that would have done Jerry Garcia proud, and Joe Walsh stomped through an appropriately goofy "Up on Cripple Creek."
My Morning Jacket blasted out two Band classics: a rollicking, edge-of-chaos "Ophelia," followed by a spine-chilling and muscular version of "It Makes No Difference." With no introduction, Roger Waters ambled onstage, brandishing an old baseball cap that, he explained, Helm gave to him at the 1990 performance of "The Wall" in Berlin. The Civil War epic "The Night They Drove Old Dixie Down" seemed like an odd choice for Waters, but his unique, declamatory vocal style heightened the narrative sense of the lyrics.
When all the musicians returned to the stage for the inevitable, endearingly ramshackle finale of "The Weight," the evening-long journey through Levon Helm's music was complete — the sweep of his influences and the breadth of his reach. "There's a lot of love in this room," said Waters. It was not only love for this one man, though; it was also love for the music and the history he embodied.
Alan Light is the co-author of Gregg Allman's best-selling memoir "My Cross to Bear." A regular contributor to MSN Music, he is the former editor-in-chief of Vibe and SPIN magazines. He is the director of programming for the public television concert series "Live From the Artists Den," and contributes frequently to The New York Times and Rolling Stone. Alan is a two-time winner of ASCAP's Deems Taylor Award for excellence in music writing.
Are you sure you want to delete this comment?
live local music on
Enter your ZIP code to see concerts happening in your area.
Data provided by Zvents
follow msn music