John Cale breathes new life into 'Paris 1919' in Brooklyn
The Velvet Underground co-founder delivered a night that transcended age and respectability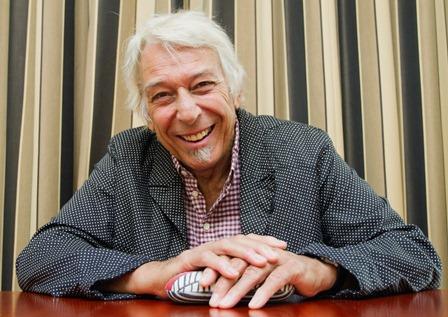 By Glenn Kenny
Special to MSN Music
Now 70 years old, John Cale appears to be enjoying the career third act of a venerated composer rather than a rock and roll cult figure, and good for him. In a sense, he actually is both of those things, but more prominently the latter, as his biggest claim to fame is as a co-founder of a group one waggish rock critic suggested should be ever referred to as "the seminal Velvet Underground." Another co-founder, Lou Reed, has more notoriety on account of both a notably prickly persona and a post-Velvets career of wild highs and lows. While Cale himself has had his shambolic moments--when punk broke, the classically trained musician became known for his kicking-and-screamin​g live shows, one of which, according to legend, featured him decapitating a live chicken--over the past two decades he's settled into a productive bout of respectability that, to his credit, has never devolved into artistic complacency.
Bing: Find out more about "Paris 1919"
As such, he's more than entitled to a bit of a look back, and last week at New York's Brooklyn Academy of Music, he did just that, first in a concert paying homage to his late Velvets colleague, the German model turned dire chanteuse Nico, and then a two-night stand in which he, his band, and the Wordless Music Orchestra recreated his 1973 album "Paris 1919." In an interview with the New York Times, Cale said that the main reason he decided on this record was because it was the sole album for which he had already composed all of the songs before he started recording. Of course, it has other qualities too.
Recorded with a small band that featured Lowell George and Richie Hayward of Little Feat on guitar and drums and Crusaders founder Wilton Felder on bass -- multi-instrumentalis​t Cale played keyboards and guitar, but not the buzzy droning viola that distinguished him in the Velvet Underground -- and the UCLA Symphony, it was an album of largely somber orchestral pop that never came off as pompous, thanks to Cale's appreciation and mastery of the classical and popular idioms. Filled with melodies that lost none of their beauty sung in Cale's sometimes rough Welsh burr, "Paris 1919" also carried undertones of historical dread that did nothing to thin out the record's overall sonic seductiveness.
Resplendent in a gray jacket and matching pipe-cleaner trousers, his white hair sporting playful pink highlights, senior citizen Cale was entirely comfortable singing these nearly 40-year-old songs. The arrangements were very close to the original record, but not slavishly so; some of the seams of the songs were let out a bit to accommodate a moody cello solo here, a more expressive outro there. The stately processional ending of "The Endless Plain Of Fortune"  got a more aggressive coat of orchestral color laid on it. The guitarist in Cale's band, Dustin Boyer, proved wise in his generation by not trying to emulate the slide guitar work of the late great George, instead throwing in fills of a more contemporary bent while never stealing the spotlight from the songs.
Bing: John Cale music, videos and more
Cale took the gentle love ballad "Andalucia" in a register a couple of steps down from the original, an accommodation to the timbre change the years oft deliver. The decision to shift the vocal delivery of the eerie "Antarctica Starts here" from raspy whisper to full-throated declamation seemed a purely artistic one, and to these ears it made plenty of sense; the song's emotional impact actually outstripped that of the original. Things fell slightly flat only with "Paris 1919"'s one flat-out rocker, the slyly boogieing "Macbeth," which received a too-polite rendition.
Which was odd, because in the second half of the show Cale and band and orchestra, conducted by Jeffrey Milarsky, demonstrated that they were more than capable of kicking out the jams without diminishing the musicianship. They kicked off with two relatively little-known Cale gems, the dirge "Hedda Gabler" from his 1977 EP "Animal Justice," and the semi-prog epic "Captain Hook," which got a much less stately treatment on Cale's 1980 "Sabotage Live," a document from one of the aforementioned shambolic periods. With its knotty prologue, a shred-guitar showcase for Boyer, the latter was both a genuine surprise and a revelation. A handful of tunes from Cale's new album, the possibly-off-putting​ly-titled "Shifty Adventures In The Nookie Wood," show him at a new songwriting peak. For good measure he threw in his musical setting for fellow Welshman Dylan Thomas's daunting poem "Do Not Go Gentle Into That Good Night."
Although the BAM Opera House has hosted quite a few rock-and-roll shows over the years, its ornate interior makes it an odd place in which to see raggedy fans whooping and whistling for encores; given the crowd's reaction when Cale took up viola for a second encore and a surprise rendition of the demonic Velvets tune "Venus In Furs,"  we might as well have been in the far seedier Academy of Music on a hot night in the '70s. Never mind veneration, or cult status; the crowd was cresting on a wave of musical exhilaration that transcended age and respectability. One hopes Cale continues to bring it for a long time.
Photo credit: John Cale in 2012. Christoph Soeder/AP
live local music on
Enter your ZIP code to see concerts happening in your area.
Data provided by Zvents
follow msn music