Gojira live: A uniquely rhythmic, accessible take on extreme metal
Openers The Devin Townsend Project impress as well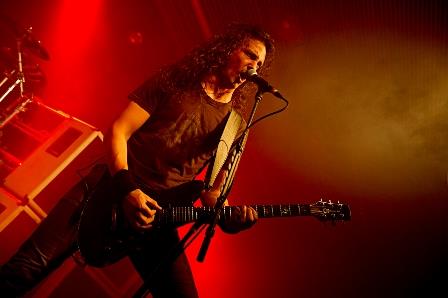 By Adrien Begrand
Special to MSN Music
Metal musicians are renowned road dogs. After all, the metal scene has always been about the live experience, long before the disintegration of the music industry forced bands to hit the road to make a better living, the connection between band and audience such an integral part of the metal experience. That said, though, only the toughest, most hardened metal bands dare to make the drive from Minneapolis, north across the Canadian border, and head straight across the frozen prairies and treacherous mountain passes toward Vancouver on the west coast in January. It's a gamble: a van or bus breakdown can be devastating – not to mention dangerous – road conditions are wildly unpredictable, and the severe cold is a shock to the system of anyone not used to it.
There's a good side to touring frigid locales this time of year, though. When you do so, the significance is not lost on the fans in those cities. They will love you for coming into town and offering a brief respite from the depressing cold and short days. Case in point: a mid-week show featuring Gojira and the Devin Townsend Project, which hit Saskatoon, Saskatchewan and went over in a huge, huge way.
Minus opening band The Atlas Moth, who were denied entry into Canada, it was still a formidable bill. Townsend, who has one of the most fervent cult followings in the metal genre, is adored in Canada, his popularity making him the perfect act to warm up a crowd. French foursome Gojira, however, are luminaries in the making, their uniquely rhythmic, accessible take on extreme metal clicking with audiences worldwide, their staggering live performances attracting new fans by sheer word of mouth.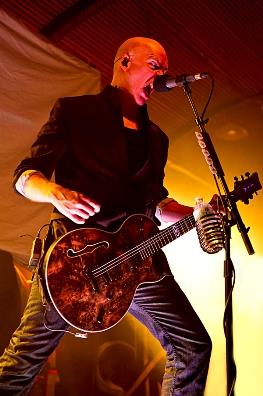 The 1,000-capacity Odeon was already very full when the gregarious Townsend and his three-piece band took the stage at eight p.m.. His fans love his idiosyncratic, borderline manic music, and the many in attendance with enraptured as he led the band through several selections from his latest album "Epicloud" and several older tracks. For those used to the more negative, misanthropic side of extreme metal, Townsend is a total anomaly, intent on putting a big dumb smile on everyone, from his wisecracks to hilarious audience participation gags – ever see a mosh pit group hug? – but he's so genuine it's impossible not to give in, even when he's imploring everyone to show "jazz hands" during his ludicrously catchy single "Lucky Animals."
Gojira, however, were the big draw on this night, and the venue was crammed as they launched into "Explosia", from their recent full-length "L'Enfant Sauvage". The kind of band that does not require any production value, the minimal set-up placed the emphasis on their tremendous presence, which worked perfectly. Charismatic, ferociously intense and very appreciative of their fans, the band, making their first appearance in this city, were received rapturously. There was a palpable give-and-take between Gojira and the writhing mass of bodies before them, the kind of transcendent moment metal enthusiasts hope to witness at concerts. Whether "Flying Whales," the song that broke the band on this continent seven years ago, the 10-minute standout "The Art of Dying," or the gargantuan stomp of "Vacuity," every song was greeted with a roar of approval, fans hollering lyrics in liturgical devotion. Led by guitarist/vocalist Joe Duplantier and driven by his brother Mario on drums – one of the best drummers in metal today – the sheer power of the 90-minute set left many awestruck.
It was one thing for yours truly to see Gojira captivate 20,000 people at the Heavy MTL festival in Montreal this past August, but to see them arrive in a place where metal isn't king, play to a packed house, and win over every single person in the room was an even more impressive feat. Their career has been on an upswing, but if this night was any indication, this current tour could be the one that catapults them to metal stardom in North America.
Devin Townsend setlist:
Supercrush!
Liberation
Kingdom
Planet of the Apes
Truth
War
More!
Lucky Animals
Juular
Grace
Gojira setlist:
Explosia
Flying Whales
Backbone
The Heaviest Matter of the Universe
L'Enfant Sauvage
The Art of Dying
Toxic Garbage Island
Wisdom Comes
Ouroboros
The Axe
Encore:
Vacuity
Second encore:
The Gift of Guilt
Top photo Gojira. Left photo Devin Townsend. Photo credit Monika Deviat
live local music on
Enter your ZIP code to see concerts happening in your area.
Data provided by Zvents
follow msn music