Tedeschi Trucks Band and Leon Russell: A Crash Course in American Music
The guitar power couple's powerhouse band teams with a legendary rocker for a joyous, wide-ranging tour of rock, R&B, country and blues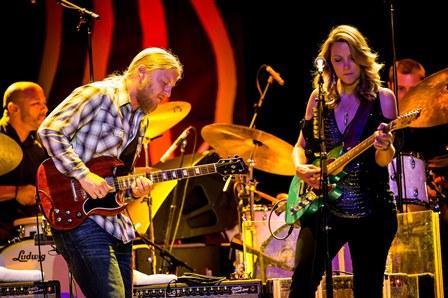 By Alan Light
Special to MSN Music
On Thursday night, Sept. 20, at Manhattan's Beacon Theatre, there was a seminar offered on the topic of 20th-century American music. Oh, it was billed as a concert by the Tedeschi Trucks Band, with special guest Leon Russell, but it also served as an almost four-hour crash course examining a wide range of this country's musical traditions.
The pairing — on the first of three nights that guitar goddess Susan Tedeschi and her husband, Allman Brothers Band slide master Derek Trucks, were scheduled to headline at the Beacon, with a different opening act each time — was an inspired one, matching two generations of proudly unclassifiable artists who aren't afraid to mix and cross genres.
Despite his induction into the Rock and Roll Hall of Fame last year — coming on the heels of "The Union," his acclaimed collaboration with disciple Elton John — Leon Russell remains an underappreciated giant in pop music. He played piano with everyone from Frank Sinatra to the Rolling Stones, served as part of Phil Spector's "Wall of Sound" session team, stole the show at George Harrison's "Concert for Bangladesh," directed the band on Joe Cocker's Mad Dogs and Englishmen tour, and wrote such standards as "A Song for You" and "Superstar." At the Beacon, he raced through 17 songs in less than 60 minutes, hitting such touchstones as "Rolling in My Sweet Baby's Arms," "Georgia on My Mind," and "Great Balls of Fire."
Unfortunately, though Russell's throaty croak of a voice was in fine shape, he sped through too many of the songs too quickly — the power of his own glorious "Stranger in a Strange Land" was lost played at double-time. He didn't speak much, though song intros that alluded to Gram Parsons giving him a green top hat that had once belonged to Al Jolson, or Bob Dylan giving him notes on songwriting, gave a sense of his astonishing history. An abbreviated take on Dylan's "A Hard Rain's a-Gonna Fall" was tough and charging, but mostly, the four-piece band and Russell's dated-sounding synthesizer couldn't do justice to the sweeping soul-gospel arrangements that marked his greatest moments.
MSN Music: Tedeschi Truck Band: All in the Family
Those arrangements, in fact, had an obvious impact on the 11-piece Tedeschi Trucks Band: When Tedeschi brought out Russell to join them on a couple of songs early in the set, she said that he "has been a huge inspiration to this entire band." Opening with Fred Neil's "Everybody's Talkin'" (the title track of the band's recent live album), and encompassing such material as Stevie Wonder's "Uptight (Everything's Alright)" and the gospel standard "Wade in the Water," the two-hour-plus show demonstrated the full scope of the ensemble's interest.
Not that the focus of the night was on covers. When Tedeschi and Trucks scrapped their solo bands to join forces two years ago, the idea was to concentrate on original compositions. The results enabled this otherwise all-black band (including Trucks' Allman Brothers cohort, bassist Oteil Burbridge) with two blond frontpersons to fully explore all of its influences, from hard funk to country blues. If this sometimes led to a feeling that the songs were overstuffed with ideas, cramming in every element at the expense of dynamics and drama, the ambition was admirable. Most impressive was the lack of preciousness about rules or authenticity, like the use of Latin horns in Muddy Waters' "Rollin' and Tumblin'" or the scalar, Indian raga-like guitar solo during John Sebastian's Lovin' Spoonful ballad, "Darling Be Home Soon."
And then there was the point in almost every song where everyone else stood down and the spotlight turned to Derek Trucks. Still only 33 (he joined the Allmans when he was 20), and recently named by Rolling Stone as one of the 20 greatest guitarists of all time, his masterful playing is still improving: tight but loose, sprawling but focused, elegantly precise but feverishly intense. His base never leaves the blues, but the musicianship of Derek Trucks has become a category unto itself.
Alan Light is the co-author of Gregg Allman's best-selling memoir "My Cross to Bear." A regular contributor to MSN Music, he is the former editor-in-chief of Vibe and SPIN magazines. He is the director of programming for the public television concert series "Live From the Artists Den," and contributes frequently to The New York Times and Rolling Stone. Alan is a two-time winner of ASCAP's Deems Taylor Award for excellence in music writing.
live local music on
Enter your ZIP code to see concerts happening in your area.
Data provided by Zvents
follow msn music