Garbage Ride the Fast Lane on the Road Back to Relevancy
A musical joyride through the catalog of one of the most distinctive bands to survive the alt-rock era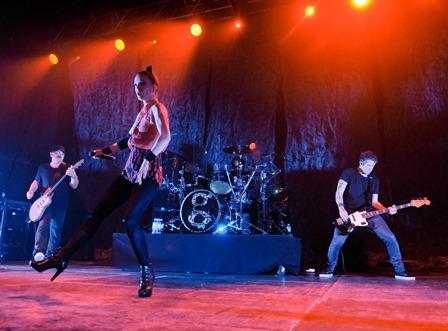 By Travis Hay
MSN Music
Smashing Pumpkins, Soundgarden and other aging '90s bands traveling the road back to relevancy take note: Garbage is the perfect example of a band that gets better with age.
The group didn't fit the mold of many of the bands spawned by the decade that brought us fashionable flannel and brick-sized cellphones. It was Garbage's unique sound, which combines loud, brash guitars and stylized electronic effects with strong pop sensibilities and polished production, that helped them sell millions of records while distinguishing themselves from their peers. Of course, it also helps that the band features a fiery flame of a vocalist in Shirley Manson, who brings together the whole package.
After releasing a few well-received albums in the '90s and a few mediocre ones in the '00s, Garbage -- which also features drummer Butch Vig and guitarists Steve Marker and Duke Erikson -- took a hiatus and waited seven years to release their latest album, this year's "Not Your Kind of People." They're currently touring behind the record and their sold-out, all-ages show at Seattle's Showbox SoDo delivered a satisfying mix of all of Garbage's hits and cuts from the current record, which complemented the older material well.
The band's set kicked off with "Supervixen," the first song on their 1995 self-titled debut, and from there it was a musical joyride through the catalog of one of the most distinctive bands to survive the alt-rock era and a solid reminder of how many good songs Garbage have under their belt. The band's hits range from the delicious pop candy that is "Cherry Lips (Go Baby Go!)," a song that could easily be an Elastica B-side, to the dance floor-friendly "Stupid Girl." Both of those songs were highlights of the set, as was the hard rock of "Why Do You Love Me" and the smoky vocals of "Milk." Of the newer songs, "Man on a Wire," with its clapalong, driving beat and "Automatic Systematic Habit" made the biggest splash.
The band played a tight set, as was to be expected from such a seasoned group of musicians and Manson made sure all eyes were on her. She prowled the stage throughout the set, flanked by Erikson and Marker, strutting and posing between songs, all the while exuding an underlying essence of sexiness. There aren't many female vocalists in rock who can compare to Manson. She's like a sinister Gwen Stefani, except where Stefani comes across as poppy and playful, Manson gives off vibes of danger and seduction. Former Jane's Addiction bassist Eric Avery is serving as the band's touring bassist and his low end filled out the band's rhythm section well. For his part, Vig, who is best known for producing Nirvana's "Nevermind," displayed solid chops behind the skins while triggering electronic backdrops to accompany his thunderous drumming.
Garbage played most all of their hits faithfully, with main set closer "Only Happy When It Rains" being the only one that was given a little extra something. That extra something came from Manson's slowed-down, sultry vocal delivery during the song's first verse. The treatment made the alt-rock classic come across like a torch song and gave its chorus of "pour your misery down on me" some extra emotional heft.
The show ended with a four-song encore that featured the live debut of "I Hate Love" off the new album. The "Not Your Kind of People" song fell flat live, as it lacked some of the spunk of the other new songs in the set. This could have been because it was the second-to-last song of the night, or because it was the band's first time playing the song live. But the lackluster performance made a moot point during what was otherwise a strong showing by a once-mighty band back on the road to relevancy when it was followed by "Vow," a song that sent everyone home happy.
Setlist
Supervixen
I Think I'm Paranoid
Shut Your Mouth
Why Do You Love Me
Queer
Stupid Girl
Hammering in My Head
Control
#1 Crush
Cherry Lips (Go Baby Go!)
Blood for Poppies
Special
Man on a Wire
Milk
Battle in Me
Push It
Only Happy When It Rains
Encore
Automatic Systematic Habit
The Trick Is to Keep Breathing
I Hate Love
Vow
live local music on
Enter your ZIP code to see concerts happening in your area.
Data provided by Zvents
follow msn music