Metric makes the move from indie to arena rock
Energetic Canadians find their niche on their latest tour
By Adrien Begrand
Special to MSN Music
It's sad that fewer and fewer indie rock bands refuse to admit there's nothing wrong with bombast. It's OK to have arena rock aspirations, and as Metric have proved over the last few years, it's possible to broaden your audience without compromising your music one bit. After the breakthrough commercial and critical success of their 2009 album "Fantasies," the band has officially become mainstream in Canada, and with "Fantasies" certified platinum and the new album "Synthetica" debuting at No. 2, it's now impossible for Metric to tour the country in clubs or theaters. Like it or not, arenas were the next logical step, and the foursome have kicked off their largest scale Canadian tour to date.
Considering how Metric's music boasts enormous hooks and makes brilliant use of dance-infused beats, they aren't ashamed of grandiosity -- they have a song called "Stadium Love," for crying out loud -- and they have one heck of a gregarious frontwoman in Emily Haines. They're the perfect band to make this kind of jump from large clubs to hockey arenas. That said, though, there are a few growing pains that come with graduating to another level of the rock touring echelon. While Metric are far too popular a band to play any sub-arena-size venue in Canada, they're not quite at a level that can sell out a barn, so on the night they visited the Brandt Centre in the Saskatchewan city of Regina with their good friends Stars in tow, the 6,000-capacity arena was only half full.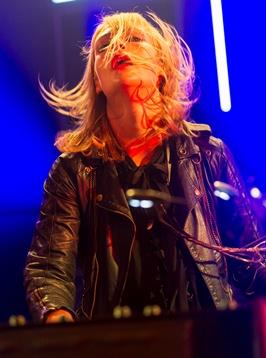 To their credit, both bands were professional in their approach and turned in slick, energetic performances. After a 45-minute set by the Montreal popsters in Stars, one of the best Canadian indie bands of the last dozen years and a perfect fit for Metric fans -- most of whom were familiar with such songs as "Ageless Beauty" and "Take Me to the Riot" -- the venue had started to fill nicely with a very broad audience typical of any mainstream show, from scenesters, to kids with parents, to those in their 30s and 40s who were relatively new to the bands. Consequently, it made for a fun atmosphere as Haines, guitarist Jimmy Shaw, bassist Joshua Winstead, and drummer Joules Scott-Key took the stage.
Bing: Listen to music by Metric
Metric have always been meant to put on a flashy show, and they took full advantage by sporting a dazzling light setup made up of a multicolored grid behind them, above, and on either side of the stage. Whether it was single-colored squares that gave the place an early-'80s vibe, or eye-popping strobe effects that punctuated such songs as "Empty" and "Help I'm Alive," it looked brilliant, and was perfectly suited to the band and their music. Leaning heavily toward "Fantasies" and this year's impressive "Synthetica," the 90-minute set was highlighted by newer tracks like the glam rock-infused "Youth Without Youth," the frenetic "Synthetica," and the gorgeous "Breathing Underwater," their most arena-ready single yet. Although the energetic Haines remains stubbornly committed to working behind her keyboards, she did venture out toward the crowd at every opportunity, proving to be very comfortable on a much larger stage than the band is used to.
Capped by such staples as the pulsating "Dead Disco," the tetchy "Monster Hospital,"and a wonderful acoustic rendition of "Gimme Sympathy," it was a taut, efficient night of music that, for all its ostentatiousness, was smart enough to not let the flashiness overwhelm the music. Instead, all sides complemented each other perfectly. Metric's have finally found their niche; don't call 'em "indie" anymore.
Photos by Chris Schwegler/Retna Ltd.
Are you sure you want to delete this comment?
live local music on
Enter your ZIP code to see concerts happening in your area.
Data provided by Zvents
follow msn music