Pearl Jam to play Wrigley Field
A U.S. fall tour is also in the works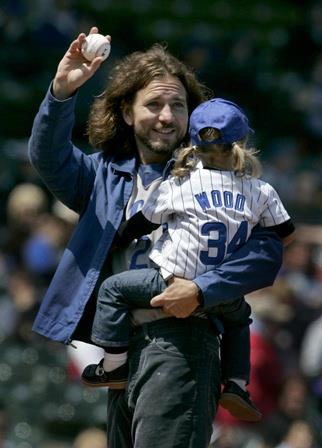 Pearl Jam will perform at Chicago's Wrigley Field this summer in advance of a fall U.S. tour.
The band is slated to play a concert at the historic ballfield on July 19, which is one day before country superstar Jason Aldean plays Wrigley.
Pearl Jam's connection with the Cubs makes the venue choice fitting. Eddie Vedder is a Chicago native and Cubs fan (he even wrote a song about the team) and Cubs general manager Theo Epstein is a noted Pearl Jam fan with close connections to the band.
MSN Music: 2013's hottest concert tours
While concerts at Wrigley aren't too common, the shows at the ballpark tend to be delivered by big names. Last year Bruce Springsteen performed there twice and Roger Waters brought his Pink Floyd's The Wall concert to the venue. Other past performers include Paul McCartney, Jimmy Buffet and Dave Matthews Band. 
Prior to the Wrigley show the band will perform three concerts in South America this spring, including a headlining slot at Lollapalooza Chile, and one concert in London, Ontario on July 16. Those concerts appear to be warm ups for an eventual bigger tour because according to the band's website, a fall U.S. tour is in the works and details of the tour will be announced in "the coming months."
Listen to Vedder's tribute to the Cubs, "All the Way," below.
Photo: Eddie Vedder holding his daughter Olivia before throwing out the first pitch at a Cubs game at Wrigley Field in 2006. (AP Photo/Jeff Roberson)

aww, you beat me to it. Actually, he isn't the GM either. He is the President of baseball operations. Jed Hoyer is the GM.

As a huge Red Sox fan..and even bigger Pearl Jam fan, I always got a big kick out of the fact that Theo was the Sox GM, and was good friends with Eddie Vedder from when Theo was just coming up in the Padres front office, and Eddie Vedder was in San Diego right before he hit it big with Pearl Jam. I would have loved!!!! to see Pearl Jam come to Fenway. I knew Eddie Vedder was from Illinois and a huge Chicago sports fan, particularily the Cubs and Bulls. Somehow when Theo left town, I totally missed the current Chicago connection Eddie and Theo have now. I should have seen this coming a mile away! Ofcourse Pearl Jam is going to play Wrigley now that Theo is there. How perfect. Mannnnnnn, I wish I could go!
Are you sure you want to delete this comment?
live local music on
Enter your ZIP code to see concerts happening in your area.
Data provided by Zvents
follow msn music