Ben Gibbard brings intensity and intimacy to Seattle for a solo set
Death Cab's frontman gives a career-spanning performance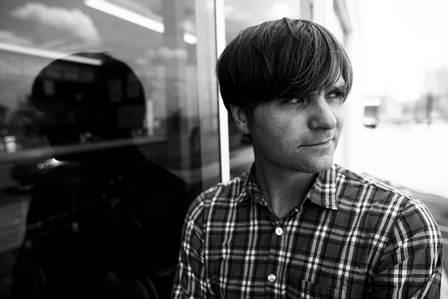 By Travis Hay
MSN Music
Ben Gibbard hit the nail on the head when he described his Seattle concert as combining the intensity of an arena rock show with the intimacy of enjoying a set of folk tunes at a coffee shop. It seems like an odd pairing, but that's exactly what it felt like during his sold-out solo show at the Showbox at the Market.
Gibbard, frontman for Death Cab for Cutie, has a devout following, especially in Seattle, which is a brief ferry ride away from his hometown of Bremerton, and every fan in the 1,000-capacity venue clung to Gibbard's every word during his 100-minute set. It was a rare chance to not only see Gibbard on his first solo tour, but to see him in a club setting as opposed to the massive arenas he typically fills with Death Cab.
He performed without a backing band, which put the emphasis on his lyrics and unmistakable voice, and the crowd's intense admiration meant the venue was unusually quiet throughout the show, hence Gibbard's remark. Gibbard played acoustic guitar for most of the night, switching to piano for six of the evening's 26 songs while managing to hit all of his career highlights, delivering Postal Service tunes, Death Cab standards and several songs off his recently released solo album "Former Lives." There were several deep cuts from his career as well including "One Fast Move or I'm Gone," from his Jack Kerouac tribute project with Jay Farrar, and "(This Is) The Dream of Evan and Chan," his contribution to Postal Service collaborator Jimmy Tamborello's group Dntel.
MSN Music: Ben Gibbard's solo 'Lives'
Speaking of the Postal Service, "Such Great Heights" came early in the set. Not only is it a fan favorite, but it is a song many are used to hearing on an acoustic guitar thanks to Iron & Wine. Gibbard's delicate delivery far surpassed Sam Beam's cover and gave the song an extra emotional punch, setting the bar for the audience's rapt demeanor. Death Cab numbers like "Cath," "Title and Registration" and "Soul Meets Body" also made the set. Hearing many of the songs delivered only with guitar and vocals made it easy to imagine that's exactly how they began before becoming fully formed stadium-fillers.
The stripped-down approach definitely gave the show the feel of a coffee shop performance, but it didn't necessarily work for every song. "Something's Rattling (Cowpoke)" lacked the charm it has on album due to its missing mariachi parts. And while "The District Sleeps Alone Tonight," the other Postal Service hit Gibbard performed, sounded just fine with its acoustic arrangement, it felt a bit empty without its electronic backbone.
The biggest surprise wasn't the minimalist performance or the few songs that faltered. The show's biggest surprise came when Gibbard performed an unlikely cover of the Screaming Trees' "Bed of Roses." It was a peculiar choice for a cover but Gibbard's light, crisp voice was such a contrast to Mark Lanegan's dark and smoky vocals on the original that it ended up working very well.
Bing: Death Cab for Cutie videos, songs and more
The show ended with the touching "I Will Follow You Into the Dark." It was a fitting closer considering Gibbard typically performs the Death Cab hit solo in arenas, and much like the show itself, the song filled the intimate Showbox with the heft of a much bigger concert.
Setlist:
Shepherd's Bush Lullaby
Such Great Heights
Oh, Woe
Willamine
Title and Registration
Dream Song
Cath
When The Sun Goes Down on Your Street
Grapevine Fires
(This Is) The Dream of Evan and Chan
Lady Adelaide
Something's Rattling (Cowpoke)
One Fast Move Or I'm Gone
You Can Do Better Than Me
Duncan, Where Have You Gone?
Unobstructed Views
Blacking Out The Friction
Soul Meets Body
Bed Of Roses (Screaming Trees cover)
Teardrop Windows
Crooked Teeth
The District Sleeps Alone Tonight
Encore:
A Lack of Color
Hard One To Know
You Remind Me Of Home
I Will Follow You Into The Dark
live local music on
Enter your ZIP code to see concerts happening in your area.
Data provided by Zvents
follow msn music