Lady Antebellum: Poised, professional, loose and spontaneous
Fans got to see many sides of the band during a TV taping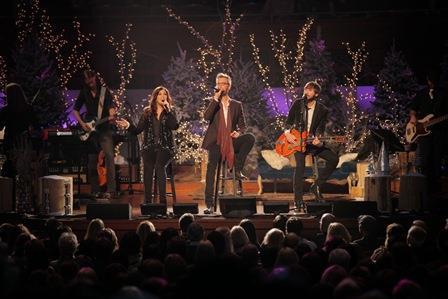 By Phyllis Stark
Special to MSN Music
While the cameras were rolling during a television taping Monday night, the members of Lady Antebellum were poised and professional. But on breaks between shooting, the live audience at Nashville's elegant Schermerhorn Symphony Center got to see a whole different side of the band: a loose, spontaneous and very funny side.
The occasion was a one-off performance called "On This Winter's Night," being taped for a GAC special. On a stage beautifully decorated with nearly a dozen lit Christmas trees, and joined by a full orchestra as well as their regular road band, Lady Antebellum ran through eight songs from their new holiday album, also titled "On This Winter's Night."
After the taping for the special concluded, the band returned to the stage to sing a few more songs from that album, as well as two of their biggest hits, "Run to You" and "Need You Now," the latter two distinguished from the rest of the performances by the loss of the orchestra and band member Charles Kelley's jacket.
It was mostly Kelley who kept the audience entertained during the taping's many stops. He cracked jokes, danced, busted out a few lines in the voice of his nutty Lady Aunt Bella character and, pointing to the set, told the audience with a straight face, "Everyone gets to go home with a tree tonight."
After one little onstage glitch, Kelley quipped, "We've got a professional operation going on here . . . This is just the way Michael Buble does it."
In another series of spontaneous moments that lasted through several breaks, Kelley even took audience requests, which resulted in the band performing snippets of such songs as "Mustang Sally," "Old Time Rock and Roll" and AC/DC's "All Night Long."
Kelley was sporting glasses for the taping ("Much to my wife's chagrin," he said), but revealed that he has LASIK eye surgery scheduled for Dec. 14, which will mean a permanent end to the glasses. Quipped the band's Hillary Scott, "I'm going to miss squinty Charles."
Later in the show, Kelley asked the audience, "Can you tell we have OCD?" Scott gently corrected him: "ADD."
Kelley's glasses were a necessity, since the band, which also includes multi-instrumentalis​t Dave Haywood, read scripted dialogue from a teleprompter, including this line from Scott: "This entire year we've felt like kids at Christmas because we've gotten to tour the world."
They ran through a set that began with "A Holly Jolly Christmas" in an arrangement that showcased the orchestra's horn section. For the original song "On This Winter's Night," they were joined by 10 kids from the local W.O. Smith School of Music Children's Choir.
Up next was "I'll Be Home for Christmas," followed by a saxophone-driven "Let It Snow," a song Scott said she sang almost every night for three years when her family used to perform during the holidays billed as the Linda Davis Family Christmas Show, named for her famous mother. The band then ran through a jazzy arrangement of "Blue Christmas," followed by "The First Noel" and "Christmas (Baby Please Come Home)."
The last song filmed for the GAC special was "Silent Night," featuring a beautiful countermelody written and sung by Kelley. It was the first song of the night the band chose to start over on the spot, but after a break they returned to the stage to redo it one more time and also perform "A Holly Jolly Christmas" again to get a better take for TV.
They went on to perform three more songs from their Christmas album, which they said might air at another time. Those songs were "Silver Bells," "Have Yourself a Merry Little Christmas," and their remake of R&B singer Donny Hathaway's "This Christmas," included on their album at Hathaway fan Scott's insistence.
The 1,860-seat venue was at nearly full capacity for the show.
The opening act was Nashville-based a cappella group Breath of Soul, who began their set by beatboxing their way through a unique medley of Lady Antebellum hits, including "We Owned the Night" and "Just a Kiss." The male quartet then continued to captivate the audience with completely reimagined covers of Foster the People's "Pumped Up Kicks," Adele's "Rolling in the Deep," and Stevie Wonder's "Superstition," as well as the original song "Fix You, Fix Me." The group's "vocal percussionist," Jake Black, also wowed the crowd with a segment that included a snippet of Justin Bieber's "As Long as You Love Me" in the midst of his impressive vocal acrobatics.
live local music on
Enter your ZIP code to see concerts happening in your area.
Data provided by Zvents
follow msn music